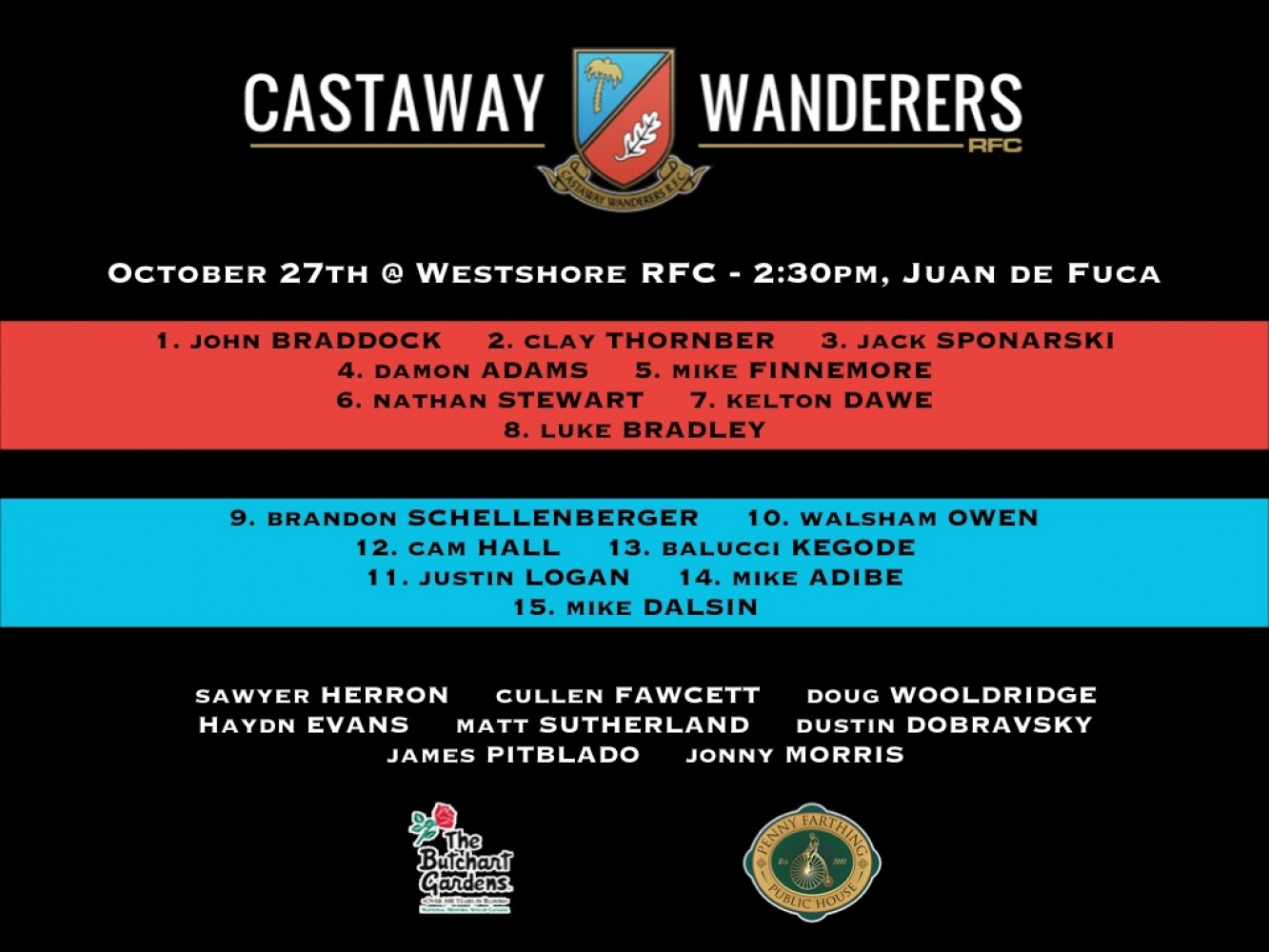 CW will be looking to put the Barnard train back on the tracks tomorrow at Westshore (Juan de Fuca Arena). The Tricolors lost their first round game in Barnard Cup play to JBAA and tomorrow they travel to the western suburbs to take on the Valhallians, a team which defeated CW handily, almost to a day, this time last year at the same venue. Westshore has shown improvement week by week and will have no problem "getting up" for this encounter as there has been some strong rivalry engendered since their move to the Colwood site.
It should be a good day of rugby, kicking off at 11:00 a.m. with a "club game" between the women players from both clubs who are "new" or inexperienced with the game of rugby. This encounter will play out for thirty minutes and it will be followed by thirty minutes of rugby for those players who are experienced, blended with the aforementioned. Finally, the last thirty will be for those players considered "elite" and an opportunity for players from both clubs to get a chance to play with and against National Team players who will be sprinkled into the mix for both teams. This is a rather unique opportunity for many ladies and it is heartening to see the approach that both clubs have adopted to supporting player development. So, guaranteed good rugby and it seems on paper, that rugby will be the winner no matter what. May all have a good game and enjoy the day and post-game conviviality!
Things might heat up a little when the Westshore III's and CW Islanders take to the pitch at 1:00 p.m. The writer is not really sure if these men are playing in a league, nor their status, as these games seem to "come and go" although I do know that CW was buoyed to have a full team and some spares last weekend in their similar encounter Vs Saxons. Westshore is the current B.C. 3RD Div Champ, so expect that they will be relentless in their approach and it should be full on for a good tilt between the two teams. (Footnote – seems, according to BCRU website it is an "Island Third Div League".)
To the main game at 2:45. With Rugby Canada announcing their party of 34 to leave for Europe, it has freed up a number of players to now go full steam ahead with club rugby and both teams will be the recipients of such talent. Noted for Westshore are Brock Staller and Brock Gallagher as starters and Ryan Kotlewski off the pines. CW adds Dustin Dobravsky on its bench. The Home team has considerable talent with a much stiffer pack than in the past, anchored by Dewitt at loose-head and tailed up by a wonderful player who has come through the Velox Youth system, Tua Vaa. In the backs, we will hold our breath when "Leagie", Quinn Ngawati gets his hands on the ball and joined by the aforementioned RC duo, CW will have to be very committed to retain the lowest defensive record that they currently hold in the league. Nakai Penny is also a force off the bench, so all round, no chopped liver!
For the Visitors, we note changes once again in the backs with Schellie moving to #9 and Hall moving to the centers due to Owens returning from concussion protocol at #10. Just whether or not enough time has been provided for the combination to gel, only tomorrow will tell. Thornber returns, starting at hooker and the battle amongst the FRFs should be epic. Surprisingly, Adams gets the start over Evans, could be work commitments, but the opportunity will force him to once again raise his game another notch, such as he took the bit last time he started. Finnemore seems to go well against the Westshorians and the loosies are dope. CW will have a cadre chomping at the bit, riding the pines – the likes of DD, Sawyer Herron, Evans, Woolridge, Suddsy, Pitblado and Morris and I would not be surprised if anyone or a couple turned out to be difference-makers. So, it will be a good bang for the buck, remember it's pass the hat at Westshore, so kick in. May the best team win, hopefully decided by the players.
This site wishes to take time to recognise a number of men who have worn the Tricolor sweater, who are off to Europe with the goal of getting into the "Cup", vital for Canada's future funding, not to mention but we will, self-esteem. The team announced today includes; Ray Barkwill, Hubert Buydens, Doug Fraser, Ciaran Hearn, Jake Ilnicki and DJ Sears. To these fellas and their team mates, yes, it has been tough sledding but our best wishes go with you to get the job done.
---