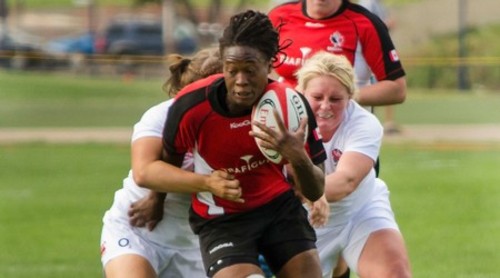 One cannot produce enough superlatives about our Nat's Women. After a close loss to the home team, U.S.A. the other day, the women were given a reprieve by their "friends", England who came up with a close win in an upset over the same and previously undefeated, U.S.A. The Maple Leafs had to take care of business in a BIG way to ensure their points differential was great enough to get them into the Final at this "Four Nations Cup" event. This was exactly what the players did with an eight try, 56 - 15 win over the Springbokettes. WOW!! You good things!. The differential was such that Canada tops round-robin play followed by England who marginally pipped out the hosts. The Final will see a repeat of the England Vs Canada match, a Maple Leaf victory.
England are no "chopped liver" having done their home work sufficiently well to knock off the Americans, a team which had Canada's number. Nothing can, nor will be taken for granted by either team in Saturday's Final. This writer has bollicked The English efforts against Canada in recent meetings but in this one I have a real sense of caution. The outcome is vital to both programs. To our ladies, we hope you hear the CW and Canuck support....we are not there in presence but in spirit. Go, Canada, go!
This brings us back home, to the National Finals being held at UBC. The B.C. U18 Women remain undefeated in Pool play, ( 2 - 0). The B.C. Gold (I) U16 team won a hard fought decision against Ontario today, 23 - 15 to remain undefeated. CW's Soph De Goede is on this squad and club mate, Caroline Crossley crossed for a late tally. This is the first time for competition at this age grade in women's rugby. The B.C. Blue (II) team with six CW players are having a tougher time of it, ( 0 - 2). It is the first exposure for all of these girls to play in "Nationals" and it is a wonderful experience for them to see play at the "next level" (U18), as CW ventures into expanding its fledgling girl's program to the U18 level this coming Fall. CW backs B.C.....go, ladies, go!
The Ponytail Powerhouses - Soph @ #9 and Caroline @ #15
Next up, Alberta @ 10:30, Friday. Live streaming from the Nationals can be viewed at;
---