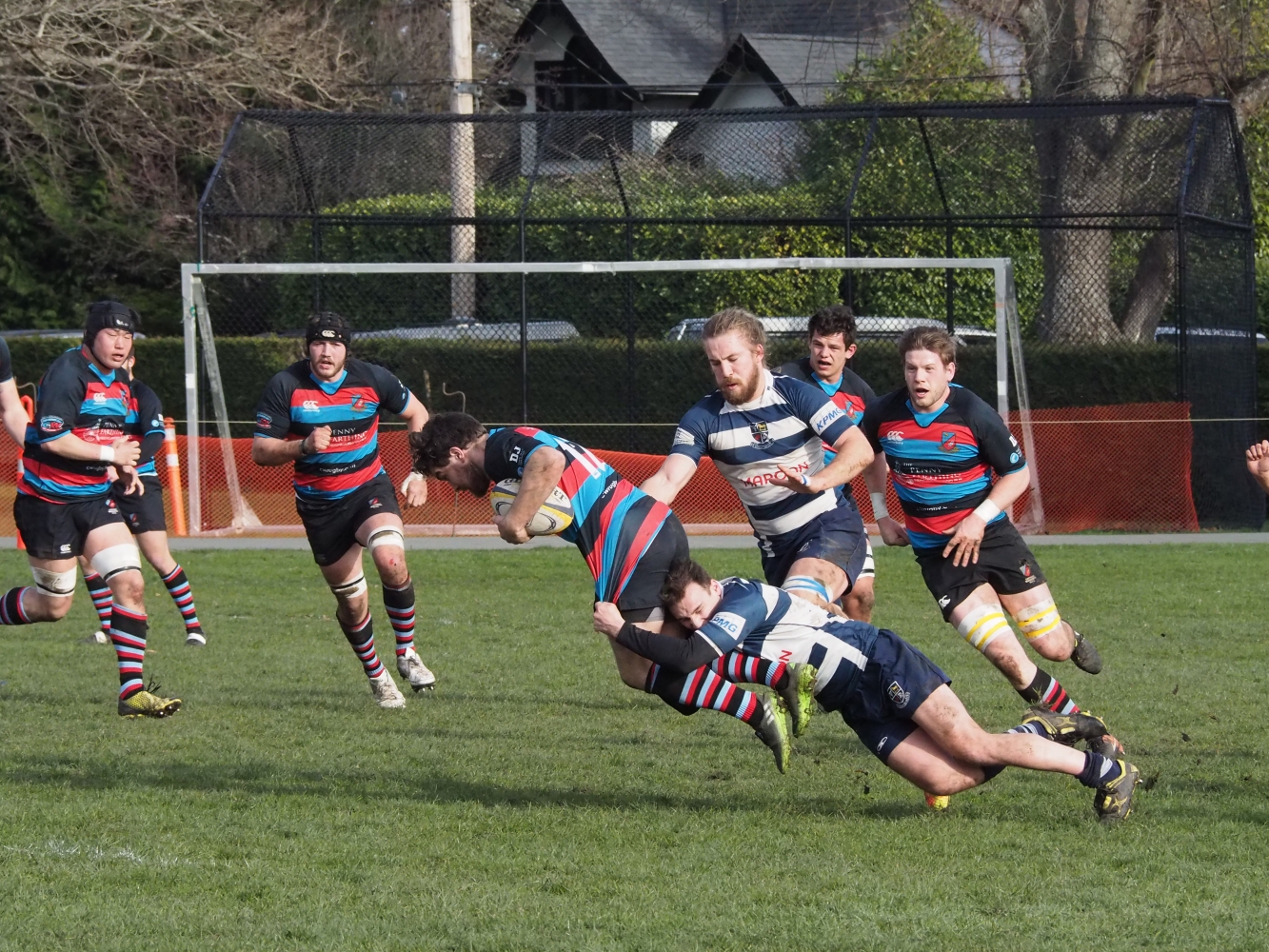 Pullin reeled in on this occasion.
CW Women flexed their muscles yesterday, defeating Seattle 86 – 7. Not to blow their horn with this mammoth total, for they too have been on the receiving end of such a hiding but indeed, it did show what a difference a couple of players can sometimes make. Julianne Zussman earned a hat-trick as did Mandy Marchuk, to lead the way. Most notable, CW forwards won good ball to use. With two more scheduled matches against Seattle, a trip to Capilano and a trip to Burnaby, it will be interesting to see if CW can "sneak in the playoffs back door". Thanks to referee Horton and to Seattle who, from sounds at the post-game gathering, certainly enjoyed themselves despite the score line.
At Windsor, the first half had transpired before this pundit set eyes on the Reserves match. Must shout out at this opportunity, to CW financial supporters at ALL levels as well as members of our 20 Club and social members who are responsible for our operation. Heard tell the 'Divvies' kept it close at 3 – 5 for the longest time before Burnaby broke out with two late tries to lead 17 - 3 at the interval.
CW looked good in the second stanza (outscored Burnaby,12 - 8) and worked hard behind the leadership of Hohert and Keta found his way over the line to close the gap to 17 – 10. Burnaby added a penalty, 20 – 10. Then there was a flurry of "yellow action" with four cards being issued within a ten minute span. With CW looking threatening an error was made and the Comp leaders punished CW when Chiffoleau crossed for their bonus point tally, 25 – 10. CW was not done however and finished with their second try for the final, 25 – 15 outcome, almost within a suggested prediction of a two try differential. As the Captain, an injured Ollie Windsor opined, post-match; "One of our better outings with a bit of a patch-work side, hopefully to propel us to the playoffs." Well done, 'Divvies' and thanks to a young ref, all the way from Saskatchewan (possibly short of a trot, given his winter!)
Main Game: This was to be a match overall, that lacked quality at this level. The first chance came to BL about ten minutes in but the penalty was missed. CW's 22m re-start was horrendous, this after two previous poor clearing attempts, almost costing them a try. It was miraculous that CW escaped this mess and found themselves at midfield, only to lose ground; masters of their own demise territorially, due to inept decisions and execution.
About thirty minutes in, BL #8 Vikilani (?? not programmed) was served a yellow, CW finally found touch for their first intrusion into Laker territory. From the ensuing lineout the ball was worked towards the line. Under a penalty advantage, Schellie probed and fed Pullin inside for first blood. Another factor that was already becoming evident was superior scrummaging for the home team. Then it was CW who found themselves under pressure when McIvor found a gap off the ruck, only to be desperately collared by Tate who received a card. McQueen accepted the points, 7 – 3. CW made another errant re-start and fortunately, the half ended. Having had only one visit to Burnaby's half, the lead was indeed, fortuitous!
The second half started no better for CW, with a penalty getting them under the gun. Burnaby got onto the front foot and with sure hands, they finally found some penetration. The half was only ten minutes old when the ball went quickly through eight or so, pairs of Laker's hands and McQueen opened the final gap to conclude a fifty meter movement and convert as well for the go-ahead, 10 – 7 score. This was indicative of the contest, with Burnaby finally capitalising on possession either earned or gained from CW ineptitude.
It was a strange occurrence when the TSN Turning Point occurred directly after the re-start. The game of rugby giveth and taketh and alertness in the moment often can be the decider between a win and a loss. From the k.o. CW created a turnover from another "attacking tackle". DiNardo alertly transferred the attack short-side and quick hands saw Logan back himself and go. He was stopped with a high tackle on the line. Referee Assmus had not a skerrick of doubt about awarding a penalty try, 14 – 10 CW and the knell on further scoring. The tackle that created the try was just one of many which were executed surely and aggressively on the day by the hosts and the trademark of their victory. CW appeared to take heart from being in front and with the exception of the last 2/3 minutes, the half was to belong to them.
Burnaby worked play close but rock solid defence and hard yards by the forwards saw Pullin with a creative run, a Logan probe, a Tate gap taken; only for balls to be turned over. Better field position, scrum dominance and more possession enabled Pullin to ask further questions, then it was DiNardo's clever chip over the top of a ruck that almost reaped dividends and to this point in the half, the hosts were good value. As the clock ticked on, CW earned a penalty. From the lineout the forwards ground away then, after 5/6 recycles the ball was mysteriously flung wide and possession lost. Fans were aghast as it was all hands on deck to prevent the Lakers using this get out of jail card. Burnaby moved the ball eighty meters downfield in a couple of sweeping movements. Fortunately for CW, cometh the moment, cometh the forwards, repelling a tired Burnaby group and eventually over-turning possession and banging to touch. Hairy moments! The four points differential was a fair indication on the day of the difference between the teams in a game of two halves. In summary, for CW a game full of errors and poor decisions but a season's best on defense. Thanks to M-i-M, Chris Assmus in what must have been a frustrating contest for him. There will be plenty on the line should these two meet again.
For Burnaby – hard work by Captain, Gough, Rockson and Vikilani all having good games in the pack although the latter marred his enthusiasm with a pair of yellows. Higgins and Shelley had their backs going well enough but their progress was smothered by the tackle. I must award McQueen M-o-M with his ten points. For CW there was plenty to like about the pack, sets and lineouts (mostly) being assured possession. Consensus on the balcony was 'Burger' Thornber M-o-M but the players gave 'Bacon' Leask the Hard Hat. Stewart led by example, earning some hard yards and all the grinders could not really be separated with their eighty minutes of hard work. In the backs, Pullin stood out, although most had some moments with Logan noticeably, looking for work. The link with the halves and decision-making left much to be desired on this day. Enough said. Next up is a trip to Westshore to play the Valhallians, a club that is pinning their ears with some good results at home and the rivalry is developing into something special. This will be the first of three "road games", so now having moved into third spot, there is no let-up of pressure.
How's the larynx today, Schellie?
---