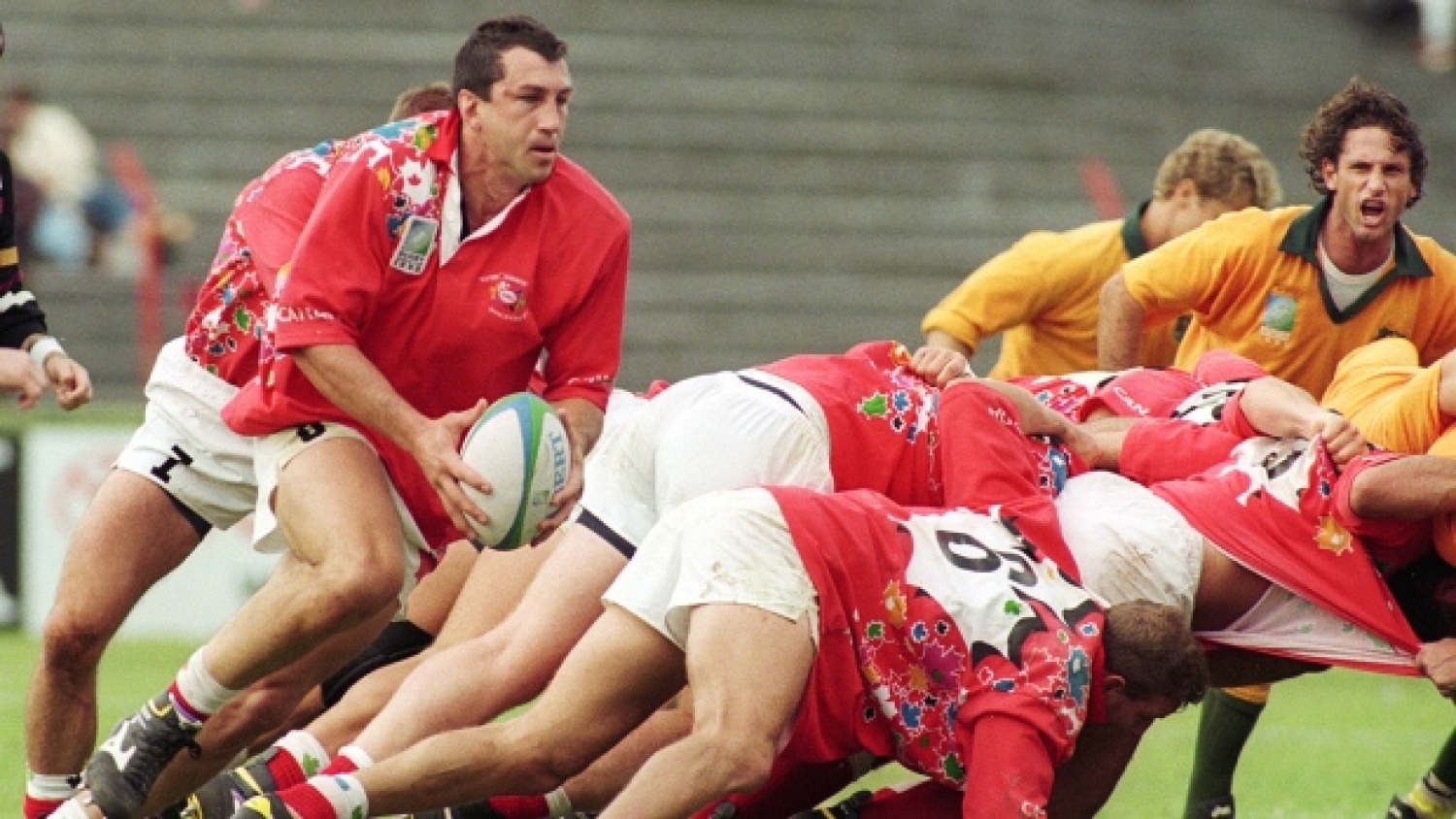 Today, CW joins the rest of Canada's rugby supporters in congratulating Al Charron to his selection to the World Rugby Hall of Fame. The special moment that comes to mind for this writer was in 2003 at Win Stadium, Wollongong, when Al was floored with a straight shoulder charge by a Tongan forward. Sadly, this illegal act was to end a marvellous and heroic career. Al was taken from the field and although Canada defeated the Tongans, the post-match reception at the Novatel Hotel was bitter sweet and somewhat sombre. As the function rolled on there was a sudden silence and Al entered the gathering. To a person, those present stood and belted out one of the most memorable renditions of our National Anthem I can remember. It was to honour this battered warrior, his face, stitched inside and out, managed a smile as he waved to the assembled throng.
There has been much written in the Press this week to honour Al but I liked the brief words I found in the Toronto Star which epitomised the man to me; "Former Canada captain Al Charron is headed to the World Rugby Hall of Fame.
The 51-year-old Ottawa native won 76 caps for Canada, a national record that stood for 14 years until broken by Aaron Carpenter in June. Charron played in four Rugby World Cups and was a trailblazer for Canadian rugby, playing overseas for Bristol and Moseley in England and Dax in France.
"One of the most dominant loose forwards in the world during the 1990s," the Hall of Fame said in its announcement.
Charron was a physical presence, a six-foot-five 255-pound slab of a man known for making crunching tackles on defence and rampaging through opposition forwards on offence. It was a style of play that took its toll on everyone concerned. A hard man whose nickname was Blade, Charron once played with a broken rib.
"There are two kinds of captains," veteran Canadian prop Rod Snow once said. "Captains who always do the right thing and captains who always say the right thing. Al is one of those guys who always does the right thing, I think sometimes that carries a lot more weight than words."

"If he's doing it, then you should probably do the same thing," prop Kevin Tkachuk echoed.
Late-Breaking. Both Povey and Coe have been taken out of their respective line-ups for tomorrow's match. One can only suspect this is a Rugby Canada call. CW will adjust by bringing Connor Pullin in to #10, moving Adibe back to the centers and giving us our first look at R.C.'s Brett Johnston, on debut, who will play fullback. Will this affect the backline operation? We suspect not.

Reminder to those in town. Today our Premier women travel to Westshore where they will seek to reduce drastically, a large deficit that occurred in their previous match-up. This match kicks off @ 11:15 a.m. At 1:00 p.m. at The Park, the Islanders take on Comox. A shout out to Women's assistant coach, Mandy Marchak who will be off to Oz next week to represent Canada in the Women's Rugby League World Cup. Mandy will be joined by Kathleen Keller whose injury prognosis is much rosier than originally thought and Kathleen may even get some playing time. Different code, different game but we are behind Mandy and Kathleen – go, you good things and go, Canada.
Canada's women went 3 – 0 on Day#1 in N.S.W. Central Coast Sevens.
If you are in Victoria and want to stay abreast of the men's scores, we have organised for a couple of players to keep
Twitter
updated with scores. You can find this link by going to our Home page under "Connect" scroll to
Twitter
and click, (and don't forget to "Like"
www.cwrugby.com!)
.
---