Home Team Christens New Turf
---
---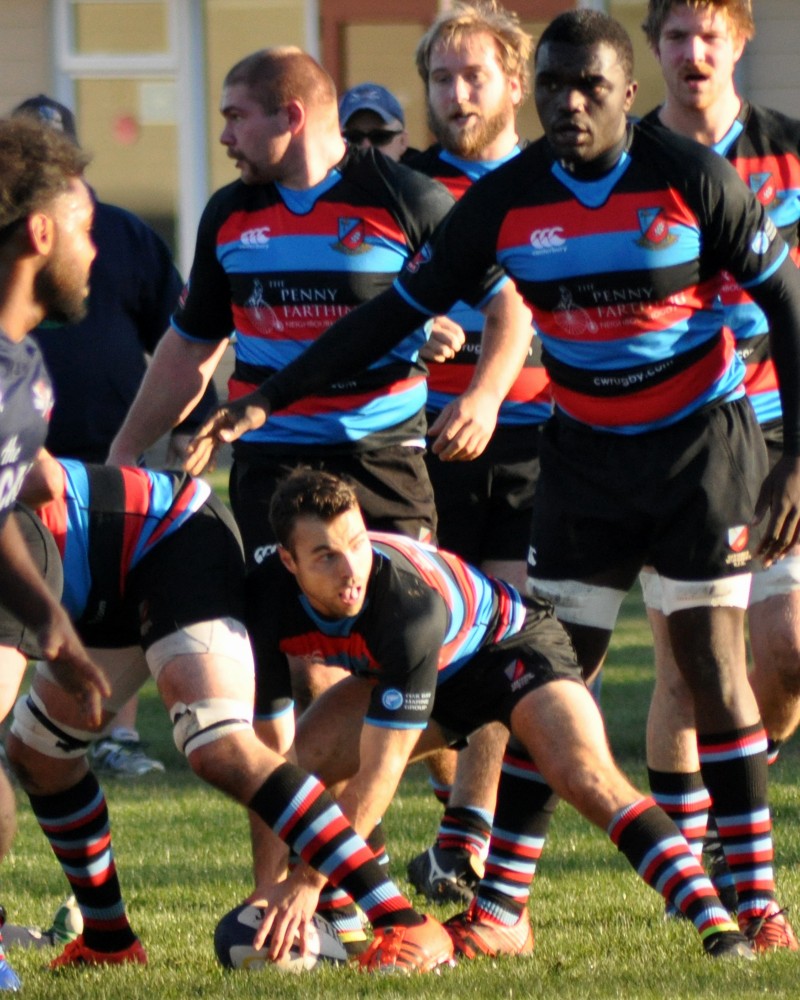 Pundit; "Well, we didn't deserve to win that one."….. fellow fan; "Well we didn't deserve to lose it, either!" For CW it was that kind of game. Actually, neither team took this match by the scruff of the neck. Leading 12 – 10, late in the contest, CW had the chance but whilst the conversion was being attempted, players appeared to display little direction to the cause, in this writer's observation. Thus beginneth the lesson….!
The match was only seven minutes old when CW, with the sun and slope advantage, saw Van Der Wal crisply serve Grdic who made a clever twenty meter swerving run, ending with a huge dummy and "blind" feed to Ngongo for his thirty meter finish to the try line. Crossland converted. Play ebbed with position and possession advantage to the Home team. Mid-half and eight or so JBA pick and drives, aided by CW penalties, JBAA opened their score line with a Hall three-pointer. The game was tight and play continued between the 22's. CW pressed, JB relieved with a penalty. JBAA pressed, CW offered a tough goal line resistance. Two things stood out for this writer – (i) tactically, it was disappointing to see CW fail to use their "Suicide Corner" and sun advantage with the high ball and (ii) the absolute annihilation by CW of the JBAA set scrummage, yet it was not until the forty minute mark and subsequent whistle to end the half, that they were awarded their first penalty from this phase. The half ended, advantage CW, 7 - 3.
The second stanza opened with energy from the Home side. Some six retentions, a "double miss" wide ball from Hall, a missed tackle and no defenders for a wide crossing by Evison, followed by a skilled convert from Hall. This was the worst possible opening that could have occurred for CW, kudos to good execution, aided by lack of defensive focus. Play "to-ed and fro-ed" before CW got down close to the line, creating four penalties from set scrum advantage, one with the JBAA loose head going to ground, debatably worthy of a PT. Eventually the attackers gave up a penalty, momentarily, easing the pressure for The Blues however CW was able to remain on the front foot, territorially and around mid-half, they spread the ball wide, somewhat frustrated at not being able to break the defense with pick and go's, only to drop the pass, to a collective sigh of the faithful. The sustained pressure eventually earned a reward, after five recycles, Van Der Wal whipped quick ball to Oliver who broke a tackle and showed his customary nose for the line, out wide, to put the Visitors ahead, 12 – 10.
The clock ticked on…..JBAA was awarded a penalty from a dubious "side entry" call, about 35-40 meters out and mid-goal/sideline, a score that would have put them ahead. Hall hit the upright and as the ball faded, CW seemed mesmerized, JBA reclaimed and #8, De Goede (who had a good game, no pun), crossed near the sticks to put The Blues up 15 – 12, Hall made sure with the convert, 17 -12. A point to be made from this "old school" pressure from a kick and resultant bounty, is, that this is not done often enough in games, from penalty attempts. On this day, CW also failed to pressure from kicks from hand as well as they might have. CW ended with some good possession, help from some JBA infractions but with no time to advance matters to their advantage. Two tries apiece but the spoils went, luckily to the Home team that was arguably, better on the day.
For James Bay, Captain Harriman was solid with ball in hand, Waldmann, Andrew De Goede and Van Heyningen were the pick of the pack, with Andrew De Goede M-o-M for this pundit. In the backs, probably Wilson-Ross stood out. Overall their defense was solid. For CW, if they could field any combination of six FRF's, Grdic, Ilnicki (R), Crossland and nine Oliver's, they would likely be Top of the Table. Hon mention to Welshy for gutsy defense. Tongue in cheek aside, there were other efforts on the day but the attention and dedication to a specific plan seemed lacking. Not sure that one bonus point is enough to earn a Barnard Cup appearance. There is one more go-round between these two very closely matched teams and it should be a beauty with it all on the line. Yesterday's game had many errors from both teams, not expected at this level, in fairness, probably much attributed to a rather disjointed season to date.
FOOTNOTE: The Ones chalked up a big score in an exhibition against The Saxons at UVic, 50-22.
---