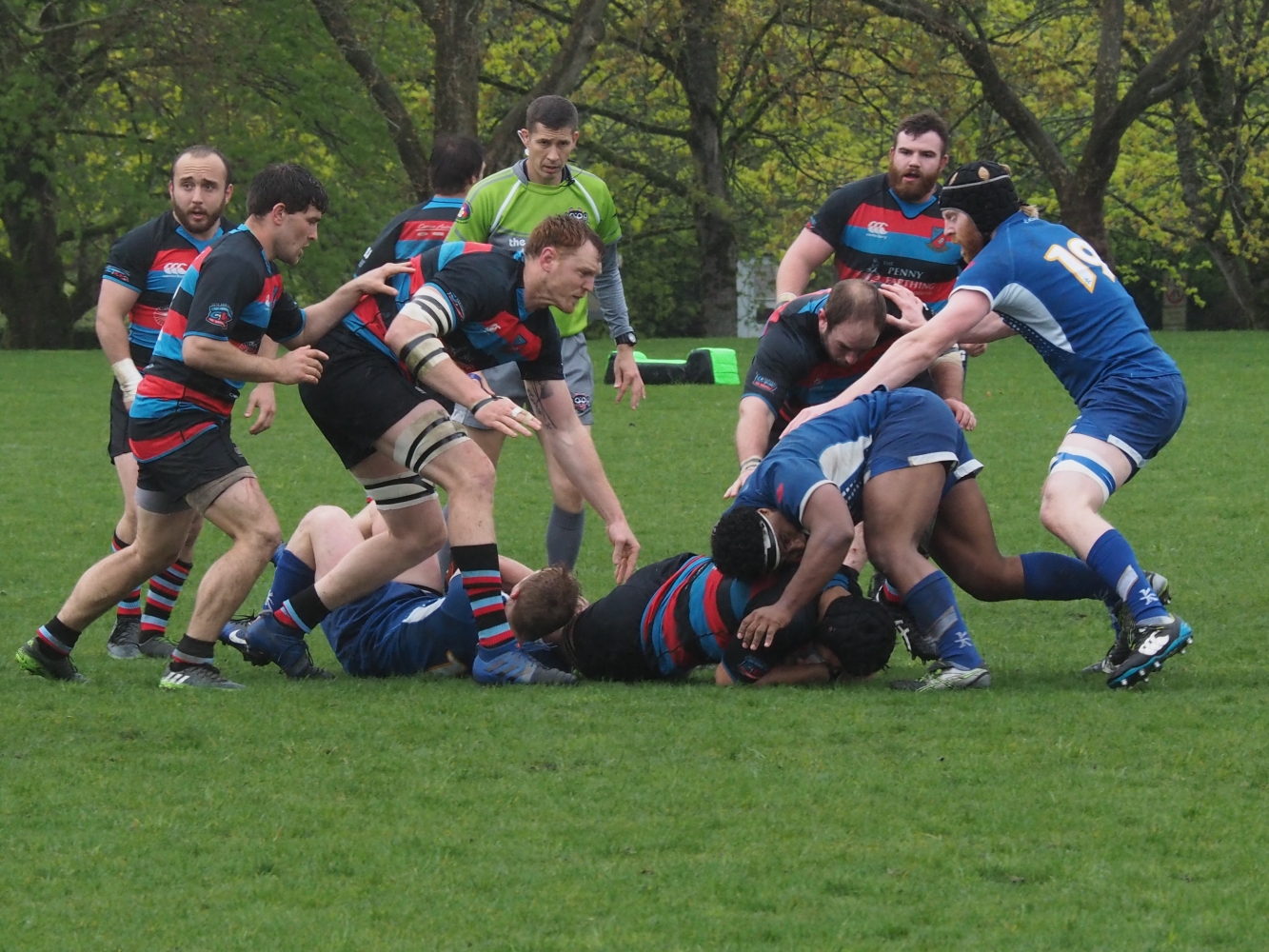 Saturday in Vancouver produced miserable weather when CW fronted at the Prince of Wales H.S. to play the Loma in the Reserves Semi. The somewhat rustic conditions, the boys having to change in the bus, a Port-A-Potty so far away that players had to urinate behind a building, reminding the writer of that wonderful edition of; "The Art of Coarse Rugby" (Michael Green). This situation provided no real home field advantage for the hosts except for the fact, their fans were able to muster in healthy numbers to successfully cheer on a revitalised program. The field was perfect but lack of a rental agreement to provide building access for changing and showering was simply put, not good enough. Who knows why and how this venue came about but the situation was rather unworthy of the league semi-final. Just why the BCRU had not mandated a change is mysterious, as certainly revenue and hosting were not part of the question. Thanks to the officials, two of whom managed to avoid hypothermia in back-to-back games. Enough said!
To the game. CW was punished for an early indiscretion and got themselves in further strife with an early unforced error, a subsequent skilled interception, thus a 10 – 0 hole! The play then became very even and in fact, the visitors had a possession and territorial advantage. When they failed to score after three really good chances, thwarted by solid Loma defence, it was arguably, a turning point, albeit, early in the game. At 25 min, a CW "head-butt" and a flailing "missed", uppercut response, drew a pair of red cards. I have no comment on the incident, unviewed but it seemed rather harsh to both miscreants as it was all no harm, no foul. As the half progressed, we saw the CW forwards provide good momentum, the big men, Adams, Hohert and Newhook carrying the load. It was a Moar thrust and a Hohert pick and drive that came close however the half ended at 10 – 0.
The second half was only two minutes old when it was déjà vu all over – Lomas penalty, 13 – 0. Sparing the details of CW errors, it was all hands on deck when at fifteen minutes, a blocked 'chip' resulted in an easy tally, 20 – 0, with the hole too deep to escape from, especially with worsening weather. As CW had the territorial advantage in the first half, Lomas responded with interest in the second. The CW scrum was unsettled, a visible frustration in not being able to make a break and further unforced errors, saw Lomas under the sticks for a 27 – 0 final score.
Congratulations, Meralomas and best of luck in the Final. A "first year back" resurgence – way to go. I like #7 as M-o-M, #9 and a big center showing out as well. For CW it must have seemed disappointing to self-destruct. N'er-the-less, it was a great finishing burst to the season. In this one, Damon Adams and Ben Newhook were relentless ball carriers. Goldie at #9 earned the Hard Hat and we wish him well as he returns to Ontario; Kapi and Moar tried hard. Despite the slogging of the ball carriers, for CW had sufficient possession to win, the Meraloma defensive line proved impregnable. There were a few occasions in the late going when the ball was "tossed around" by CW, breaking away from the game plan, that the boys looked dangerous but defensive energy at the breakdown was a forte for Lomas. So, we end with a "thanks" to The Divvies for some very entertaining rugby, as they surged towards the playoffs.
On the bus, wet jerseys off for subs, others back into civvies and venue, UBC and this pundit's first visit. Wow! Kudos to former players this "coach" had the privilege of working with – Peter Bull, Mel Reeves, Donald Carson et al and their financial initiative to put UBC Rugby at the top, suitably recognised behind the bar at this wonderful facility. Great to have a beer with former foes, Spike McTavish and Rod Holloway. To the game.
Sauder opened the scoring within two minutes, 3-0. First major damage occurred around twenty minutes when from a UBC 'tight-head', a nifty Sauder grubber bounced into a hugely deep end zone; one aspect of the home field advantage and an obviously practised ploy, for Lesage to dot down almost twenty metres deep! 10 – 0. CW responded immediately from the re-start. From a good attacking maul, Di Nardo spotted the gap: a sharp "dummy" and Nanyak was in, 10 – 7 and to be; "as close as she got". Thence followed a prolonged period of mid-field action, only to end with all CW hands on deck to stop a twenty meter Ikeda threat. From an ensuing scrum, Nick Allen drove five metres from his #8 spot, 17 – 7.
The notes show; "Finnemore yellow; Martinez a rollicking burst; Carson further pressure; UBC further pressure, superiority based on scrummage and cohesion between Keffer and Sauder." In fact, it was a Keffer burst that outflanked the defence and quick hands saw Ergas finish for the 22 – 7 lead. The visitor's mission might have been seen as attainable to this point, but it was a rodeo we have seen before.
A mere three minutes into the re-start of the contest and a good CW thrust, saw what "might have been" when a 'pop up' pass to a surging Magician went awry and it was returned some seventy metres with interest. A few plays later, a clever chip, a decimated set and quality ball to a hard-driving "pod" saw Martinez (?) cross and a 29 – 7 lead. This disaster was a possible 14 point swing. In my opinion, game definitely over. UBC had their tails up and came in waves and when Sauder "missed" his centres for wide ball to hit Ergas (?) and his brace, it was 36 -7.
Credit to CW, they finished with a flourish, going 17 – 0 from this point on. Lemkus had left the fray with his second yellow on the day, along with CW's Morra. A penalty saw The Tricolour find touch and from a second penalty the pressure was applied from a patented line-out drive, a successful aspect all day from the Visitors and the Captain, Stewart, was rewarded, with about fifteen minutes remaining, 36 – 12. After a stretch of play in midfield, the picture was replicated, a brace to the Skipper and 36 – 17. Stewart made yet another break, Chisholm ran hard to carry it on, thence Adibe and Ngongo. From the ensuing ruck wide ball came to Leask who was in under the posts for a fourth try and 36 – 24 final. This final margin being a fair enough indication of the difference between the teams.
It was a contest seemingly interrupted with technical decisions and for this writer, a preponderance of cards on the day, six in two matches, including three reds for sins which seemed insignificant enough. UBC will be concerned about Lemkus' fate and no doubt will argue his case strongly. UBC's set piece dominance was visible and significant. Their use of "pod attack"; guile with '"dummy runners", seemingly obstructing; are facets that any opposition will need to closely examine. Their execution was a credit, gaining ground whenever ball was in hand or in the air.
As the scoring showed, UBC was not really in any danger of losing the plot, albeit, not for want of trying on CW's part. CW's back three all tried hard but was not the combination of their opponents. Sauder, sneaky-fast, highly skilled and on his home turf had the better of Adibe and it is hard to understand why this man is overlooked for higher honours. His centres had done their homework and simply tackled any threat. CW's back row, led by 'evergreen' Dala and the great leadership of Stewart arguably had a "saw-off" with Ikeda and Allen. Chiz's team mates gave him the Hard Hat, I felt deservedly so, however Carson and Howell have the same work ethic but are bigger men than Liam and Kevin. Have to give the FRF Battle to The Birds. One can only ponder "what if" it might have been with the availability of Polson, Dobravsky, Povey, Fraser, Thornber and Schellie? That is one helluva lot of fire-power. The players retreated to a brief spell of laughter and mutual respect before CW, with heads high, hit the road.
And so, to the final contest of the day, the CW Premier Women. We predicted a good effort and at time of posting have no reports but a 50 – 0 score line looks like Westshore achieved their potential on the day. They will be tough to beat in the Final. Congratulations, Valhallians. Burnaby defeated Caps in the other semi however, the Final appears to be one-way traffic. The Women improved amazingly as the season progressed and many of the core gave of their best week in and week out in a tough travel league of five teams. The venture, to return a team to the BCRU after a hiatus of some years is proving to be a very important step for our club and as we see the progress with age grade rugby, the future looks rosy.
---