Hardly Baa Baas First Rodeo!
---
---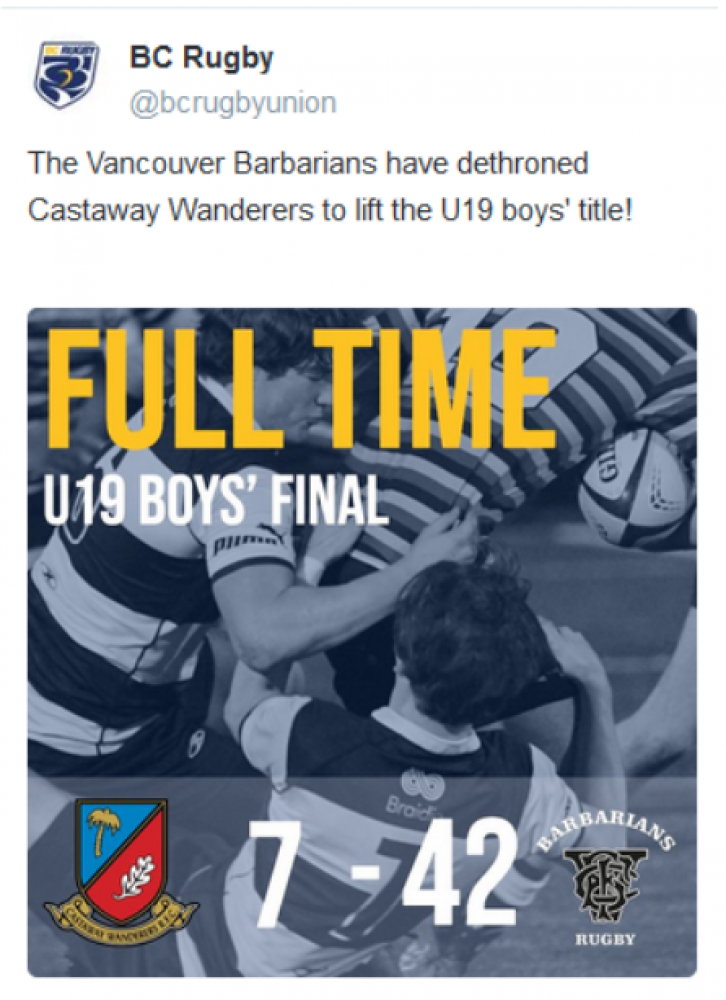 A very skilled and well coached group of boys, evidently without a club, came together as the Vancouver Barbarians and schooled CW Rugby U19 Boys in a well-played Championship game on Saturday at Westhills. 42 – 7 was the score, amassing a six try barrage in so doing. A pre-match blog on this site aroused a great deal of comment and no matter what, at the end of the day, many questions still went unanswered. Without getting into a "to and fro", two points need to be made clear. First is the fact that CW's "proximity" to the Al Charron HP Centre has absolutely nothing to do with or have affect upon our club's age grade programs and further, if CW's men's senior team roster was reviewed it would be glaringly noticeable as to how bereft our club is of any such "benefits". Secondly to declare "age grade rugby is populated with miserable, bitter people" is a sad reflection on the owner of that statement.
To the contest. The match opened with Vancouver, aided by three CW transgressions, pushing deep into Tricolor territory. CW attempted to run from danger and was stopped in their tracks. From continued pressure a quick transfer resulted and the #12 centre crossed after a mere eight minutes, for opening points, 7 – 0. Vancouver continued to play to their strengths; size, speed and skill, along with a definite plan. They came back soon after and the #11 winger scored from 'overlap ball', 12 – 0. It was apparent that this would be a long evening for the hosts! The first CW thrust into the opposition's half was initiated by#8, Klimchuk and #3, Mallard. This gain was marred by a further penalty at the breakdown. The Barbarians responded quickly and it was on the back foot for CW. Despite this, there was one area of the play that CW had the better of, that being the set scrum. Vancouver's #8 was reminiscent of many performances witnessed from Nick Carson, scampering away from retreat, enabling a superior backline to do their thing. Play ebbed and a second yellow card was issued to Vancouver with about ten minutes to the break. Despite the advantage and CW getting close, it was stout defence that turned the tide and Vancouver managed a big breakout. From a resultant scrum deep in CW's half, they used a quick penalty and fast hands and missed tackles for an ever alert #9 to score for an interval lead of 17 – 0. It is to be reported that Vancouver had subbed a prop in for injury late in the half. Unfortunately, for this man he turned an ankle on his first carry and had to leave the fray.
CW started the second stanza briskly with some good probes from the base of the ruck, only to lose possession. They came again but the defensive line speed caused great pressure and with no finish, CW's indecision was sensed by the Barbarians and their confidence grew. With the scrums now being de-powered it did change the game somewhat and the frustration was evident as individuals sought to break rather than using the fluid interpassing we have seen from this group. Finally, one of these breaks paid off. Smith, testing a defence that was hanging off at the rucks, made two good gains and crossed under the posts, coming at only ten minutes into the half. This proved to be all that could be cheered about as CW received a yellow card for an intercept attempt and the resultant kick was good, 20 – 7. CW was penalised for their third poor re-start and Vancouver's #12 went some forty metres, quick ball from the ruck went wide and it was 27 – 7. CW did come close again with a hard run from Klimchuk but the threat was snuffed and an eventual booming 40m punt from a penalty put the Vancouver boys on the front foot yet again. A clever chip saw the CW defender carry the ball into the end zone, causing a 5m defensive scrum. With the de-powered scrum an easy strike was moved wide through two pairs of hands and it was 32 – 7. There was a little fight in the dog however the organisation of the opposition told on the hosts and it was #12 over for his brace (?) and 39 – 7. With mere ticks on the clock, Vancouver chose to kick for goal on an 8m penalty rather than take the assured scrum and more than likely, another five pointer. 42 – 7 was not to be snuffed at. That was how it unfolded to this pundit's eyes. Liked plenty of the Vancouver lads with #12 getting my M-o-M and #8 close behind.
Thanks to the officiating crew and also CW offers our congratulations to James Bay on their "double-header" of victories in U15 and U17 action. Quite a feat and we are sure there would have been much jubilation at the clubhouse after many years of junior rugby being in the wilderness. So, to Vancouver. As Barbarians do, they came, they saw, they conquered and to the victors go the spoils – a banner to be hung and efforts to be remembered. Congratulations, Barbarian players along with your coaches and parents. To the CW crew; no shame, beaten by a better team and better effort on the day. Thanks for the season.
---