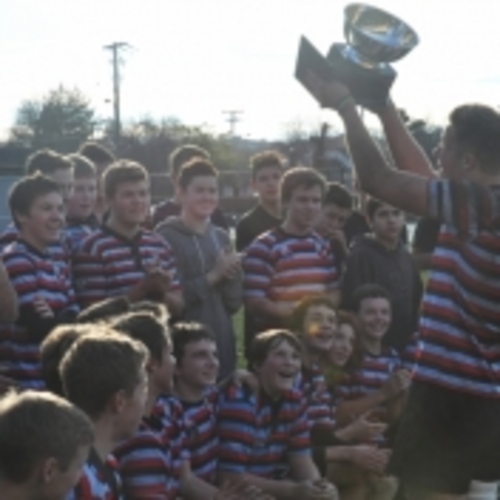 Rugby fans who took time to watch the two matches at Windsor Park on Sunday, winding up the V.I.R.U. Juniors' (U16 & U18) season were treated to some excellent rugby. The action started with CW playing some champagne rugby for the assembled throng, taking on the Velox club in U16 competition. Velox, unfortunately, lost a very good player in the early going but on the day, there would have been very few players that might have made any significant difference to the final score line.
Everything "clicked" for CW, in no small measure to the boys' dedication to preparation, working on skills, both individual, unit and team, right throughout the season. The interpassing was accurate, the lines of attack and pace were scintillating, the retention and support were constant and the running from the big guys was uncompromising. In all, it was team play at a far more mature level than is normally observed at this age grade. Although Velox stuck to their guns to the end, they had no answers for the waves of attack and were denied much possession to set their own speedsters on the loose. The end result was a lop-sided; nine try victory for the Home team.
To highlight any one player in a game that was so team oriented right to the very end would be unfair, so we congratulate; Sam Barclay, Chris Carson, David Carson, Aidan Cole, Myles Duncan, Sol Elkin, Antony Fenlon, Ivan Gonzalez, Walker Grant, Jonah Hall, Joshua Kahn, Sam Kahn, Ben Kinahan, Connor King, Kynan King, Owen Kojima, Gavin Kratz, Sasha Lanine, Jonathon Makaroff, Callum Masterton, Jim Newman, Ben O'Flynn, Tristan O'Keefe, Julian, Oldham, Jai Pereira, Brennig Prevost, Jonas Robinson, Adrian, Rupke, Gareth Sandner, Brandon Schellenberger, Jamie Shillington, Will Tarrant, Brayden Tate and Carter White. CWRFC offers further congratulations to the coaching staff and manager, Tami Tate, along with all of the VERY SUPPORTIVE parents. The boys are now off to Vancouver next weekend to play for the B.C.R.U. U16 Championship and we say; "Go, you good things!" Best of luck, boys.
The Under 18 Final followed, with CW taking on Comox. It was a classic Final between two evenly matched opponents. The score line read; CW 7 -0; 12 – 0; 12 – 5; 17 – 5; 17 – 12; 22 – 12; 22 – 17; 22 – 24; 29 – 24; 29 – 31! What a "barnburner" these two teams provided. There was some conjecture by the locals about The Northerners strength, as the teams, ironically had not played each other in a disjointed season. Observing Comox during the warm up left no doubts as to their ability. If anything, it was a little surprising that CW jumped out to a 17 – 5 lead. This was arrived at as a result of some precision handling, good lines of support and blistering pace. As the game wore on, so too did CW wear down. Comox used a core of big, bruising runners to claw back and eventually go ahead, 24 – 22.
With three minutes remaining, Tyler Mc Diamird culminated an excellent game when he bulled his way over to regain the lead, 29 – 24. As is often the case at this level, it's never until it's over and Comox took advantage of a tired effort on the tackle, advanced at pace and scored out wide to tie the game. The ground was hushed as the kicker struck – putting it 'right over the black dot', 29 – 31! Injuries had paid a toll for Ceedub but Comox were good value for the win, congratulations Comox. HUGE THANKS again, to our coaches who did a sterling job and manager, Peig Masterton, along with the parent crew of the boys for all of your support and work during the season.
Special thank you to volunteer trainer, Stephanie Young.
Although Tyler has been mentioned, in the game report, it is only fair to mention all of the boys registered with the team for the season; Ryan Baigent, Ruadhan Beale, Erik, Bergen, James Carson, Matthew Czyz, Nick Dakers, Cameron Graham, Robbie Hannah, Ryan Harris, Aidan Harrison, Liam Hayden, Zack Kahn, Braonian Masterton, Steven McColm, Tyler McDiamird, McKinnley McGregor, James McNab, Dante Morandin, Jacob Neufeld, Jack Nyren, Diego, Olivares, Taran Parkes, Byron Pettit, Noah Pryce-Baff, Declan, Roberts, Ben Roodbol, Marco Sanati, Carson Smith, Ollie Spratt, Finlay Verster, Chris Warren and Jeroen Zimberlin. Well done, guys and thanks for a GREAT game of rugby.
CW offers THANK YOU to match officials of both games.
---