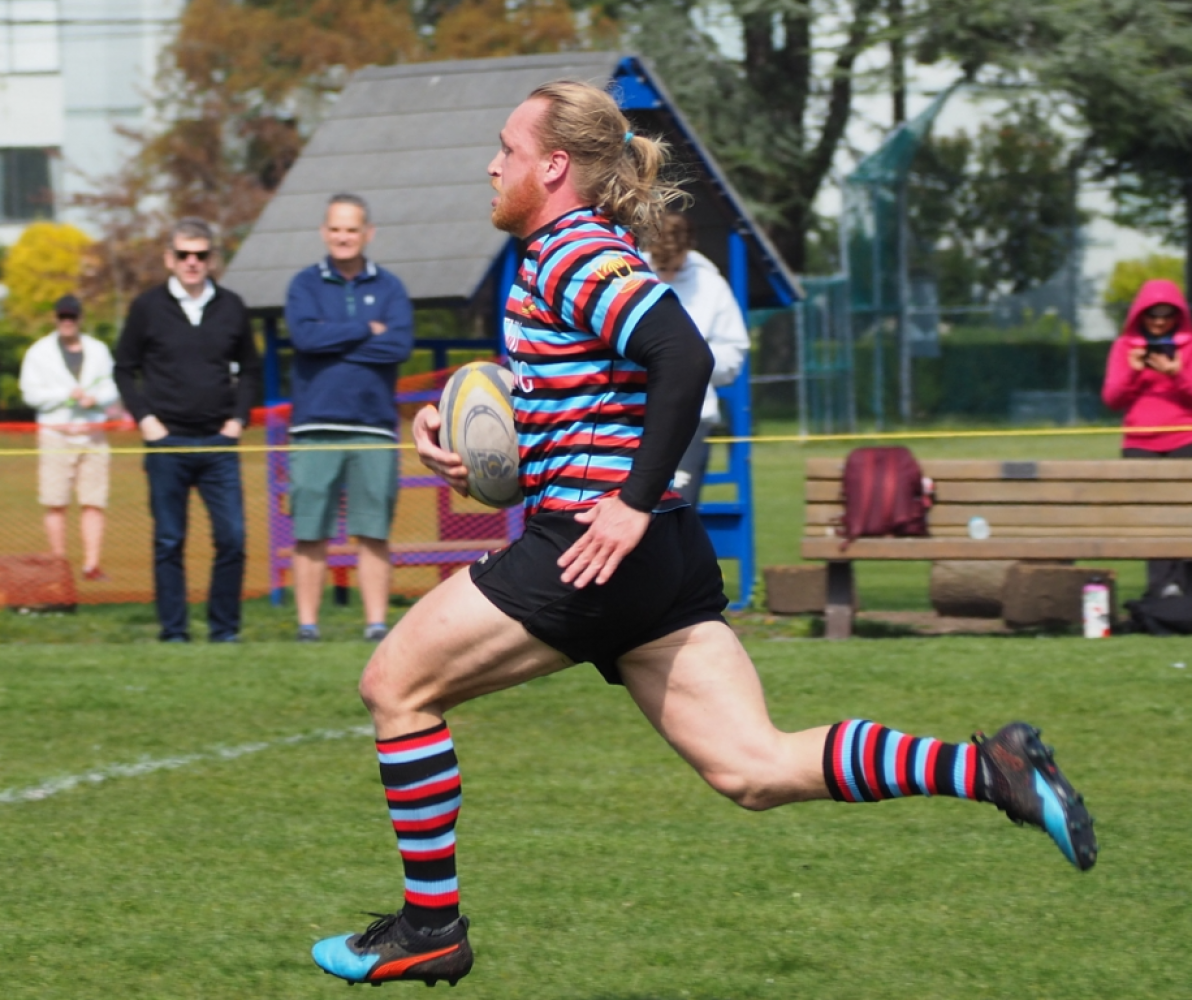 CW's, Grady Bowd could take a huge step today towards pushing his case for selection for Canada's NSMT XV's summer tests, as he starts at #10 for Canada West Selects today against their Atlantic counterparts. Bowd caught the eye of many knowledgeable rugby fans with his Premier league campaign this past winter. Some might argue there was the occasional glitch however, his games week in and week out were superior to other "tens" in the League. His decision-making and kicking, with the bonus of adding points, along with his attitude not shirking the contact and solid defense, appear to be attributes to take him to a higher level. Both squads won their first-round matches against the Arrows Academy. Also, today, former age grade star, Matt Klimchuk has earned a start at #7. The match will be dowstreamed at 1:00 p.m. (PST) by the Rugby Network.

One week ago today, HiBid drew from its electronically generated number base, the first ever, CW on-line 50/50 winner. The club wishes to thank all of those who participated to build the $6400 pot. Club member for many years, Alastair Glegg, was the successful winner. Alastair was on a roll, having recently had his lifetime memoirs published as well. 'onya, Alastair. Being the true-blue club man he is, Alastair generously re-donated his winning to the club's Trust Fund. Thank you, sir. This Fund now capably grown by thirty members is swelling to become a future security for CW Rugby. Great work, CW community and friends.
'The Magician' in full flight.


MEN'S SEVENS
A shout out to the NSMT's Sevens for their work at Headquarters of RFU (Twickers), last weekend. It was a tough opening day with their best performance being against the eventual Tourney winner, Australia. This was followed up on Day#2 with 2/3 victories. Especially notable was the win over Wales, thus maintaining a narrow three-point lead over the same team, to avoid relegation.
There was plenty to wax about with this tournament. The final between Australia and New Zealand was enthralling, with the Aussies pinching the victory on the last play of the game with SPEED, SPEED, SPEED! For Canada, Jake Thiel, Cooper Coates and Brock Webster (seemingly our fastest man), all had a good tournament. This pundit had his eye on the "CW boys" – age grade to Seniors. Anton 'The Magician' Ngongo, looking much more comfortable and Lockie Kratz, closing out a vital score to secure the victory over Wales with his try. The Sevens now takes its parade to Los Angeles in August for this season's last hurrah.
Lockie notches a "decision-maker"!



SPONSORS

Earlier in today's blog was the issue of fund-raising. We close with a pleasant announcement, welcoming a new Gold Sponsor on board.

BeSolar

a solar energy company who has recently partnered with

ChargePoint

an electric vehicle charging company, has joined our ranks. A reminder to our followers that we are always open to welcome any new sponsor.


A Final p.s.
Congratulations to CW-connected, Kelly Mann, a Castaway from yonks ago, on the recent announcement of his induction to the B.C. Sports Hall of Fame, Builder category. Kelly's long-time leadership of the B.C. Summer and Winter Games represented a career in sports. 'onya, Kelly.
---