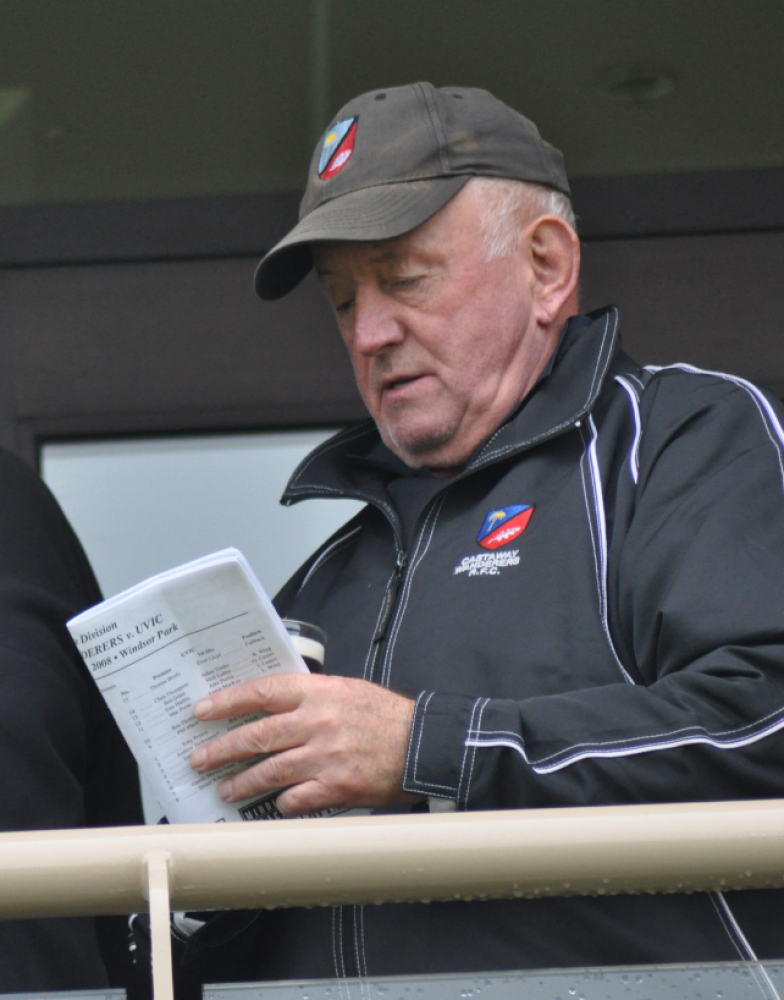 "The roots of the present lie deep in our past."
Keeping with this theme in these Covid times, today we bring you a 'Golden Oldie', David Clarke. Clarkie was an original Castaway, having come from the U.K. via Montreal and Cowichan and is one of a handful from his era who can be spotted, almost without fail, on the balcony at CW home games. Dave reached some real peaks in his playing days at Loughborough College; to representing Canada; and finally moving to Vancouver Island and formation of the 'Baby Blues' over at Carnarvon Park. He brought a measure of unique flamboyance to the pitch highlighted by his oft, witty remarks.
CW: Dave, can you tell us about your rugby playing days?
DC: My playing days involved relatively few clubs [compared to my old friend, Alun Rees] but having left school, where we often played school matches in the morning and then for the local Wanstead Club in North East London in the afternoon, I moved on to National Service in the RAF. During these two years playing anything, made you unavailable for any work or so it seemed! Stationed at a radar site in the wilds of Westphalia made travelling a lengthy process but quite enjoyable. Cardington and then Wilmslow in Cheshire, Middle Wallop and then RAF Borgentreich with the 2nd Tactical Air Force in Germany; were other teams at this time. All were good company but not the greatest rugby! Loughborough College followed, without any immediate selection. I had played opposite Alun in the freshman trial, he, with the slight advantage of being Welsh, was named with the squad! At weekends I was travelling down to play for Wasps until my first 1st XV selection against Torquay. This team used lots of St Luke's College players, (mostly Welsh), all of whom were on generous expenses, I later found out! After all this to-ing and fro-ing, I finally made the 1st VX at Loughborough. Whether it was on my playing ability or after singing and being silly in front of Alan Pask (former Welsh Captain and Lions player) and Brian 'Winkie' Wightman (former England cap and later coach of UBC for many years), it could be debated. After two seasons, graduation and a broken jaw against Nottingham University, I was offered the chance of a job in Montreal which was a far more rewarding position that teaching in the London area! I left on the "Empress of Something or Other" from Liverpool while Rees was on tour with one of his Welsh clubs so we did not say farewell….but here we are 60 years later!
CW: Just what was the motivation to leave your native shores for the Canada?
DC: The prospect of teaching in Britain in 1960 at the wages offered then would make it hard to pay back the cost of the education. Coming to play rugby in Montreal and a job in 1960 paying $50 a week was quite attractive compared to $20 in London. My father quickly bought me a one way ticket! Also, my mother was Canadian and a brother and sister were here already.
CW: What positions did you play? What was you most favoured spot and why?
DC: Upon arrival, I gained employment while playing for the Town of Mount Royal. Grass was a rarity at TMR and the temperature playing New York Blues was close to 100 degrees – heat prostration followed. This experience pushed me into playing football with the Lakeshore Allouette Flyers would you believe? After a couple of months running back punts with guys on waivers and injury from the Senior Allouette's system that was enough and the weather changed. As Herb Trawick the coach said; "Get your purse – go back to your rugger!" A good move, as I was to be selected for the upcoming 1962 Canada Tour of British Isles where my whole Canadian life changed! An interesting piece of reverie for me and oh yes, the question…..
Being quite tiny as an eleven and twelve year old I was able to avoid the scrum. I seem to remember being scrumhalf in the Under 12's. I soon built a fine relationship with Peter Unstead who learned his rugby in Ireland and we played at all age levels for Eastern Counties and Essex. As high school boys being selected for games for the Public School XV in the Christmas holidays, it was a compliment we thought – even if the selectors made me change my shorts which they thought were dangerous. What was that about? However I did meet chaps from Ampleforth and Fettes! Wasps always had quality outside halves so I was confined to centre where in all honesty, I felt fragile. (The reader can define!). I lusted for the full back spot which only happened a couple of times.
Following the Canadian Tour, I found myself on Vancouver Island, under the mentorship of Dick Ellis (a lifetime Oak Bay Wanderer). And as fate would have it, long story, short version, I was soon to team up again with Alun Rees, renewing old rivalries and good times. Forgive me, slipping to days of yore makes memories vivid.
CW: Your connection with Butchart Gardens and the special philanthropy to rugby, continued today by your son, Barnabas, has been monumental. Can you give us a thumbnail sketch of this story?
DC: My ex-father in law, Ian Ross (son of Jennie Butchart), was a quiet supporter of rugby, having played at Brentwood College School. He was kind enough to entertain an England team, (which was accompanied by the charming Starmer-Smith), to lunch at the Gardens, when they toured here in 1982. This by-chance meeting, piqued his interest in Canadian Rugby. It is rewarding today to see Canadian Rugby have the support of Barnabas and his mother, Robin. Their involvement with the Seven-a-Side national programs have given tremendous impetus in BC to promoting the game to thousands of supporters. Robin's enthusiastic participation with Castaways field hockey in the old days and Barnes' experiences at SMU and in Australia at The Southport School prepared them well for what has been a lifetime of support for both the Castaways in the day and the now, CW organization.
CW: What have been your main interests in your post-rugby years?
DC: Luckily I have always had another string to my bow and that was Castaways Cricket! Fortunately being selected for the national side of Canada at cricket allowed an excuse for involvement with quite a few Tours to Australia and Asia with the greatest bunch of players! The weather for the most part makes cricket touring really fun! Golf is a year round addiction and some years ago I found myself Captain at Victoria Golf Club.
CW: Dave, you have seen some thirty years of CW rugby. What do you think about this history?
DC: I think we always enjoy the videos of the game "we used to know", recognizing that our childhood heroes worked in mines and banks; taught, or were students. Reflecting upon how we used to train – maybe twice a week! I took the tube train right across London to train with Wasps – at my own expense! To be in the condition the modern player is in, is more than a full time job. I have marked Tony O'Reilly a couple of times when he was with Leicester and he was fairly slender when compared to Jonah Lomu! It is a totally different game, a fact to which Gareth Rees would attest, having played at both the "amateur" and professional level.
CW: Rugby "today", rugby "then". What do you think about this evolution? Could the best of "back in the day" hold their own in today's game?
DC: One cannot compare. CW has players prepared for the modern game and I for one, am looking forward to watching them in action at Windsor Park as soon as this blight leaves us. It is to be hoped that I can see a return to club rugby after Covid times. As weekly trips to home games emphasize; what a "Grand Old Team" it is!
CW: A dual-sport International. WOW! Dave did spend some time reminiscing about times at the Oak Bay Beach Snug and how a small group tossed some names in a glass and the last name out was the Castaways and thus a new club in the VIRU was born! As we know today, the Wanderers and Castaways needed to amalgamate to have their histories survive, thus our Tricolours – Castaway Wanderers. In conclusion, I think I could speak on behalf of the club to thank you for your support, Dave. Thanks for your time and willingness to give our followers some insight into days of yore and snippets of your wry wit.
Clarkie and The Ruggernut pontificate the outcome!
---