Girls Sevens takes off in Victoria !
---
---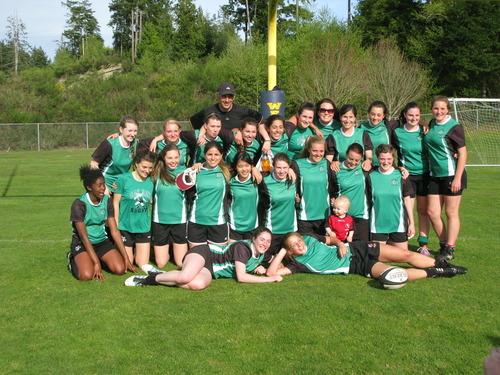 Girls rugby is getting focus in both the province and locally as the BC High School Boys and Girls Sevens competition is underway in Vancouver this weekend. Locally, girls rugby has received a big boost with its first ever Girls Sevens league boasting a total of 8 teams including the first ever Girls rugby team at Oak Bay High School. Let by CW coaches/management (Marley Riordan, Lisa Kratz, and David Crossley), the team boasts almost 30 dedicated players with a few CW girls in the mix.
Jamboree tournaments have been undersay since early April and there will be a final jamboree with all 8 teams at OBHS on Monday, May 13. Throughout the seaons, there has been tremendous involvement from the Rugby Canada women who have run coaching clinics and referreed the girls in their games. A true privilege for these new rugby players to be coached by these elite women who are not ranked 5th in the world in the IRB Womens Sevens circuit.
Latest Province arcticle talks about the growth of Sevens for both girls and boys and with the upswell in the game's popularity at school level, there will certainly be some future Olympians in these high school ranks.
For more information on the Province article, please follow the link below:
---