FULL SLATE OF SATURDAY MATCHES
---
---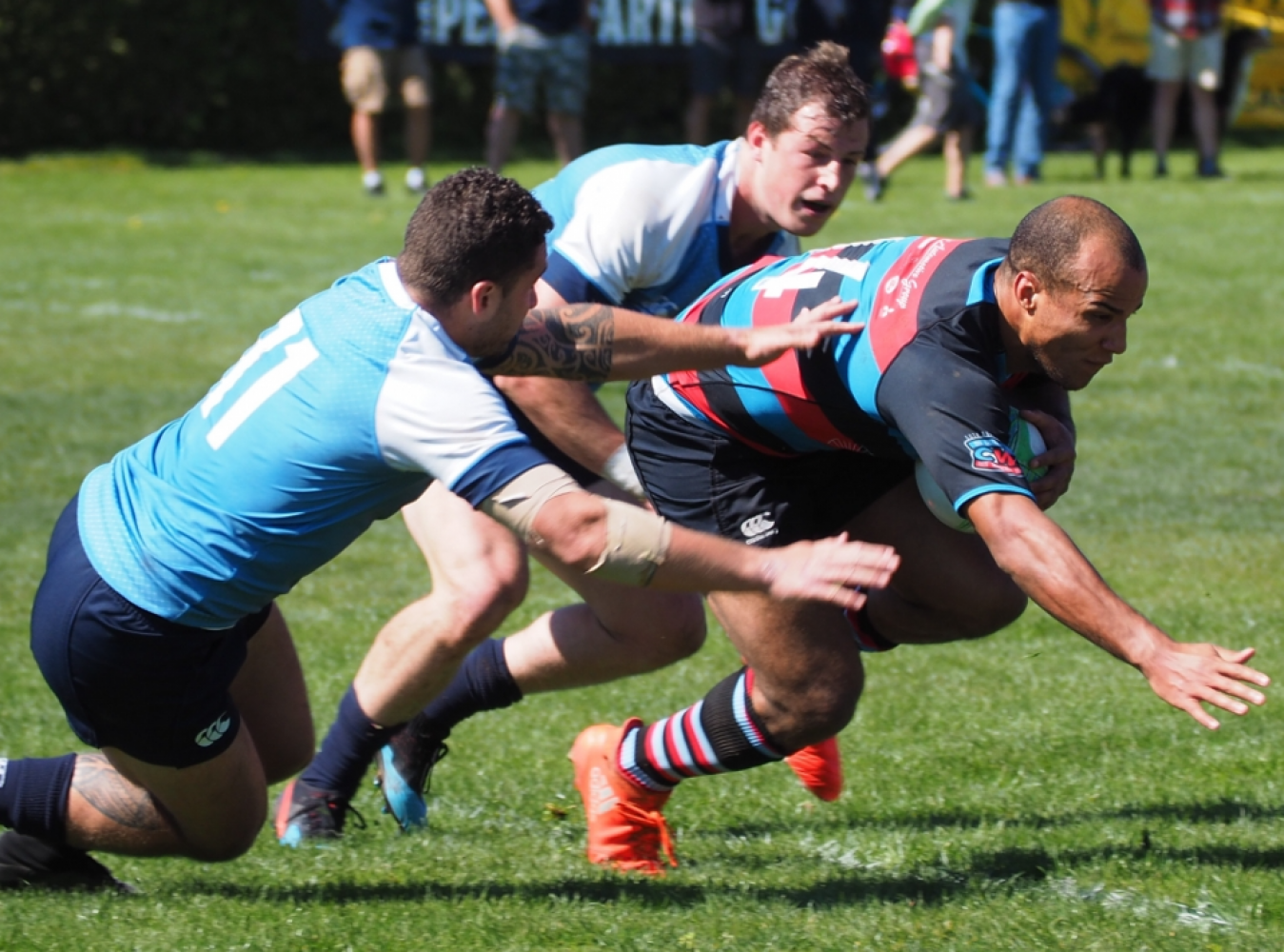 No stopping Mike!
FIRSTS Vs NORSE
All three of CW's senior teams will be in action this Saturday in Victoria. The Men's 1st Division team will be up against the UVic Norsemen at Wallace Field, UVic at 1:15 p.m. The Firsts aka Prems, will be skippered by former Vike, Liam Chisholm and the pack will include another grad, Gavin Kratz. It will be a stern test for the students against what is pretty close to a full Premier, Tricolor side. A couple of other new names to watch in the pack are, loose forwards, Darius Towers and Steve Pyke. The back line is stiffened with the return of Adibe and Griffiths, joining Schelly in the centres. It will be another opportunity to see the #9/10 combo at work, Pilgrim and Tait, a pair which looked rather exciting last time out, should continue to seek to impress.
WOMEN PREMS Vs WESTSHORE
The second big test of this fledgling season for the ladies and their biggest to date. Perennial Champs, Westshore RFC will be at the House of Windsor to contest with the locals in a 1:00 p.m. kickoff. The time conflict with First Div. match is a little unfortunate. We cannot comment at any length about the make-up of the teams however, suffice to say, we know the Westshore camp has a number of capped players in its midst. CW seems to be porgressing nicely each week but it will be a huge step up for a number of rookie players. One thing we have followed to date is that there seems to be no quit in the dog in the fight, so it will be with interest that we follow the outcome in this one.



MEN"S SECOND 'DIVVIES' Vs COWICHAN



This match will k.o. @ 11:30 at Windsor.

Heard that the Piggies are in first place in Times Colonist Cup to date. There has been a strong resurgence in the Valley of the rugby code in recent seasons and with only needing to field one team, the Black and Greens will be a force. The Divvies travelled to Port last week and came from behind for a solid victory, so they should be keen to test themselves against the best. There is experience aplenty in the selection, led by Olly, Hohert, Crawford, Gerhardt and Howes. Fans will be keen to get a look at Jace Peters, at loosie and M-o-M in Port last week. Another to be watched is Moser on the wing, a speedy and energetic prospect Goodland has high hopes for. This should set the table for a great day of rugby with weather on the improve and simply the need to be able to transport between venues.





ICING ON THE CAKE



CRIMSON TIDE Vs VANCOUVER WAVE. 2:30 McDONALD PARK, COASTAL CUP.








---