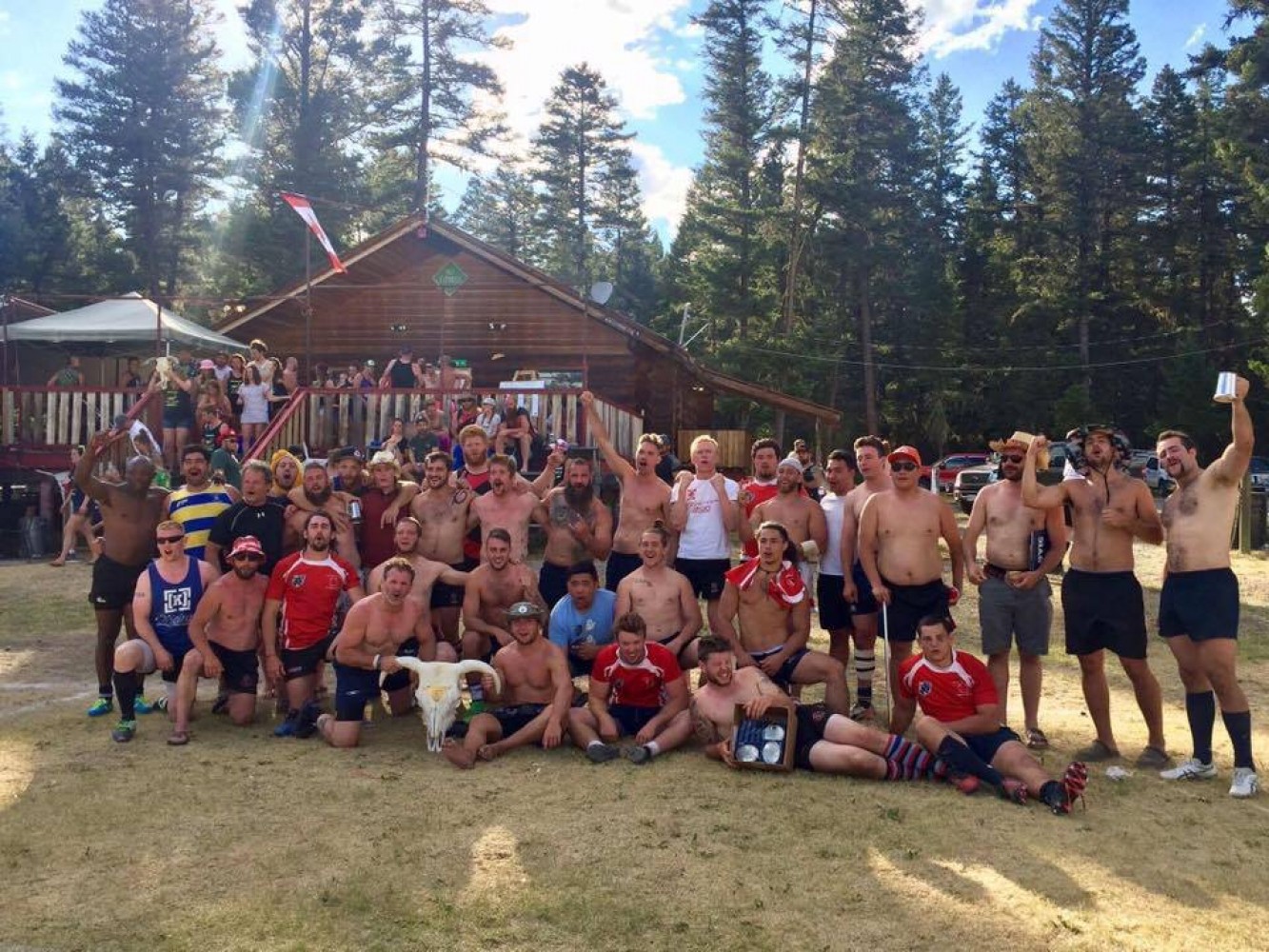 "Cosmo XV", winners of Williams Lake Rustlers Tournament.
Last weekend, a CW initiated, Cosmopolitan XV, coached by a robust recovering, Riley Ilnicki and captained by 'returning' native, Nate Stewart, won the Williams Lake Stampeders' Tournament. The composite group also included Tournament MVP, James Bay's big Luke Campbell, a rampaging bull; eight or nine Burnaby Lakers and a couple of A.N. Others. A great time was had by all at this, one of the B.C.'s summer, premiere jamborees where the competition and fun level are super high. This was the second club "tour" in two years and the word is out that bigger and better roadies might be on in the future. Ah, tours, the fun they used to be. San Francisco - for the Men's and Women's RWC Championships - 2018? Anything's possible to the rugby mind!
Meanwhile on the junior rugby stage in Vancouver, MANY CW girls and boys represented the VIRU South at the Provincial Regional Age Grade Championships. VIRU finished 3rd in the inuagural Girls U14 Championships, with Ed Knaggs as an assistant coach, the CW crew were; Abigail Kaye, Gwynnie Fry, Jorja Cook, Lauren Poppit, Arianna Lloyd, Anna Plamer, Ella Gallant and Jessie Knaggs. The VIRU U14 Boys were #1 (we are still scouring around for names of our Reps.)
VIRU U16 Girls - First place (ditto for players) U18 Boys - VIRU, 2nd place; Edward Down, Sam Kahn, Gareth Sandher and Jim Newman. Coach - Shane Muldrew. The VIRU fielded a Boys U17 team in this competition as well and they finished in 3rd place! CW - Michael Lindross, Lachie Kratz, Tom Abercrombie, Hector Jardine, Nicholas Carson, Henry Down, Matthew Hagkull and Conor Hills. Manager - Racel Jardine. The Club is extremely proud of the successes of our junior players and we heartily congratulate you on your achievements. (Coaches & Managers, giving back - right on!)

This segues nicely to the fact that CW is thrilled to announce the selection to the Canadian U18 7's Teams for the upcoming Youth Commonwealth Games, later this month in Nassau, the following players; Sophie De Goede (Soph's last fling as a Tricolour, as she will be off to Queens Uni), Denise Roy and Lachie Kratz. Good on all of you beauties. Best of luck to you and your team mates - bring home the Canadian Bacon!!

Still with the theme of National Team. One and all are invited to give our NSWT XV's a rousing send off tomorrow at the Westhills Fieldhouse, Home of Rugby Canada, between 4:00 and 7:00 p.m. The presentation to the ladies will occur at 5:30. Canapes will be served and there will be a cash bar. The women are headed for the RWC in Ireland, an event where they "silvered" in 2013. CW is SUPER PROUD to have placed Olivia De Merchant, Karen Paquin, Brittany Waters and Julianne Zussman on the team, along with non-travelling reserves, Katie McNally and Camille Provencal-Aube. The ladies are in a Pool with Hong Kong, Wales and N.Z. Go, you good things!
*** This site has been corrected. The event will take place at Westshore Fieldhouse, Juan De Fuca Fields, home of Valhallians club. Sincere apologies.

** Don't forget to set your PVR @ 12:30 tonight Ch #182 for the Third Test - BIL VS All BLacks, a guaranteed cracker!

Finally, it is with sadness that we note the passing of Valerie Creighton. Valerie was the wife of long time, stalwart supporter and Official Club Scorekeeper (rain, hail or shine), Hugh Creighton, Valerie being a strong CW supporter herself. Valerie passed away after a recent fall. Her passing was sudden and unexpected. The CW family offer the Creighton family our deepest sympathies for this life well-lived. R.I.P., Valerie.
---