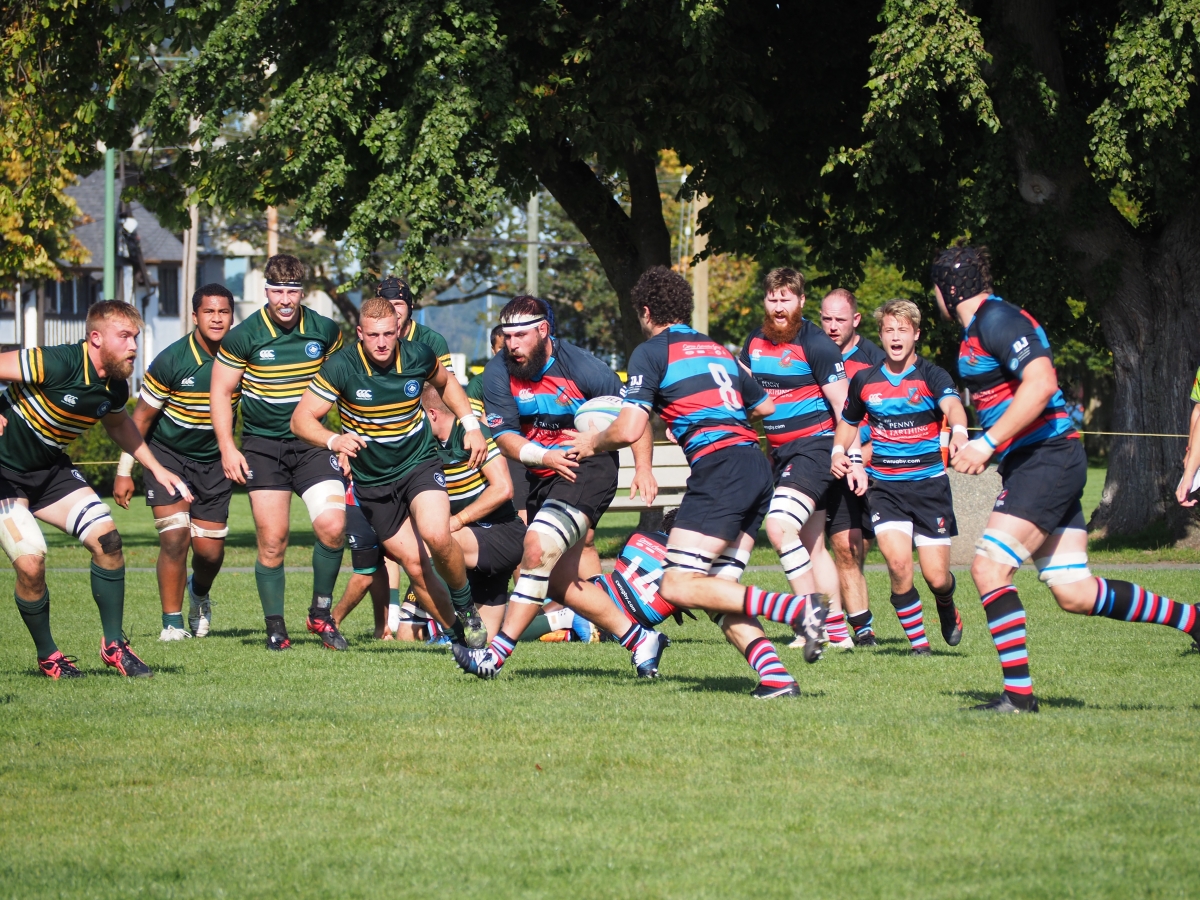 Windsor Park played host to 3 entertaing games this past Saturday. The games started with the UVIC Saxons vs CW 3rd divvies. The writer was not present for the game, results suggest a spirited match.
The second match featured the CW senior women's team vs Nanaimo as part of the development 1st half of season. By all accounts, an entertaining and high scoring match between these 2 teams with CW holding out with a 40-38 victory. The game was preceded by a Women's team photo along with representation from our age grade youth players, coaches, and managers. Truly great picture of the growth of the female game at CW with the creation of a clear pathway for female players from mini integrated to female pathway (U12 thru to U19) and senior womens teams. The age grade program now has over 60 registered players and our senior program will now have 2 teams for the second half.
The report for their return to the BC Premier league for newly formed Pacific Pride is below and it was an opportunity for many past Pride players to watch this new group in action. As the Sage outlines in his report, the game was a back and forth affair that did not disappoint the fans on hand to take it in.
CW 29 (5T 2C) Pride 36 (6T 3C)
Half time CW 12 Pride 21
A ton of anticipation and a ton of pace…..turned out to be a very good day of rugby this early in the 2019/20 BCRU Season.
A season that welcomes back the "Pacific" Pride (see editorial comments upon conclusion) program and team. Lead by Jamie Cudmore, a group of eager young rugby lads from across our massive country have gathered on the Coast to play some exciting rugby to be sure if this days performance was any example. So too for the CW program that had one hell of a good run out and scored some outstanding tries…. 5 to be exact.
The first few minutes were fast a physical….unfortunately at the 7 minute mark CW lost their Captain Nathan Stewart to a thumb dislocation. This could not be adjusted on field….so in the change room the painful deed was done…..but upon mending it became apparent to all that a return to the field for something other than a blood sub was not in the laws.
Riley Ilnicki was the replacement and he went on to have a stellar game.
Brock Gallagher the Pride 9 was to leave the field with a head injury about 15 minutes in…replaced by Crosby Stewart....so both sides had early subs come on with impressive impact
Lots of big carries this day by forwards such as Doug Wooldridge, Clayton Thornber and Quinn Horton for CW…….and tons of fast outside ball by David Keta, Fergus Hall and Jack McCarthy. This was all well matched by the Pride players who were aggressive/fast on both offence and defence.
Sets and line outs were relatively even on the day….with occasional dominance at particular points of time by both sides.
15 mins from the start with a series of red zone drives by the Pride eventually results in a first try. At 31 minutes a series of drives by CW puts #9 Pitblado over under the posts…..Referee deems ball held up…..resulting scrum keeps up the redzone pressure and a gap is taken by Jack McCarthy for his first CW tally.
Score 7 a piece.
35 minutes sees CW Loose Head Braddock injured and removed from the field…Quinn Horton came in and had a banger of a game with strong ball carries and retention.
Shortly thereafter a Pride kick and chase into the end zone was touched down.
CW 7 Pride 14
Restart has a knock on advantage to CW who work quickly to move the ball wide on attack. A floating pass is picked off….CW players head for the knock on advantage scrum….while the Pride player heads for the CW end zone. Try awarded.
CW 7 Pride 21
CW regroups at the 42 minute mark and punches through the red zone and over the try line by Quinn Horton .
Half time CW 12 Pride 21.
Lots of back n forth in the second half. Good speed down the wings by CW matched by equally good speed by the Pride 11 and 14.
Countless tackles by CW 9 Shelly and slicing runs by 15 Fergus Hall…with quality line out ball from Sawyer Herron kept the pressure on the visitors. Two nice tallies put the home team at 24 visitors stuck at 21.
A great Jack McCarthy break from a restart sees him stopped at the 10 metre line but good support and passing has CW into the corner. 29 CW 21 Pride
Pace continues from restart with side to side action by the Pride with penetrating runs by their outside centre and wings. Room outside allows for a Pride try. 29 CW Pride 26
And then for the TSN Turning Point….70 minutes in…..a messy CW restart sees the visitors slice through the CW players who are rushing/pursuing the restart ball…..two quick Pride passes to the sideline and in for another try. 29 CW Pride 31.
One more visitor tally after a yellow card to CW 9 brings the close of an entertaining match. Lots of positives on both sides to carry forward. CW 29 Pride 36
Thanks to the players and the great fans who lined the House of Windsor Field.
Photo credits and thanks to Wendy for her wonderful photos of the men's and women's games.
Editor notes:
…. as I closed my eyes at certain points in the match to hear the Pride rally cry every 5 mins ''Huddy Huddy'' I was shocked upon regaining my vision to find I was not at MacDonald Park watching a JBAA match up. As is well known across our great rugby playing country and slightly down south in Seattle, 'Huddy Huddy' has been for decades the JBAA welcome greeting…and ever present sideline rally cry. A few minutes of reflection on this fact would serve OUR new Rugby Canada Development Academy well.
….and on that note a further bit of reflection as their season starts…..I'm thinking that for the lads from The Rock….Nova Scotia…Ontario…..Alberta……etc etc across our wonderful country it must stick in the throat to say they play for the ''Pacific" Pride. They are truly come from away…..from across our country….. here to play for the new Rugby Canada Academy Team. ''Pacific" simply offers a location for play…..like calling JBAA the MacDonald Bays.
But hey, I'm old, what do I know.
Addendum: One of the benefits of any club playing the Pride is a wonderful statistics panel that comes out of each of their games:
---