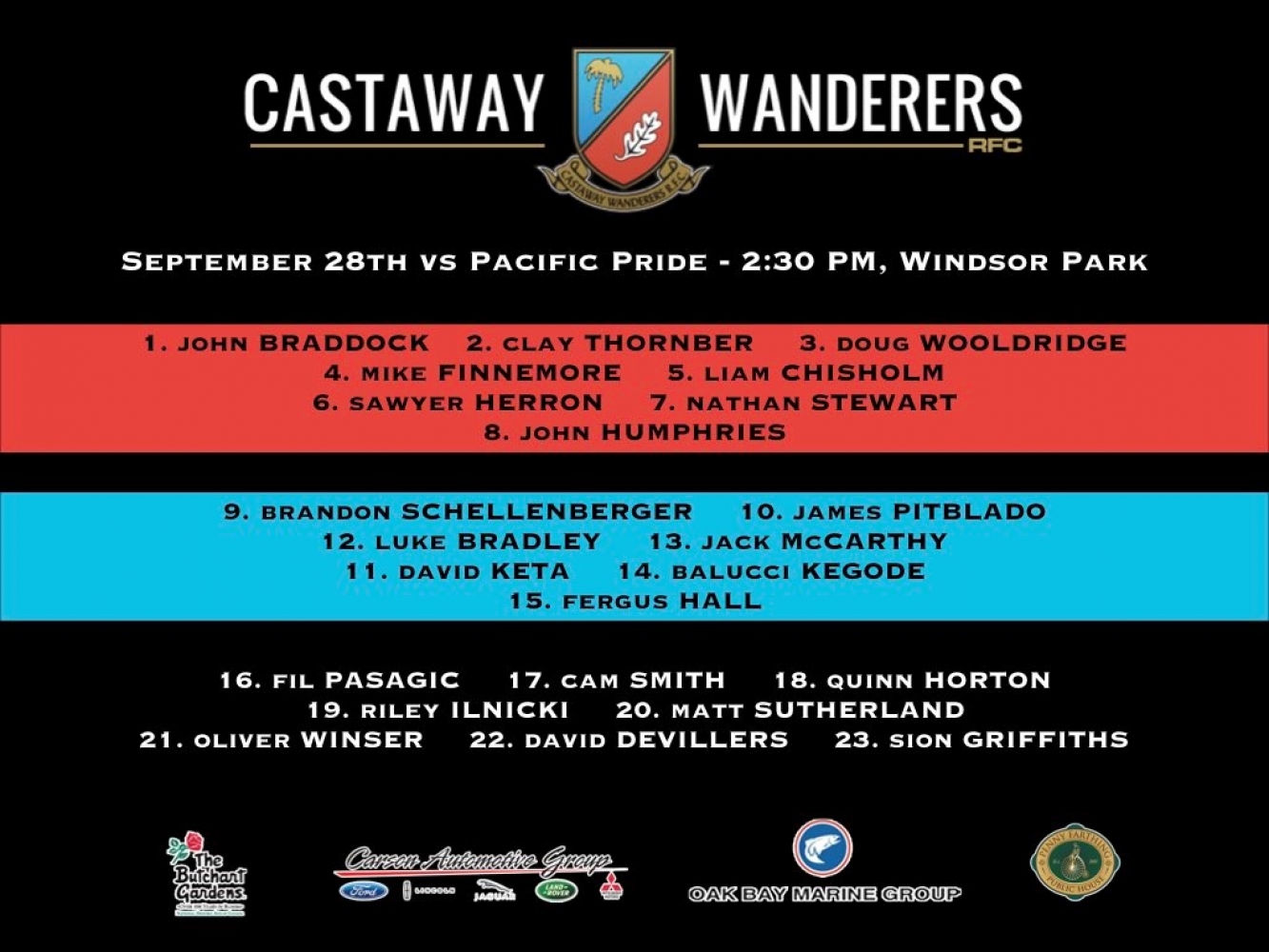 The Pacific Pride will be the opposition tomorrow at the House. CW welcomes Coach Cudmore and the boys. We cannot tell you a whole lot about the Pride squad as a number are from out of Province. There are a couple of RC U20 lads, some of whom will be elligible for that team again next year. We note Brock Gallagher at #9 ahead of Crosby Stewart, who we do know. Brock has been touted in other circles as a future Nat. There are a couple of other backs that we do know and they are; Guiseppe Do Toit from UVic who has played against The Tricolors before, along with Quinn Ngawati, a standout junior from the ranks of Westshore. Ngawati and Schelly had a memorable battle or two last season. Rounding out the team in the custodian spot is "our own", Brennig Prevost, a man whose explosiveness and match-winning antics we have often witnessed at Windsor.
For Ceedub we note some different looks but overall, a stronger combination than their first outing. It is with great pleasure we welcome Nate Stewart back and as it is rumoured he will soon be off to other climes, we expect this cameo to be scintillating. The rest of the pack is rock solid with the return of JB in the FRF and John bookending Burger at his favourite spot at "rake", with another old warrior, Doug Woolridge. Chiz is joined by Finnie in the engine room and Johnny "Come Lately" Humphries achieves something we suspect may have been a goal, years ago - selection to a CW 1ST XV. John has been in the east, completing his schooling and has strapped the boots back on, having played a couple of very noticeable performances with the Reserves already and thus, earning this promotion. Horton, Ilnicki and Suds Sutherland will be ready and fresh to replace if needed. The backs see a 'first' with a Schelly - Pitsy link at #9/10. Pitblado has not put in a showing to date so we suspect he will be raring and the fact that he is a good athlete, should not affect his positional change. The remainder see a positional change or two and one new addition. They should match up and the battle in the centers with newcomer, Jack McCarthy and Bam Bam vs the aforementioned should be mouth-watering. CW's custodian is Fergus Hall, now slotting in very comfortably with a season under his belt and his unorthodoxy will match Brennig's. Fergus is a very sure defender and I suspect Coach Manning has put in much work with this aspect, given the flood of points UVic posted in the boys' first outing.
In conclusion, it should be a memorable and exciting "return" and I would suggest; "don't miss it". Matches begin at 11:00 with the Islanders taking on UVic's Saxons, followed by Premier Women's action between The Tricolors and Nanaimo Hornets with the main game at 2:45. I might add that you might want to bring your ear plugs, as it is rumoured we can expect the return also, of Jim "Mother" Hubbard. A good opportunity to remind ALL to cheer responsibly - you never know who's listening!
Roggie puts the move on Mike Pyke and #15 "smoothie", Jake Osbourne in action, yonks ago.
---