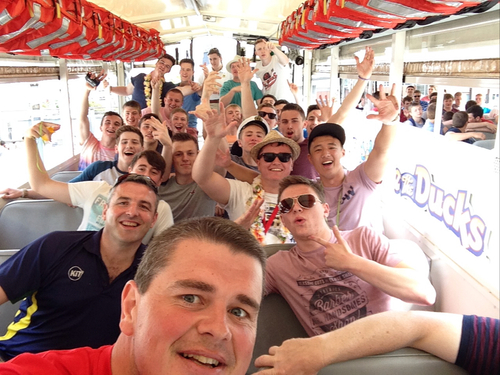 Down H.S. have hit the North American continent, playing N.W. Loggers. The 2ND XV won their game although the 1ST XV lost a close one by a score of 15 - 12. The Loggers fielded a team of U19's, so it is expected that tomorrow's game against the Tide U18's will be a dandy. See you at the Park for 5:00 and 6:15 kickoffs. Go, Tide, go!
Pictured are three Presidents of the V.I.R.U. Past President, John Wrafter, recently completed term of office, Andrew Spray and leader for the future, John Lyall. The occasion was the recognition of the work of Andrew over the past umpteen seasons in the role; by the clubs of the V.I.R.U. Andrew's leadership for the clubs and the Island has been examplary, as was John's before. He always brought a measure of fairness, patience and good common sense to every situation. 'onya, Andrew and the best of wishes and thanks to John Lyall as he steers the ship into the future. Thanks to Mikey Holmes for his generosity in enabling the occasion to be even more memorable.
PRC's Day #1
. Vancouver Island Girls U16's finished with a 1 - 1 record and the U15 Boys Tide Vancouver North with an unblemished 2 - 0 record. So, it's all on the line today. Best of luck to both teams.
B.C. Bears train in Victoria
.
In preparation for their upcoming Tour to South America & the CRC's, we saw the Bears hard at it in town this week. Our best wishes go with the group and
DON"T FORGET FUNDRAISER BARBIE & AUCTION AT THE TEMPLE NEXT FRIDAY.
Speaking of CRC's, we note the Ontario Blues, led by Perennial Pucker, took one Stateside off the "All Americans", in their preparation to defend the title.
'onya, Pucker!


HAPPY CANADA DAY
---