Double Header to Men's & Women's Prems
---
---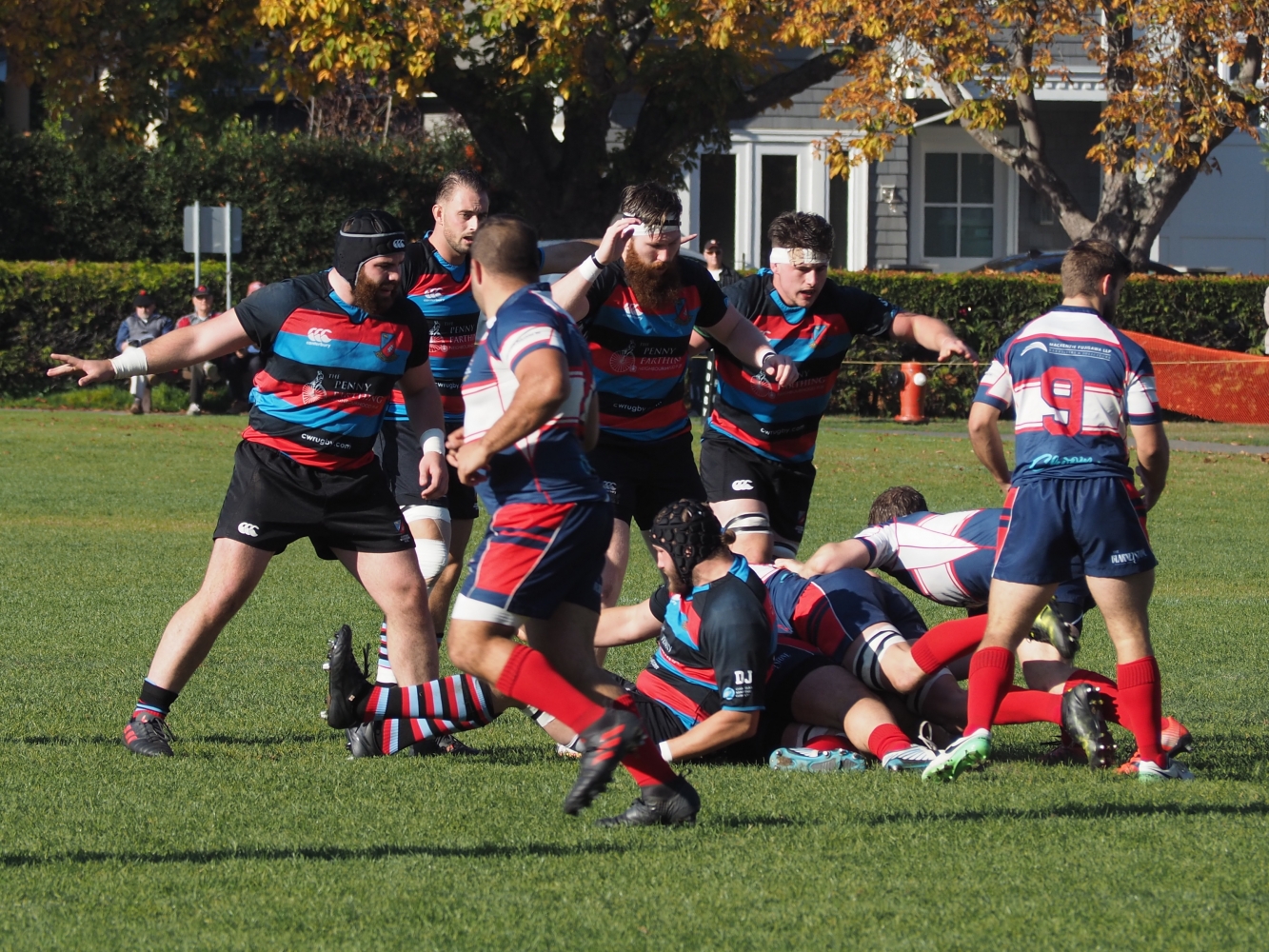 What an amazing day of wonderful weather to backdrop the action at Windsor which started at 10:15 a.m. yesterday. The UVic Saxons had a convincing win, although the Islanders were happy with their trio of tries. Best take-away from this one was the fact that the team had some eighteen players! The challenge now is to go ahead with this group; train; meet commitments and enjoy the rugby. Go, Isles!
Next up was Premier Women's action. CW fielded a strong outfit against Nanaimo. The likes of Marley Riordan, Amy Hawkins, Nicole Shaver, Tasha Loucks, Lizzie Adams, Julia Folk, Brooke Bazain, Frelen Gorst and Sara Einarson provided a very experienced base which quickly racked up the scoring. CW substituted liberally, even introducing three ladies for their initial game of rugby. At the end it was all rather one-sided for the Hosts however, from the sound of the post-game celebrations, it had been an occasion enjoyed by all!
The Men's Reserves promised much from the two teams that have been pretty close in recent seasons. The OB's Rippers lost the title to Lomas last season, so entered as favorites. Upon first take, the Rippers were composed of some very big units and one feared for a one-sided outcome. OB had early territorial advantage and around ten minutes, it was a big lock, Blair who went thirty meters and swatted some 4/5 tackles for a 7 – 0 OB lead. Ravens came back again, resourceful in attack and it was oftimes Prems hooker, Paul Ahn who crossed for a 12 – 0 lead. Raven continuity, poor CW tackling and simply put, poor matchups looked like it would be a long afternoon. Finally, after some fifteen minutes, CW worked play into the Rips 20m zone and managed to stay there for some eight or so retentions and it was no surprise when Makaroff, on a determined individual effort, forced his way over, 12 – 7.
As we have seen on a number of occasions this season, mo-jo was lost and the Rippers beat CW to a couple of breakdowns, stole ball yet again and #14 playing fullback, alertly "filled" the opening and crossed untouched, 19 – 7. OB's had their tails up and throttled CW and it was fortunate that an errant pass enabled CW to get off the hook. At this stage, CW was forced to make some replacements and play became fragmented. CW did forge downfield and big unit, Anderson forced his way over the line, 19 – 14. All this good work went again for naught when poor tackling allowed OB to score "on the buzzer", 24 – 14.
Morris's insertion just prior to the half seemed to have injected some life into the group and Makaroff was highly visible from the k.o. and CW gained a territorial advantage. The writer laments that it is such a pity that others cannot muster the work rate this man sets, pounds above his "punch-in" weight! After plenty of useful recycles, Windsor made a dangerous break for the hosts and as the defense closed, the ball came to "Coops" who pinned his ears and just made the line, 24 – 21. The Divvies had gained life and when the boys alertly took a quick penalty, the ball was recycled thrice with efficiency and a wide pass came to Benjamin on the wing. He had some work to do but did not disappoint and The Tricolor hit the front, 26 – 24. The fans were then treated to the same movie, when from the kickoff, OB's big men how had been visibly tiring, mustered some steam to threaten. From a set scrum which OB shunted and splintered, the ball came to center, Cucake who made a nice break and feed for a 31 – 26 lead. Not to be bested at this stage, CW did show some resistance only to have the bubble burst with a penalty. The Rippers drove and retained a couple of times and flanker, McBryde was over for the exclamation point, 38 – 26. The action was still not finished. Cucake made another good 40m break and fed "Missing Man for Many A Moon" – Benz Henrickson (we think), 43 – 26. CW made an effort from the kickoff and when the ball was forced loose at the back of a ruck, the ever-alert, Makaroff pounced! Thirty meters, untouched for his brace and 43 – 31 close out.
Old Boys were decisive and deserving winners of this encounter. There were a number of standouts. In a big forward pack – Miroslaw, Blair, Cervino and Flanagan getting my nods. In the backs, a cheeky Jake Edwards edged Cucake and busy Van Ransburg (#14 @ #15??). O'Farrell gave a solid performance at #10 and Vyres showed some serious pace.
For CW, it was hardly "one that got away" but they were really only "out of it" in the early and late stages of the match. The boys gave the Hard Hat to Sandner and Jon Morris and Mike Makaroff were recognized as M-o-M by their opponents. Good to see Jo Mo back on the pitch. I would also mention Mitch Elliott and Riley Ilnicki (a miracle and still getting into game shape), in the forwards. Apart from the link by the halves and the Morris injection, I felt the backs disappointed. Next week's a local derby and chance for redemption at Westshore.
Men's Premier, 38 – 19.
……and that's exactly why I would never bet against 'my boys'. It was a very lively start from CW led by a wild drive from Braddock and the contest was only five minutes young when we were to witness the skill of newcomer, Cam Hall when he fired a wide "double miss" pass to Adibe for first blood. Kelton Dawe and Sponarski were also visible in the early moments. UBCOB had a lively response. McLelland made a useful break and good ground was made following a penalty against CW. Herron relieved with an insane effort, however turnover – Ravens returned with a good line from Lee repelled by solid defense which did give up a couple of "unnecessary" penalties. Ravens took the scrum choices and three drives at the line later Moylett (?) crossed, 5 – 5. CW came back aided by a couple of OB penalties. Hall chipped away territory via the touchline. Early CW lineout efficiency looked good and when the maul finally drove the ball over the line for a Herron score, it was the first mauling-lineout for some time in this writer's recollection, 12 – 5. The contest then became very intriguing as the teams battled for ascendency – a break against the flow by Bradley; a returned threat by OB on a missed tackle; another outrageous break from Herron after he "stole" a threatening possession; another CW lineout threat; good gainers by Dalsin and Balucci, all efforts that sorely tested the defense of the Champs. CW had four cracks at the line from another lineout drive, highlighted by Braddock's work rate, yet the defense held. Finally, it was quick ball and another "miss" pass, Hall to Schellie, 19 – 5. Notable to this stage was the CW lineout threat (compliments of Evans and Stewart); ball retention and handling and team support play. All this led to a finishing drive from Finnemore and a 26 – 5 interval lead.
Whatever was said in the Ravens huddle produced immediate results. Lee (again), to McLelland, toss in a few other willing runners, saw CW defending a couple of scrums close to the line. The hosts cracked when big unit, Moylett or was it Hamilton (?) crossed for his brace, 26 – 12. Intrigue again entered the plot for some fifteen minutes and it was a desperate last-ditch tackle from Dalsin that prevented a certain tally. This was arguably a turning point, as CW fitness and substitutions produced energy vs injuries and a visible 'flagging' from OB – four hard matches in about ten or so days, saw The Tricolor splintering a Ravens scrum (to equalize that score), to no avail. Next Balucci was "held up" at 26 minutes and finally, it was Hall, yet again, precision wide ball to a flashing Dalsin and 31 – 12 lead. Time was winding down when Bradley backed himself on a slight dummy and shimmy – interpass to Logan and backed up on the outside, 38 – 12. With mere ticks left, an ever-alert McLelland pinched a ruck ball and was rewarded when he scooted forty meters (a la Makaroff) for the last say.
This was a very good result, in my estimate, one of the best team performances from the boys in the past three seasons. All performers were good. Ravens gave their M-o-M to Luke Bradley and Balucci Kegode. Hadyn Evans earned the Hard Hat from his mates and was immediately off to work! Ravens were kept in check with solid tackles completing a planned defensive pattern. CW's "cobbled" backline did a sterling job. It would seem unfair to mention one CW lad ahead of another but my gosh, Braddock Evans and Dawe were good in the forwards. Pitblado was quiet but all he had to do was to feed Hall who gave a masterful performance with hands of solid gold, setting his speedy outside men bound for the line. I must also mention Schellie, Adibe and Dalsin – what a trio on this day! Moylett, Hamilton and O'Donaghue toiled honestly for the Ravens and Sandover-Best and McLellan were the pick of the backs. Finally a vote of thanks for a job well done to the day's four officials - we believe Max Freund had his first start at Premier level with the women. 'onya, Max.
Although this is a memorable win, work must focus on one game at a time and next up is cross-town rival, Westshore, from all reports, a team improving week by week and certainly containing a capable roster. Nothing can be left to chance as last season's trip to Juan de Fuca, a 29 – 10 drubbing is still a sore point in some minds.
---