Done Deal - Women Qualify!
---
---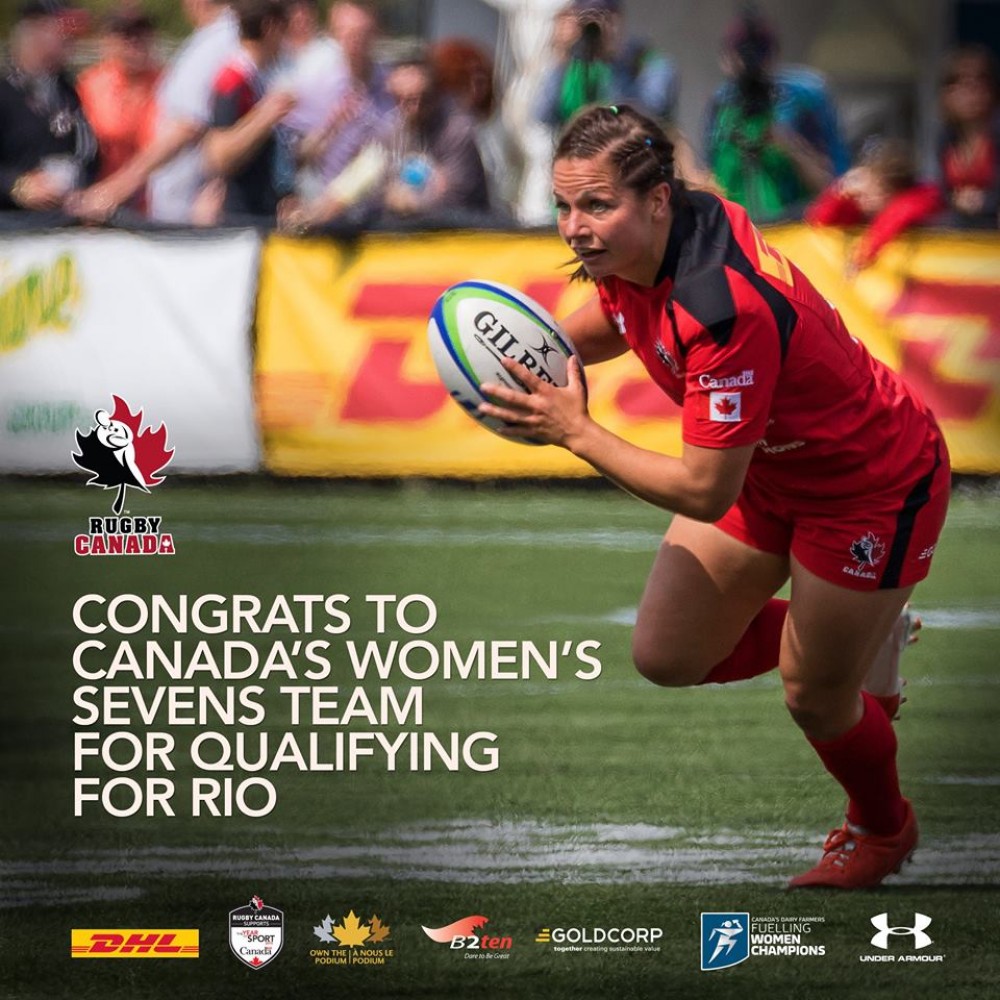 Superlatives by the sackful for Canada Women's Sevens! Tournament win over the Aussies to be unbeaten in this event, #2 overall finish to Series, Rio bound, Landry points leader, solidifying her place at top of points overall….. What a finish to Amsterdam. A great, PACKED stadium, full of atmosphere (akin to Westhills), an incredibly high level of skill, aggression and physicality in the games and the Kiwis again showing vulnerability, were all features of a fabulous display of the sevens game.
Canada went, 3 – 0 on day#1 to qualify for Rio, scoring a healthy number of points to a few. Day #2 saw our girls narrowly defeat the U.S., in a hard-fought match, 19 – 14 and thence convincingly beat France, 33 – 0.
The final was spectacular as the two teams ebbed to and fro with scoring. After five minutes of non-stop action, Kish, dummied, took the half gap and superbly fed Paquin for the opener. Oz replied to take the lead, 10 – 7. Next it was the sheer pace of Harvey to take the lead at the half, 10 – 7. Oz put their super sub, Green in and they were the first to score. With five minutes and change, Paquin again showed an amazing pair of heels for Canada to go ahead, 15 – 12. Two Canadian converts clipping the posts were worrying, not to mention a couple of "inconsistent" calls from the #1 ref on the circuit, who is just that - #1 but to the women's credit, they were not phased.
Both teams gave their all and in fact a couple of errors due to near exhaustion, by both teams with minutes remaining, resulted in Canada getting the rub of the green this week. Australia's Tonnegato, top try scorer for the tourney, scored next for a 17 – 15 lead but after a solid Canadian tackle, the ball was jolted lose and Landry went eighty meters for the lead, 20 – 17. Love this Canadian team…….instead of booting the re-start long, they gave the word to the skipper; "Get this one Kish" and she did just that, retrieving the re-start with great energy and skill, subsequent breakdown was won and the ball booted to touch. MASSIVE!
What head coach John Tait said:

"To finish the series off with back-to-back solid performances is so gratifying for us as a program. These ladies have worked so hard, especially this season, at becoming better players and to see them rewarded with Rio qualification, winning an event and finishing second overall just makes me so proud of all of them. The series playing level has risen with each event so to finish so strongly in the last two just reinforces for us that we have the right people on and off the field building towards next season's goal of winning an Olympic gold medal. We won't be complacent either, we know we have lots of areas we can get better at and we will be raising our standards again, but for a night or so we are going to just enjoy this achievement."
To coach Tait and his charges – you are amazing. Thank you for the wonderful effort and standard of play you have provided in these last two tournaments. You are fully deserving of your successes and WE are ALL very proud of you.
The Rest of the Weekend.
It seems rather mundane after this performance! There are B.C. Boys H.S. playoffs all day at Brentwood, with many CW juniors in action for OBHS, SMUS and GNS. Good luck to all.
Tomorrow, Canada's U20 Men take on Georgia in the finals of the U20 World Rugby Trophy. This match will be down streamed at 9:00 a.m. and can be viewed at; www.fpr.pt.
---