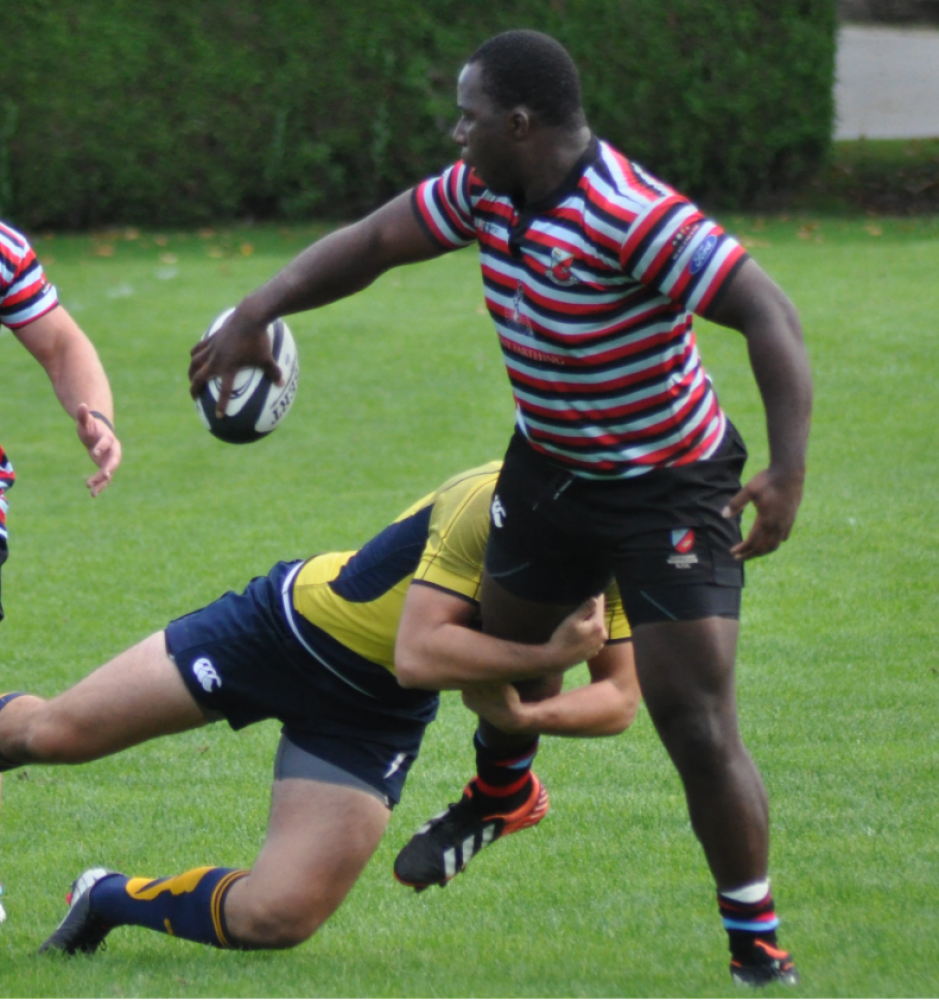 CW Rugby had to search long and deep to find a picture of DJ Sears-Duru in action. We go back some six years when DJ first came to the west coast as a touted junior prospect with a national team future. Djustice played 2 – 3 seasons with the Tricolours before this prediction came to fruition. In the years between he has amassed a number of caps and had a stint at professional rugby. He is well in the mix for RWC selection however this week he gets a "spell" and has been granted the okay to suit up. DJ will join other members of a strong bench for the Ravens game tomorrow.
The Prems have been forced to make a number of changes with three players playing for Next Gen Sevens in Las Vegas –Schelly, Owen and Logan and Josiah Morra with the NSMT Sevens. Next Gen won all three games yesterday and move into quarter final action today. Just a reminder that the NSMT plays Spain at 3:45 this afternoon. You should be able to catch the game dowstreamed
HERE.

Back to tomorrow. The starting FRF is a familiar trio and Chiz will start again with Finnie. The loosies sees Herron slotted on the side, deserving enough and his speed around the park will be an asset. Cam Hall returns to #10 and he too will be an asset to cover some of the absences. JoMo earns his first start in some time and Johnny always gives of his best and we call a break-out game for Bradley who has been pretty quiet to date. Kegode has been moved to wing and is perhaps, a little fortunate to be retaining a starting spot. Fergus Hall comes back into #15. In all, a solid squad to face an always very tough opponent at Jericho. Seems that Ravens can always muster a stronger starting XV at home. Good luck, men. Bring home the bacon.



Three of four still in the game – FRF Tiedemann, DJ, Braddock and Riley (on the bench tomorrow).


The Divvies are taking as good a combo as possible to Jericho and in fact a W would not surprise. CW has been close to the Rippers in recent seasons but just cannot seem to edge the win. Ripper's results to date are not quite the same as last season when they were truly formidable in this league. The pack is solid, led by Horan and Makaroff. The backs will see a couple of changes with Kanty coming back in at #10 and Sandner, a very clever ball distributor, moving into the centres. CW will need to focus on reducing errors but there is certainly the talent here to do the job. It is pleasing to note a very familiar name, also on return to the club, in the form of Sammy Powell.
Our Premier Women will provide the entertainment for the locals when they take on an undefeated Capilanos side at Windsor at 12:45 p.m. CW will show a number of different faces once again. The starters in the pack look to be akin to last week with the exception of Kassidy Cej. The backs appear to have some different faces not familiar to this pundit. This will be guaranteed to be a full-on performance, despite the on-paper superiority for the visitors. Week by week, Julien and Jess seem to be getting more from their players and of course, being at home is always a comfort. So, go you good things!
Action at Westhills Tonight
It is the writer's opinion that it is probably (150 tix left at time of post), a sold-out house for the 7:00 k.o. Canada NSMT take on the undefeated, to date, Argentinian 'A' Selection. The Argies are the benchmark of the ARC competition and despite being on the road in a chilly environment and a House that is always very vocal, it can be expected that they are "odds on" for this one.
From RC; "
21-cap hooker Benoit Piffero joins the starting front row alongside last weekend's prop pairing of Hubert Buydens (CW & NOLA Gold) and Cole Keith. Mike Sheppard has returned to bolster the Toronto Arrow's forward pack for their match this Saturday's Major League Rugby game against Glendale, giving Conor Keys a chance to start beside Kyle Baillie in the second row for Canada.
Canada's backrow remains untouched from last Friday's comprehensive 56-0 win over Chile, with Captain Lucas Rumball on the flank with Justin Blanchet and CW's, Dustin Dobravsky at number eight.
The lone change to Canada's backline sees veteran Gordon McRorie replace Pat Parfrey at fly half. The 30-year-old sits fourth all-time on Canada's points scoring table with 265 test points in his six-year career.
Canada's centre pairing of Ciaran Hearn (former CW) and Nick Blevins boasts a combined total of 124 international test caps, giving Jones an experienced midfield. Wingers Andrew Coe and Kainoa Lloyd, who combined for five tries against Chile, continue their string of starts with Theo Sauder returning at fullback. Sauder had an outstanding match last weekend with the Seawolves, scoring 17 points and hopefully he can replicate some of that magic."
(CW); "
Go, Canada
!"
---