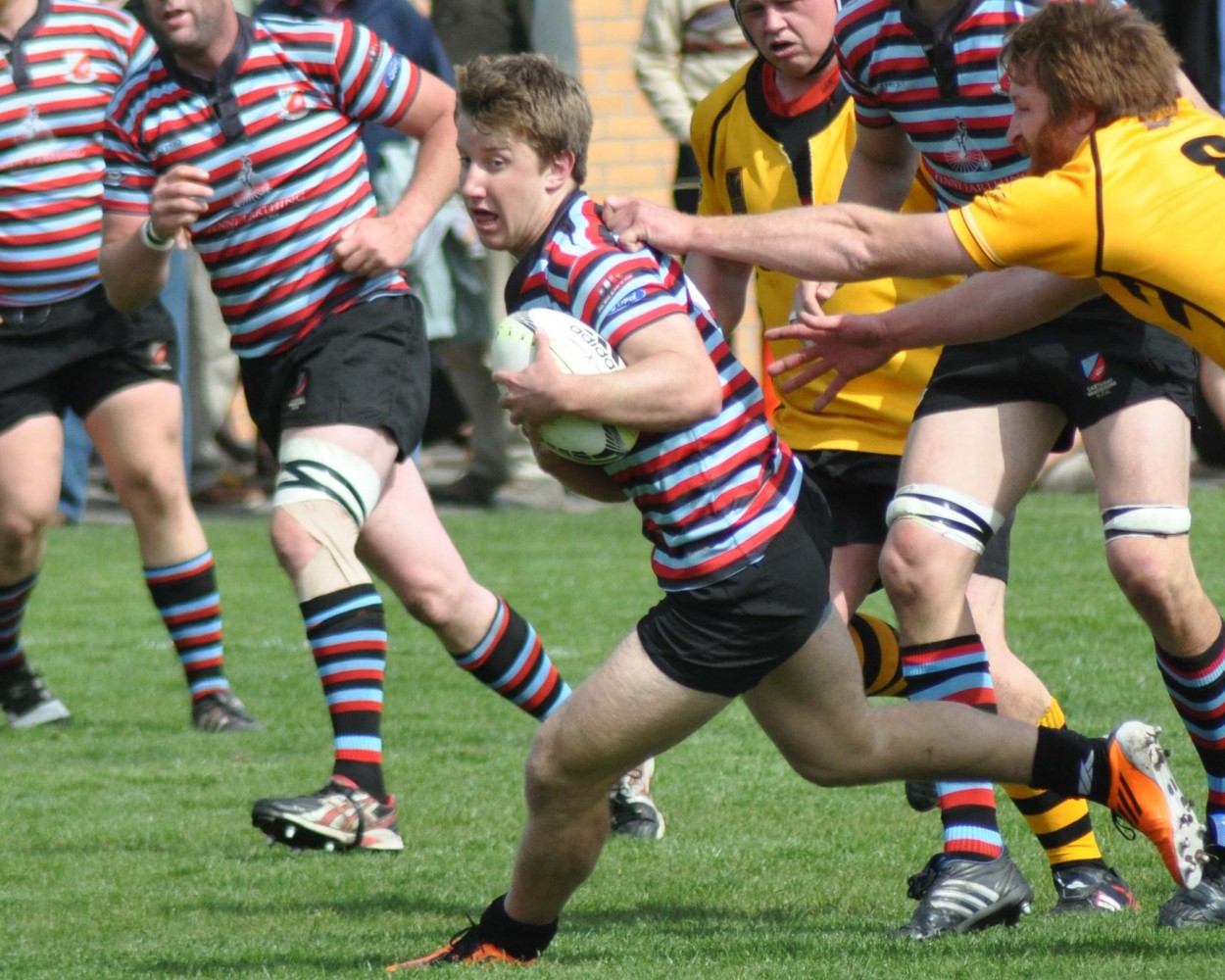 Lucas in di-sguise with stripes on!
This Saturday, UVic will return to The House of Windsor for a replay of three weeks back, led by the likes of Lucas Hammond. Hammond has made the tough choice of declining to return to the NSMT's 7's program but rather to continue his education and get on with a career. He is joined in the Vikes backs by Morgan Tate who had a very good game at #10, last time round and Fergus Hall, very familiar with the pitch after spending years as juniors and minis with CW. Vikes will be led by their #9, Pitbaldo, a useful customer and Guiseppe Du Toit returns to the center slot. In the forwards, this time round, Liam Chisholm is a starter at lock and will make a difference. Casey Reed and Ollie Nott have been consistent performers and flanker and former CW mini & junior player, Jeff Nishima-Miller, rounds out an active pack. Last visit, Jeff caught this pundit's eye as Vikes most active forward.
To counter, CW will offer a hefty cadre of "grads" – Wooldridge, Polson, Ilnicki, Dobrofsky, Styles, Horton and Fraser. It is pleasing to note that Rugby Canada has given the okay for NSMT reps to play club rugby this season and it will make for better fan attendance and overall interest. It is a credit to the boys, having just come off some tough matches that they have put their hand up, a pov maintained by this pundit for a long while that they would rather be playing than watching on the sidelines. Saturday will witness the return of Raymondo Barkwill, donning The Stripes for the first outing this season – good to see Ray fit and healthy again, he always brings special energy. The rest of the CW pack should be the unit that is the difference maker in this contest. In the backs, both Fraser and Ngongo are starters. Scholtzie lines up for game #2 and will be the better for his last outing and interim rest. Styles and Dalsin join as the halves for the first time and it could be a dangerous combo, the match up in these two slots between the teams will go a long way as to how their outside mates perform. The benches will have some good ones warming the pines – Burger, Sponarski, and Evans for CW, all very experienced and if it gets tight, may provide the necessary late energy. The weather looks like obliging, so get out to The Park, as this will be another exciting contest with the winner almost assuring themselves of a Barnard Cup spot.
Team- 1. J. Braddock 2. R. Barkwill 3. D. Wooldridge (C) 4. C. Polson 5. N. Thomas 6. R. Ilnicki 7. J. Morris 8. D. Dobrofsky 9. M. Dalsin 10. K. Styles 11. K. Horton 12. D. Fraser 13. M. Scholtz 14. A. Ngongo 15. N. Hutton 16. C. Thornber 17. J. Sponarski 18. D. Adams 19. C. Turner 20. H. Evans 21. D. Pearson 22. B. Schellenberger 23. D. Morgan
The Ones – Keys to this for The Tricolours will be to strike early, win the key battles and on defence, to take your own man and one other. Last time these two teams met it was all CW early but seemingly, like deer in the headlights, struck with their good fortune to be leading comfortably, they were stunned, allowing UVic to claw into contention. It was a fitting final result at 17 – 17 but it really should have been a W after having had a 14 – 5 lead.
It will be somewhat of a Homecoming for the Horsemen – Gav Kratz, Carter White starting in the FRF, Prevost at #10, O'Flynn and Nyren on the bench. The Hosts have named as strong a XV as possible for the re-match, so it will be well worth being early!
Teams - 1. D. Adams 2. D. Pearson (C) 3. G. Baird 4. J. Montgomery 5. C. Turner 6. C. Wylie 7. J. Elliot 8. B. Carroll 9. B. Schellenberger 10. I. Hickman 11. D. Morgan 12. O. Winser 13. M. Kelly 14. T. Stoochnoff 15. B. Gerhardt 16. D. Parcells 17. J. Crone 18. K. Lauridsen 19. S. Stephenson 20. N. Fowler 21. J. Aldridge 22. J. Henderson 23. R. Turchet
p.s. Heard that the Prems Vs Seattle women's match is in abeyance.
Speaking of NSMT 7's, RC has announced a group of 25 "centralized" men for the upcoming Sevens campaign. The group includes three CW players – Fuli, Kay and McCloskey. From Rugby Canada, comes the following; "The squad that we have centralized for the 2016-17 season is a fascinating mix of youth and experience and has made the environment a very exciting one to be part of," said Assistant Coach, Lee Douglas. "It will be great to see this squad build and develop throughout the season and I'm excited about seeing a new crop of talented players getting to pull the jersey on and represent their country on the World Series."
Phil Berna, Luke Bradley, Riley Dinardo, Justin Douglas, Mike Fuailefau, Nathan Hirayama, Harry Jones, Pat Kay, Karsten Leitner, John Moonlight, Luke McCloskey, Matt Mullins, Mitch Santilli, Liam Underwood and Adam Zaruba return as carded players. They are joined by Andrew Battaglia, David Dinbandhu, Caleb Jordan, Isaac Kaay, Kyle Lagasca, Josiah Morra and Crosby Stewart.
"We have a number of high caliber players returning with lots of World Series experience and its good see them interacting with the younger players and passing on their knowledge," Douglas said. "The returning players really set the bar high with their standards and work ethic which creates a challenging but highly rewarding training environment for these new players to be a part of. Having an influx of new players into the squad freshens things up and naturally changes your dynamics and keeps your game developing. We have a group of core players that have consistently performed on the world stage and it is great to be in a position where we can add to this with some exciting young talent."
The 2016-17 season starts a new era for Canada's Men's Sevens program under new Head Coach Damian McGrath. The Englishman takes over as Canada begins a new four-year cycle with eyes on retaining core status, the Rugby World Cup 7s in 2018 and qualifying for the 2020 Olympics in Tokyo.
Hirayama was the third highest scorer on the HSBC Sevens Series last year with 295 points, while his 27 tries were tied for eighth most. Jones and Moonlight each scored 19 tries for Canada last season while Douglas (15) and Fuailefau (12) also had double-digit try numbers last year. After making their series debuts last year, Phil Berna, Luke Bradley, Luke McCloskey and Matt Mullins are poised for bigger roles this year while the team is buoyed by the return of Liam Underwood who missed all of last season due to injury.
Despite coming off of a 13th place HSBC Sevens Series finish last season, Canada is only two seasons removed from a sixth place finish. Canada is also the two-time defending Pan-Am Games gold medallists from 2011 and 2015. The best to y'all.
---