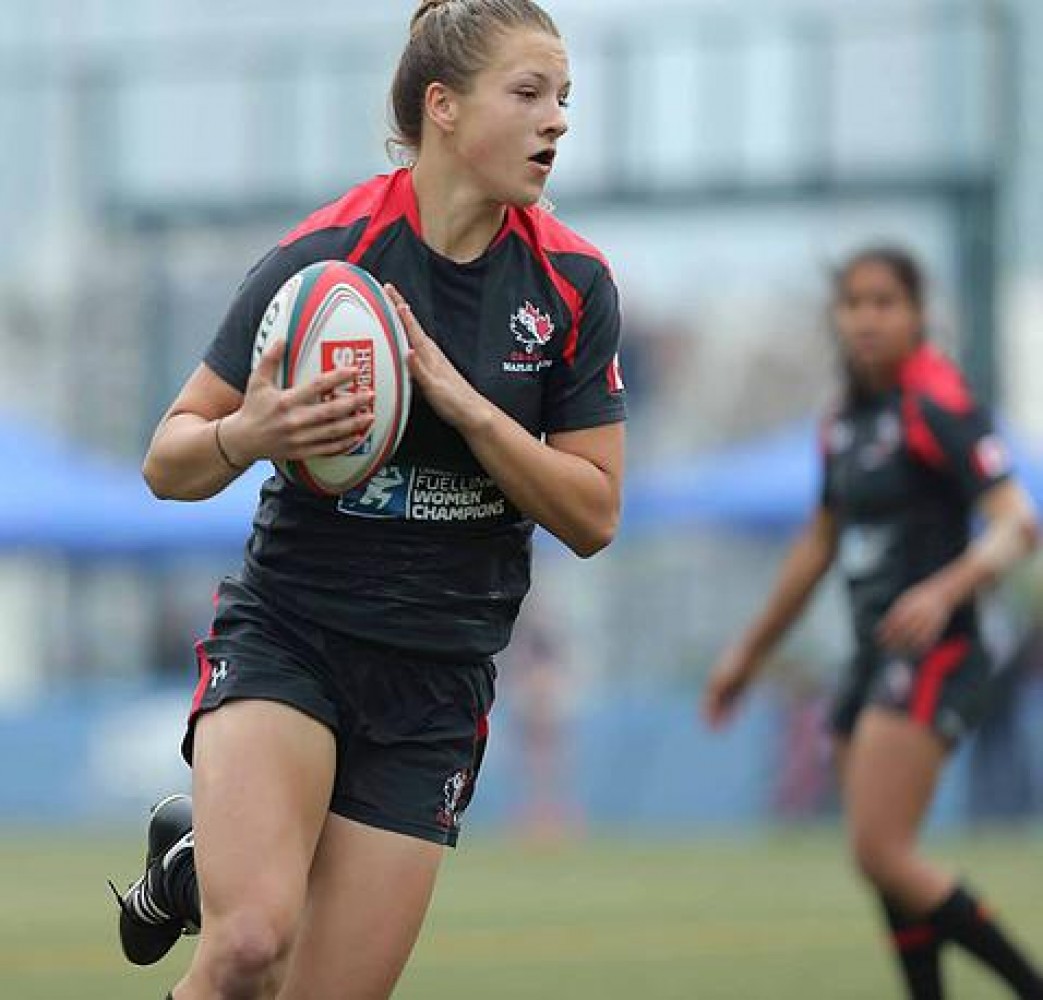 Head coach John Tait has named his squad for the opening round of the 2015-16 HSBC Women's Sevens Series to be held in Dubai Dec. 3-4. Jen Kish will captain the team while Megan Lukan and Caroline Crossley will both make their Sevens Series debuts for Canada.

"The team has been methodically preparing for the series start in Dubai but recognizing that the entire season ahead is about preparing to physically, technically and tactically peak in Rio," Tait said. "Everyone in this program works extremely hard to put themselves forward in selection to represent this country and team.

"Caroline has great potential to become a mainstay in this team well beyond Rio. She continues to grow her skill set and already has become very strong at winning restarts, work rate and looking after the ball. Megan has developed her playmaking ability to threaten defences with her vision, passing and off-loading ability. I'm looking forward to now seeing if they can now bring those attributes to the series level of competition."

Veterans Kelly Russell, Ghislaine Landry, Kayla Moleschi, Britt Benn, Karen Paquin and Mandy Marchak are included as are Arielle Dubissette-Borrice and Julia Greenshields.

Canada has been drawn into Pool B where they will face the USA, Fiji and Ireland. They hold a winning record against all three of their pool opponents — they've never lost to Fiji in three matches, are 1-0 against Ireland and have a 10-1-1 record against the USA. The tournament takes place Dec. 4-5 and can be seen LIVE at www.worldrugby.org

While Canada will take a strong side to Dubai, they have also been hampered by injuries as Ashley Steacy, Hannah Darling, Natasha Watcham-Roy, Bianca Farella, Sara Kaljuvee, Elissa Alarie and Nadia Popov will all miss the tournament. Between them, they have 49 appearances on the Sevens Series. "Injuries are a part of the game, especially at this level, we are just looking to make the most of them by trying some new combinations and tactics as well as providing the other athletes in our program a chance to step up and claim a place in our series squads," Tait said. "Winning another Dubai title would be great but would just be a by-product of the process goals we're focused on achieving in Dubai and executing our game plan when it really counts the most."

Last season, Canada had the most successful sevens season in Canadian history as they finished second on the series and clinched their spot at the 2016 Olympics in Rio de Janeiro. They also won their first Cup title in the final tournament of the year in Amsterdam.

Lukan is a crossover athlete who previously played four years of collegiate basketball at the University of Green Bay. Lukan has made two appearances for Canada's Maple Leafs, playing in Amsterdam last season as well as in the Central Coast Sevens last month.

Crossley, who is only 17, has been a rising star in Canada's ranks for the last year. The Victoria, B.C., native was part of Canada's Maple Leafs squad at the Hong Kong Sevens last season and also played in Amsterdam. In September, she represented Canada at the Youth Commonwealth Games in Samoa where Canada claimed silver. 'onya, Cross!
---