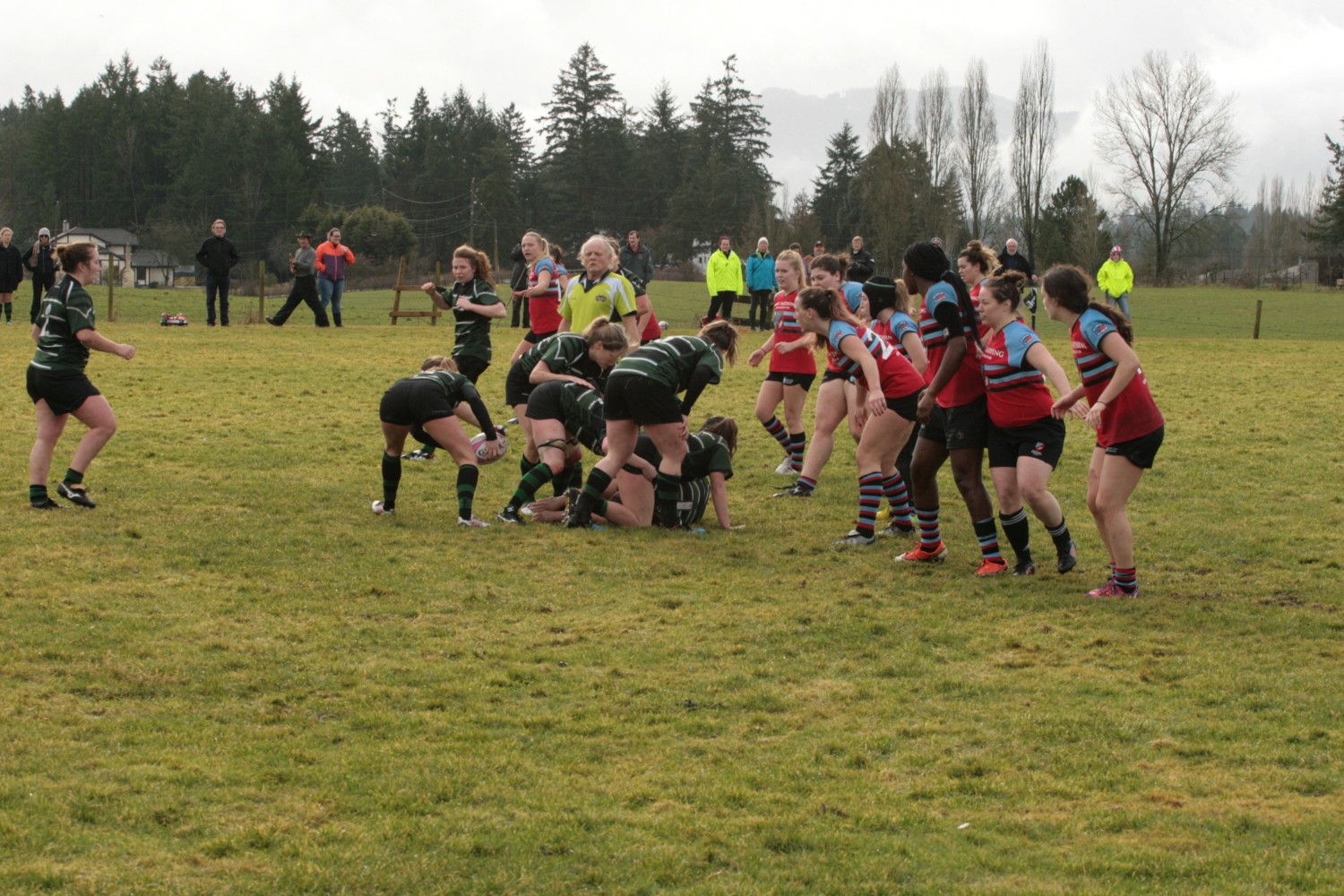 At Windsor Park yesterday, fans' eyes were directed with interest at the Twittersphere, bleeping out happenings at Herd Road with the club's women's team. At the end of the day, the results read; CW 24 d. Cowichan 17. With this win, their first on the road, the women have moved into second place on the league ladder. Well done ladies, a well-earned victory in a challenging environment.
On site, there was talent aplenty in the House, with Trainor, Hirayama, Fuli and Fraser in civvies and DJ, Barks and Jake in unis. Given that two full games was not an option, the clubs decided on 3 X 30 minute period exercises. Let's start with the officials – a total of four in all, thank you. To the players who brought good energy to the exercise, thank you. As to the play being any kind of spectacle – not really, although Ravens scored two very competent tallies in the late going to conclude their advantage on the day, 7 tries to 3.
UBCOB brought a group of good size, with a couple of extra-large units who displayed as enthusiastic ball-carriers. The only "name" player id'd was Sean Ferguson who used his jets well. The Ravens defended industriously, on many occasions with a deficit of possession and it could be added that they were far more sure-handed than the hosts, running with better depth on to the ball, testing disorganised defences. For CW, the combinations were many and varied with this pundit not knowing a majority of the boys. One glaring weakness was kicking from hand and marginally less, from the tee.
Positives for The Tricolors were; far superior play from any of the FRF combos, constantly shunting the Raven eight backwards. The only other outstanding plus was the critical mass of numbers, including a couple of new, sizeable units. This is very significant because of the structure of the Premiership League this year, it maybe that attrition that will see the top dog rise from the heap. Today's numbers have not been seen around the club for a long time and a spirit of comradery was evident. If this can be maintained, players work hard and become motivated to do well, rather than just put in the eighty minutes and selections are consistent to develop teamwork, come March, the prognosis could be very healthy.
There were individuals worthy of mention. I liked Albornoz effort, along with Kelliher, DJ Sears and Barkwill, all doing some good stuff. 'Burger' Thornber, 'Fat Johnny' Morris and Horton all chalked up tallies with solid solo performances. As usual, Oliver was everywhere, Hickman again proved to be an asset, MacPherson gave good service as did youngster, Schellenberger. There were a few 'unknowns' who also did creditable things and they would know what is referred to with this compliment. In conclusion, it seemed to this observer, that the talent level should have produced more on the scoreboard. Next up, a "premier" squad takes on Canada's NSMT's U20 at Westhills on Friday 29th January, 7:00 p.m.
---