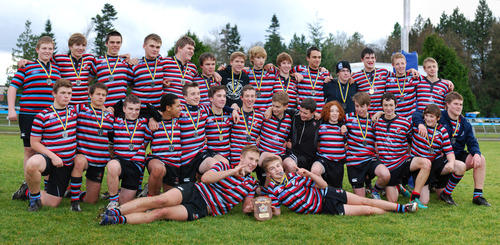 What a day for the two top U.16 sides in the province to clash for the provincial title! The wind threatened to cancel the ferries and the rain threatened to soak the field but neither came between this exchange between Castaway-Wanderers from Victoria and Bayside Sharks of Surrey. The Castaway-Wanderers arrived in the title game by battling through a competitive Island competition, whilst Bayside had fought off rivals from the mountains to the valley to earn their spot in the title match.
The match itself featured several individual battles which speak well to the future of BC rugby. Most notably were the play of CW's #8 Jonah Hall, scrum-half Brayden Tate and fly-half Brennig Prevost versus their opposites; #8 Wiley Gillet, scrum-half Jackson Sylvester-Lee, and fly-half Jared Thind. Each of these players performed their core roles to the highest standard on offence and defence, with the CW captain Jonah Hall, only slightly shading his contemporaries with such a wide range of skills, so that he was hard to distinguish as a back, or a forward.
In the end, the speed of transfer of the ball by the Visitors proved to be the difference between these two sides, as Castaway-Wanderers were able to cross for seven tries to counter Bayside's one. CW second-row Jim Newman scored a hat-trick to cap off an outstanding game. Winger, Sam Barclay, scored two tries and single tries went to Myles Duncan and CW's perennial MVP, Brandon Schellenberger. Bayside's spirit never faltered throughout the game and they crafted a superb "team try" to get the recognition they deserved recorded on the scoresheet.


Dave Brown, the Development Manager of the BC Rugby Union was on hand, along with Shane Thompson (BC Youth 7's Coach), to present the trophy and medals to both finalists and the championship trophy. Both men expressed their appreciation for the hard work done by players, parents, managers and coaches to keep the level of play high in BC. They also encouraged the players to stay involved with the opportunities ahead to represent their regions and the province. All in all a fantastic season from Victoria's, Castaway-Wanderers is capped off with a performance worthy of the title: Champions....until next year!
---