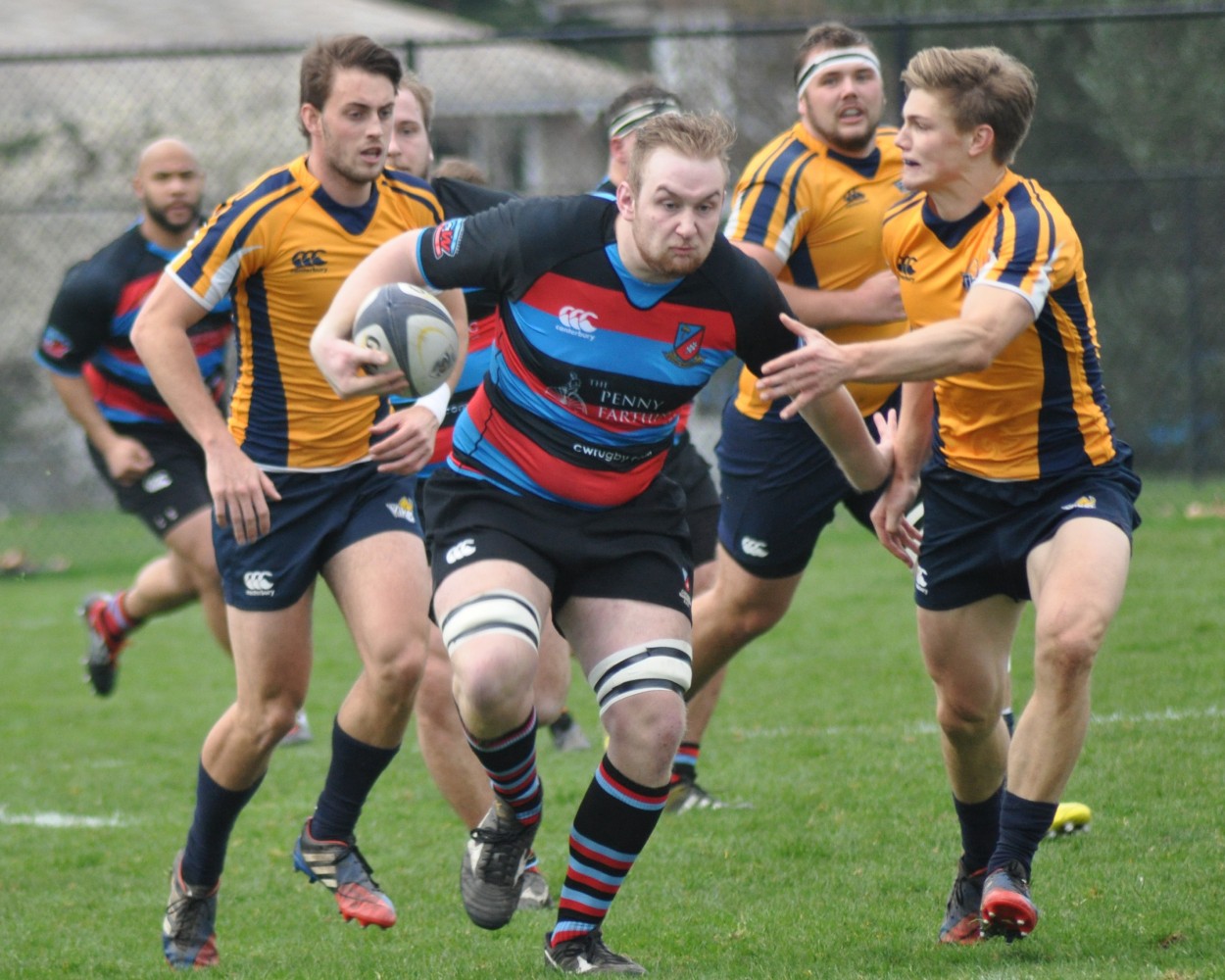 On Saturday CW Women faced off against Seattle for the second week in a row. Seattle had already put in a full day, leaving home early for a 1:00p.m. k.o. The issue of travel for Island teams to Seattle and vice versa does not have an easy solution. The game was very early when Zussman made a break and Waters was over for the lead. Round about the 12 min, mark, Seattle's Clanton, returned the favour with a bullocking try under the posts for a 7 – 5 lead. This was to become about "all she wrote" from the visitors. Play see-sawed for the next ten minutes and then McNally, playing a stormer, alertly took an opportune "grubber" from a sloppy pass for the score and Neilson converted for a 12 – 7 home team lead. The difference between the sides was visible with CW making the ball do the work for them vs the "slogging" style of independent runners for The Sarries. 30min., Nedved broke away, fed Harvey who gained 30 meters before dishing to Hansen for a nice tally, converted by Neilson, 19 – 7. Then came a piece of sheer individual brilliance when Waters gave an inside dummy and scooted eighty meters for her brace. Down 24 – 7, Seattle stiffened and came back with a well-worked try, 24 – 12. CW was to add a trey before the break, 27 – 12.
The second stanza was only five minutes old when Waters again, ever alertly spotting space, carved a huge gap and crossed for her hat-trick, converted, 34 – 12. Seattle gathered some resolve from somewhere as they were showing signs of "ferry legs" and weariness, not to mention some injuries but boosted by sub energy they curbed the tide for a prolonged period. Unfortunately, for all their good work they were thwarted from scoring by sound defense and when Zussman broke again from a patented forward drive and fed Harvey who transferred to yet another, McNally "fill", it was "shut the gates", 41 – 12. Laura Crowe-Hutcheon was on for about a minute and she alertly "pinched" a ball at a breakdown, scooting some thirty meters after her first touch, 48 – 12 with about six minutes left. Exhorted by their passionate Spanish coach, The Sarries came up with a well-earned try, the ball passing through many hands and a speedy Selkirk, coming from her blind side wing to cross, 48 – 17. This winger was a handful whenever she touched the ball and it surprised this fan that she had not been given chances much earlier. CW put the exclamation mark on it right on full time when a dropped pass was gathered by the home team and Maddy Graham scooted some eighty meters for Neilson to add the extras for a very comprehensive victory.
It was hard to pick out any one player when the team played so very well. With the majority of their remaining games looking winnable, this pundit is sure the ladies must be looking forward to the late season, cross-town encounter against current B.C. Champs, Velox. The team has clearly shown that they are taking matters one game at a time, a wise policy. Well done, Saturday, worthy competition leaders.
By the time the writer arrived at Vikesville, the match was underway. From the point of view of a spectacle this was a disjointed affair. It appeared as if both teams came with honour to play rugby but the match was severely marred by a host of yellow and one red card, along with a plethora of whistles, leaving both sets of players shaking their heads as to what was expected from them from the point of view of the law. Clearly, the referee had told them early that he wanted no malarkey at the breakdown and miscreants would be punished and so it came to pass! CW opened the scoring from a Crossland penalty at the ten minute mark. The teams then battled evenly for a period before another Crossland trey was added. The first twenty minutes had produced three yellow cards. About 25 mins in, UVic asked some serious questions of the CW defense which failed to concede, repelling some 9/10 retentions. A fourth card was issued. What occurred next was from the top drawer. Dave Morgan slid into the line from his blind side wing to scoot some thirty meters, two recycles and deft of hand and a shimmy from Crossland before opening a gap for a perfectly timed "pop up" to Oliver, brought about the first tally. This score remained til the half, 13 – 0 Visitors.
UVic started the second half with some verve and it wasn't til about the eight minute mark when CW got their hands on the ball. This day, the big forwards did the hard yards and every runner made ground. It was with patience and 8/9 recycles, that one of the forwards crossed – Thornber possibly, if not, he deserved it as he played very well or perhaps it was Evans, whomever, 18 – 0. 15min., Crossland penalty, 21 – 0. Shortly thereafter, Hickman received his marching orders, not being really clear to this watcher as to the crime, possibly a high tackle but it was his second card, thus red in colour, after earlier vocally disagreeing with a call from Kevin Smith. UVic were quick to capitalize, scoring a try in the corner and nicely converted by Jackie Nyren, his sole success on the day, a day he would have liked to have done better. CW found a way to cover for the missing man and the forwards drove a lineout maul for a big gainer, added a few more pick and drives and this time it was T-A-G "Burger" Thornber, for sure and some definite breathing room. With ample time, the ever dangerous Vikes, used their speed to create another five-pointer, 28 – 12. Then came some sheer magic. The CW backs who had cleverly found ways to cover the #9 spot, with Horton, Crossland, Fraser and Oliver all taking turns and somehow the remaining two wings covering the sweeper zone, manufactured a try, drawn up on the practise arena but executed at the exact correct moment in this battle. A quick recycle went to Crossland who crossed with Fraser, freezing the defense, then came the dagger when Morgan saw the gap and took the inside delay to burn for thirty, the bonus point, twenty minutes with fourteen men and the 35 – 12 final score and the duck was broken! In the curtain-raiser, the students schooled The Ones to the tune of 30 – 6.
Lots of standouts for The Tricolours. Off the bat the backs as a collective, manned up, none more threateningly than Dave Morgan for his best game in the jersey. Styles and Fraser also were very noticeable but the sheer wizardry of the Kiwi Connection, the diminutive halves, was a long awaited balm. The forwards more than had their opponent's number, although I thought Bos never stopped for the Vikes. Grdic, in particular had a good all-round match, winning some quality lineout possession in the late going. Ilnicki's leadership under trying circumstances was a credit, as was his general play. They played as a group, playing for each other, lots of positive chat. Final comment – Clay Thornber is on fire again. So, well done all. It has been quite the drought. You won't get to savour this for long, lick your chops and off to Burnaby next week. So, the table was set for a great evening, food, fellowship and fund-raising. The Phoenix arises!
---