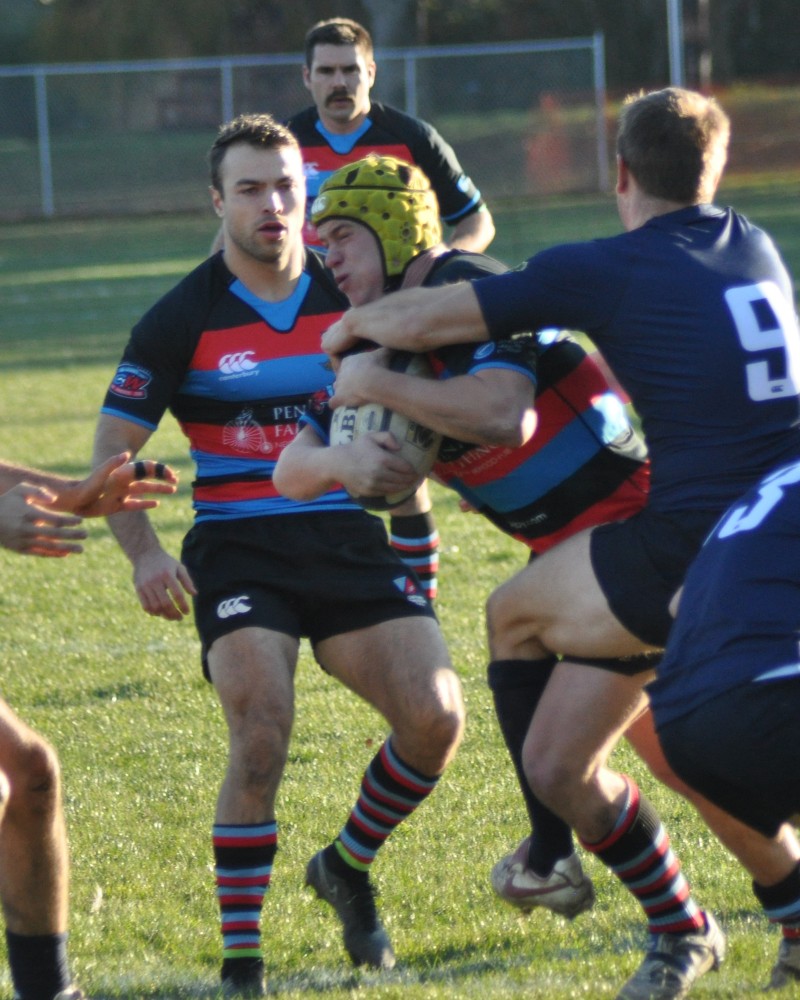 It started as a replica of last week for CW men. Losing the toss and running "downhill". The game was very young when J.Mo was the recipient of quick ball from Crossland, bulled his way through a tackle, juked and jiggled thirty meters for first blood. The next significant event was when AR, John De Goede advised referee Smith on a transgression by Barker, resulting in a yellow card. CW tightened the screws when a Crossland "chip and gather" saw him outed, five meters short. The Tricolours maintained the pressure, resulting in an Evans' try, 14 – 0.
JBA came back and with good pressure, twenty minutes in, Barker gained some redemption after seven or eight recycles, 14 – 5. The game see-sawed at midfield for ten minutes when Captain, Harriman made a good break and fed Racine who created excellent space after breaking a tackle, for Peacock to finish, 14 – 10. Next it was Crossland who fed Ngongo with a beautiful pop up pass on the inside, his pace saw him good for twenty meters, feed to Hickman, on to Horton for a very slick tally out wide, 19 – 10. James Bay's wing, Nathan Tough, made a swerving twenty meter break, Harriman continued it and a credit to their pack for another series of retentions with the ball being eventually fired to Herlaar and back to Tough for a 19 – 17 score line at the break.
From the start of the second stanza it was clear that the CW resolve was of far greater intensity than last week. Led by the FRF effort, one Baylis would have been proud of, the boys maintained positional advantage. In fact, this half would only see the Bays out of their end on three or four occasions. It was about fifteen minutes in, after scrummage and positional advantage, that fast ball got into the hands of Evans lurking out wide. There was work to be done but his final stretch was more than due reward – a deserved brace. From the ensuing kickoff, CW came again. Yet another good job from the re-start. Well into the last quarter, chaos seemed to break out, CW threatened, JBA cleared, re-gained and earned a penalty. From subsequent play, Oliver stole, again. Pocock in miniature! This was against the flow and when he fed Burger, Clay showed clean heels to his pursuers for a thirty meter romp and final 31 – 17 score line. JBAA tried to surge but it all ended with a fitting, small man's tackle by Crossland on one of James Bay's biggest, Harriman, for the five tries to two victory.
For JBAA, Harriman was again a leader and this week Racine had a far better game in the open although he was bested by Braddock in the sets. James Bay loosies were beaten to the breakdown and second fiddle to good work in the contact by the visitors. McCauley at #8 was visible but De Goede was not the threat he was last week. Good service by Laberge worthy of mention and Hall tried but was denied time this week and subsequently was his three quarter mates.
For The Tricolours, it all picked up where it left off last week with the FRF all good but mention to Jake Ilnicki is deserved. No differentiation between the rest of the pack, all doing their job, led by the Captain, Riley Ilnicki. Evans had a good outing but perhaps a bit short of a trot and paired well with Grdic, whose off loads were creative but fortunately, safe! Kelliher was more visible this week and Oliver, solid gold. In the backs, as predicted, van der Mal did it better, the centers outplayed their opponents, Horton's speed was always a threat and Hickman was solid. It was special when he was needed to move to #9. Nothing has been mentioned of Crossland – MoM in my book, one of two Mighty Mites, with Oliver, the ANZAC connection. This diminutive man has been an answer for Ceedub who has looked for someone to replace The Maestro for what seems like, too long. Not only is he the lynch pin on attack, his defence is that of a loose forward. Finally, good efforts from the bench, particularly, Jay Allen. A well-conceived game plan, well adhered to.
This game was a treat, "orchestrated" by Phil Smith and the AR's. Smithy is "shoulders above" with his speed, style and understanding. Welcome home, Phil!
The 'curtain-raiser' went to JBAA who hung on to their half time, 12 – 7 lead, to win 17 – 14. CW coughed up an errant pass for an intercept tally otherwise the teams were very equal and got stuck into the contest with vigour. The second half saw CW with chances but a case of the "dropsies" always seemed to occur at the most inopportune times. There was talent on display today from a Ceedub pov and with application, this group could cause some surprises post-Christmas, in Ceili Cup play. For JBAA, also struggling with numbers, they would have been happy the way their boys held up on defense.
Sponarski (c.), today's leader in more ways than one, is a worthy member of the FRF and will compliment Braddock, Ilnicki, and Burger et al. This pundit liked Silzer, Tabor, Teagan Horton and a solid hit out from Kehoe. Good to see Carnet and Alexander on the field and Rocher contributed although ball in hand might have been a better option than attempted creativity in the air. Although a loss, it was a fiery contest, it could arguably said that the field position was win-worthy. Thanks to the ref.
CW Women Prems faced BLRFC in a game which would prove or disprove their value and reality of results to date with Burnaby, being amongst the top echelon of Women's programs year in and year out. When the dust had settled and the adding machines cooled off, The Tricolours had placed themselves in that same group of Premier Competition. The game to-ed and fro-ed for the first thirty minutes or so, the teams finding themselves tied, 19 – 19. Predictions from the verandah went CW's way as the Visitors had the bare fifteen. So it came to pass. By the interval it was 40 – 19 for the Home side.
The second half was a scoring parade with the hosts recording a lop-sided victory. It was not a game to give tribute to those who crossed the line, for they were merely the recipients from the piano movers and the piano players. Rather, let's throw out some bouquets. Short of regular FRF members, the scrum held up against a bigger and well-drilled pack. This pundit thought Schigas, Crowe, Nedved and Hansen were the pick of the pack, with arguably, Steph Hansen at #7, W-o-M. In the backs, Sargent as usual, got things moving. This back line must be amongst the best in the League. If they can get some ball against the bigger packs form Seattle and Westshore, the results will be interesting. There is little to differentiate between a number of players, although Zussman just does it so well. The vet, Britt Waters, still has it and makes those around her, Galbraith, Kerr, March and McNally, so much better.
The last two games have seen lots of ladies off the pines get a chance to shine and slot in with the more experienced players. Special congratulations to Chloe Verhaege on her first tally in the BIGS. A very solid home side win. It would be unfair to the visitors to leave the report at that. Hats off to Burnaby who hung in there for a very long second half. They were rewarded when their loose forward, a feisty #7 scored, to have the final say in the contest. This was a fitting reward for a good job all game. Thanks go to the young referee who also did a good job.
---