CW Pilfers A Pair At The Mac
---
---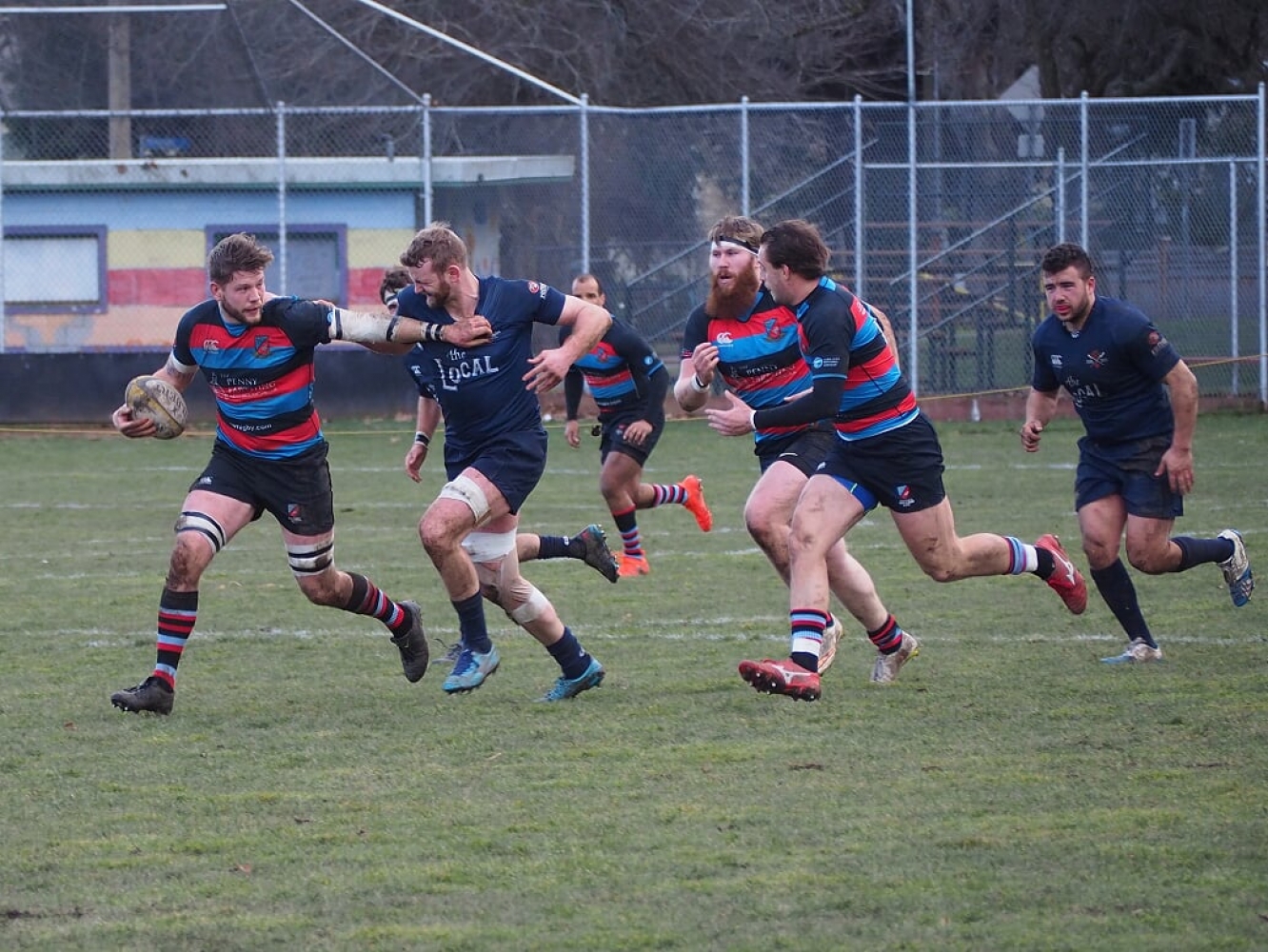 The Skipper in full flight!
CW Reserves made a rollicking start with seven or eight phases early, resulting in a try to the Captain, Makaroff and matters looked well in hand but we all know the game lasts for eighty and the Divvies were about to be exposed with some short-comings. James Bay responded and it was 7 – 7 in the early going. CW had chances but poor handling squandered their opportunities and the rest of the half to and fro-ed with no advantage.
The second stanza got started early and Griffiths crossed from a weaving run, after good build up, 14 – 7 after just five minutes, akin to the first. Lucas Hammond's young brother, James, found himself on the pitch early in the half and on first touch, he made a swerving 40 metre run for a 21- 7 lead. JBAA responded when their #10, deked, dodged, and a missed tackle and he had covered the necessary 20m, 21 – 14 after a mere fifteen minutes! CW was next up when, following a good series of retentions and thrusts at the line, Samayoa was over and stretched the lead to 28 – 14. Riley Turchet, the renowned Coops who was good value all day, was the recipient of the final of some 5/6 passes following yet another dangerous break from the flying Griffiths, 35 – 14. Sandner added a penalty with a perfect afternoon with the boot, 38 - 14. JBAA closed it out after two penalties against CW and a very inept response to the alertly take tap kicks and final score of 38 – 21.
An enjoyable enough performance from both teams, suitably handled by the M-i-M. For the Divvies, returnee, Kiel Horan earned the Hard Hat.
Meanwhile, cross-town, the Premier Women battled to a 34 – 34 tie with UBC. (We'll see if we can pick up some game news.)
FOOTNOTE: Well done to Lauren Sargent and her merry band of helpers, raising $3400 at today's Royals Hockey 50/50.



The main game opened with early, sustained sequences from the Visitors but it was repelled with stout and committed defence. Around the fourteen minute mark, Pitsy had a blind-side chance however he opted for the open side and the wide, spiralling pass went off James Bay fingers into he mitts of big Chiz on return. A trundle of five and first blood, 7 – 0. An inexcusable lapse saw James Bay IMMEDIATELY return the favour, following a beautiful 'dummy' from Thiel to Coats who showed clean heels and in under the sticks, 7 – 7. The contrast of attack from the halves was intriguing; with Pitsy firing wide, accurate spirals and Evison with darting probes, both seeking to fire their outside men. Braddock sprung Stewart which ended with Herron over the line, only to be deemed the recipient of a forward pass and the score remained locked at seven. The next threat came from Schelly, probing blind side and Pitblado kept it there, working a nice scissors with Adibe and a 14 – 7 lead. The half ended with CW incurring two penalties from set scrums, with van Heyningen seemingly getting away with some skulduggery and mysteriously rattling the M-i-M and this normally solid, reliable aspect of CW's game. Ah, the dark arts!

A third consecutive penalty was incurred upon re-start and Coats inched it closer at 10 – 14 in the very early going. Following the re-start, Stewart leapt high to reclaim only for the promise to be lost. With JBAA going "downhill", a will to attack and sufficient ball from the set pieces of play, one had a small doubt flit into the mind as to how this would unfold. Admittedly, CW did settle and showed plenty of patience, mauling and attacking the middle in an attempt to break the wall. Under this pressure, JBAA faulted with a late tackle. Six or seven patient recycles and a tap penalty and Pitblado was in, 21 – 10 and some breathing room. Must comment that Braddock was noticeable with some precision passing, a 'dummy' even and a catch off his toes; ultimately his connection to Stewart saw the Captain over the line. In this viewer's books, Nathan seemed to be everywhere on this day, so when Adibe converted it all seemed to be according to Hoyle and about ten minutes on the clock. Morris and Sponarski were in and notes further comment that Sawyer and Thiel were very noticeable for their respective sides.

James Bay was not to be daunted and their pressure telling tackles and good hands saw Coats cross for his brace and 28 – 17 differential (and a proximal pre-game points spread prognostication)! From the re-start, CW went deep and when the ball was touched down in the end-zone, play resumed with a scrum at centre – a seldom seen event. James Bay won their scrum and this time Evison flung it to his outside men. The ball went through four pairs of hands with Thiel making precious ground and winger, Burton scooted over, 28 – 24. CW secured the re-start and ground a series of pick and drives, lesson learned, until around the 20m mark, Sawyer banged it into touch.

Didn't recognise the ref, it was mentioned "out of town". Thanks, along with AR's. It all turned out to be a rare, unusual and relatively calm derby! For the Hosts, they would have been greatly lifted by their finish and it must be kept in mind that although they have had their struggles this year in some games, they have been close in many and still wear the uni proudly. The match had its moments, despite both teams coming off a lengthy hiatus. For James Bay, I give my M-o-M to Josh Thiel, assisted by his backline cohorts who unfortunately had some handling spills. So good to see Cole Braid who has beaten major health adversities, get the start on the flank. Wakefield, Heyningen and Slobodan all toiled hard and Masimo showed flashes.

For CW, the boys gave the Hard Hat, deservedly so to their Captain, Nathan Stewart. In the pack there were other contenders – Dawe and Braddock came to play and this pundit liked Herron's work. The backs never really flowed, despite Pitsy's efforts and accuracy. Adibe, as usual, was worthy of mention and Schelly sought to put his mark on it but credit to James Bay – keeping the likes of Bradley, Morra and Schellenberger in check was a good day's work. CW travels to UBCOB Ravens at Jericho Beach Park next Saturday. This will be the return encounter, Round One going The Tricolors way.
---