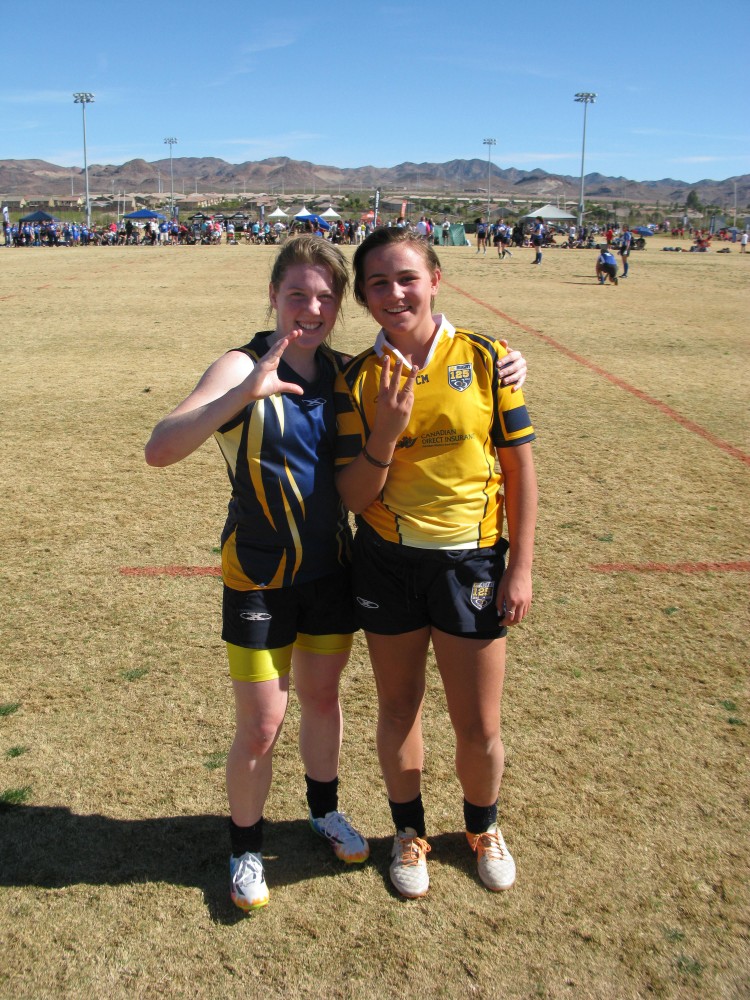 CW girls program had a strong presence in both the Youth and Elite Women's divisions at Las Vegas, this past weekend. In the U19 High School Elite division, Sophie DeGoede, represented BC for the third time on the BC U18 elite team which finished 2nd to a very well drilled US All Americans team. This was a very strong showing, considering their opposition has been together for two years.
Sofie Kennedy and Shaye Tudor (both Grade 11), continued on their representative pathway by representing the BC U18 squad in the Open High School division. Both of these girls have represented BC last season's National Festival at the U16 level and they showed their form as they made an impact on the Development U18 Sevens team at Vegas. They finished in 2nd place, losing to a strong Rugby Ontario squad that could have easily have competed in the Elite High School competition.
Lastly, Caroline Crossley continues her rise up the ranks for her first showing on the Development Maple Leafs squad. In her first major sevens competition, she played for one of the two Canadian Development squads, Maple Leaf West in the Women's Elite Division. It was a very competitive division that featured development teams from the US, Japan, Netherlands and the Aptoella Angels which featured a number of Canadian, current and former National Players. Maple Leafs West ended up in 4th place after playing Maple Leaf East team for 3rd/4th position. The winner of the division, EY Ladies (essentially a Netherlands National team,) defeated Aptoella Angels in a game played in the main, Sam Boyd Stadium.
Congratulations to our girls and their achievements in representing their province and country. Go,CW!
BCRU – GIRLS TRY RUGBY DAY
PISE, Camosun Campus, Interurban Road
Saturday, 21st February, 9:30 a.m. to 11:30 a.m. Contact Tony LaCarte for details,
250 661 4869
VOLUNTEER RUGBY FAN EXPERIENCE
Date: Monday, February 23, 2015
Victoria - 11:30 am -12:40 pm

Victoria Legislature - Minimum of 30 fans
Estimated time, Victoria - 11:30am - 12:40pm
Join the Canadian Women's Rugby team as they receive a rugby ball from a member of the BC Government and cheer as they run 1 km to the Harbour Air dock to board the floatplane.
Anna Schnell (ball carrier), joined our inaugural CW girls youth program three years ago with another BLRFC alumnus, Marley Riordan (nee Harris). We could not have had a better combination of coaches to kickoff our program. Not only complementary in terms of position (back and forward) but such a great mesh of styles and background. Our young group of girls were very lucky to have both of them involved right from the beginning !
Anna's accomplishments on the field are well known and her contributions to the game are outstanding however, what may not be well known are her contributions to the future of the game specifically to our female youth players. As Marley's family and work duties began to demand more of her time in the last few years, Anna has become the consummate head coach and leader for our program. She always demonstrates great insight and coaching ability on the field but as important as those skills are to the program, she is also a great female role model for our girls. She asks for excellence and dedication from the girls as you would expect from a former National and BLRFC, senior player. However, as important as it is to strive for excellence for any athlete, she has also managed to also keep it fun and engaging for the girls. It is the perfect combination for a youth coach.
Our program has grown tremendously from that first year with only 12 girls to 35 girls spread across three age divisions (U14, U16, U18) to become the premier girls youth program on the lower island. This could not have occurred without Anna's leadership and work with the girls. It has been so great to have her involved this past four years and she has become an indispensable part of our female program. In conclusion, Castaway Wanderers would like to congratulate Anna on her induction into the Burnaby Sports Hall of Fame next Thursday and for her excellence and dedication to the game of rugby. 'onya, Anna! Well deserved.
---