CW gets recognized at Rugby Canada Awards Dinner
---
---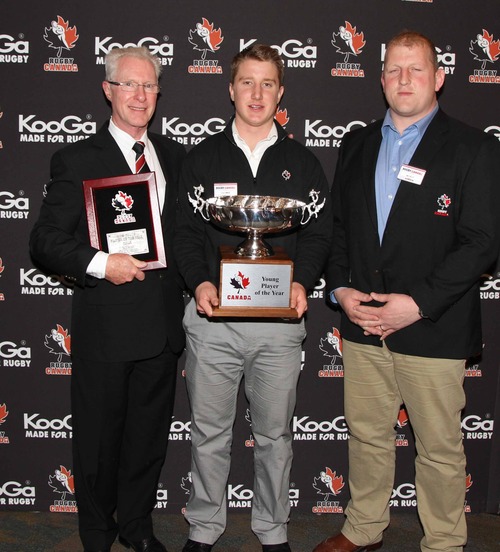 Rugby Canada launched its First Annual Awards Dinner, Saturday night April 13th at The Westin Bear Mountain Hotel in Langford, B.C. CW Rugby players with the National teams were well represented and two CW players received special recognition.
Prop Hubert Buydens was named the winner of the resurrected NSMT Fifteens "Canadian Shield" Player's Player of the Year award, as voted by the Canadian national team players. Previous winners included Al Charron, Colin Yukes, and Mark Lawson and, when it was last awarded, Pat Riordan and Morgan Williams shared it in 2006-07.
After returning to rugby full time following his CIS football career with the Saskatchewan Huskies, Buydens accelerated through the ranks and represented Canada at the 2011 Rugby World Cup. Buydens is currently away playing in New Zealand's Taranaki club rugby.
Lucas Hammond won the respective Young Player of the Year (under-20) award. Lucas joined the NSMT 7s for four IRB Sevens World Series stops for the past 18 months despite his age and is a member of the under-20 team preparing for the Junior World Trophy in Chile this year.
---