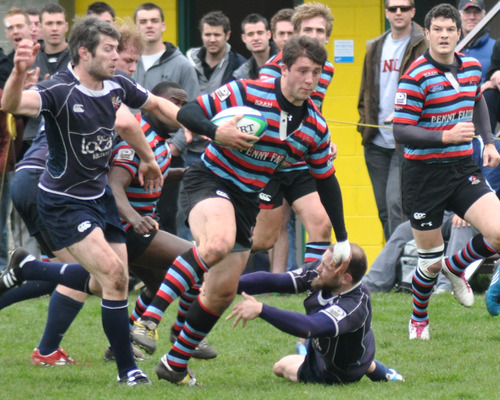 Coach, Hyde-Lay has announced a strong XV for Saturday's Bayside encounter. Mike Scholtz has finally completed a long injury recouperation period and will join Mike Fuailefau in the centers. Although Fuli was called up for VII's duty, he saw little playing time, so this pair should be itching at the bit. Woolridge has also completed his sentence and overcome a hand injury to take his place in a pack which still might be described as being at less than full strength, with Pollock replacing the injured Keogh and Franklin, proving to be one of the work horses this season, giving much back to the Tricolors, anchoring the pack at #8. Manly gets his start on the side and is capable of good stuff when he keeps his head and plays within the pattern. CW's fate is entirely in its own hands.
The club needs to "run the table" to make the playoffs but must not keep an eye on other scoreboards, as Bayside will provide ample challenge. Fans will be following scoreline tweets and doing the scoreboard watching at UVic. The Ones look like they are fielding a more robust combination as well, with the return of Canada U20, Van Buren as well as Van Gulick at lock and Van Heerden @ #9. Newcomer,'Newfie' Nash will add excitement and his play has been rewarded with a riding of the pines for The Bigs. It could be a very good day for the club or bitterly dissapointing. This pundit likes the looks of it being a good day. Go, CW!!
LINEUPS: PREMS - Forwards - Thornber, Middleton, Woolridge, Pollock, Daume, Manly, Ilnicki, Franklin. Backs - Armstrong, Buckley (c), Fuli, Scholtz, Welshy Morris, Fats Morris, Seale.
ONES LINEUP: - Forwards -Kim, Heiman, Hepp, Lamb (c), Van Gulick, Schwitzer, Powell, Van Buren. Backs- Van Heerden, Noel, Watson, Henderson, Lawless, Ng, Nash.
---