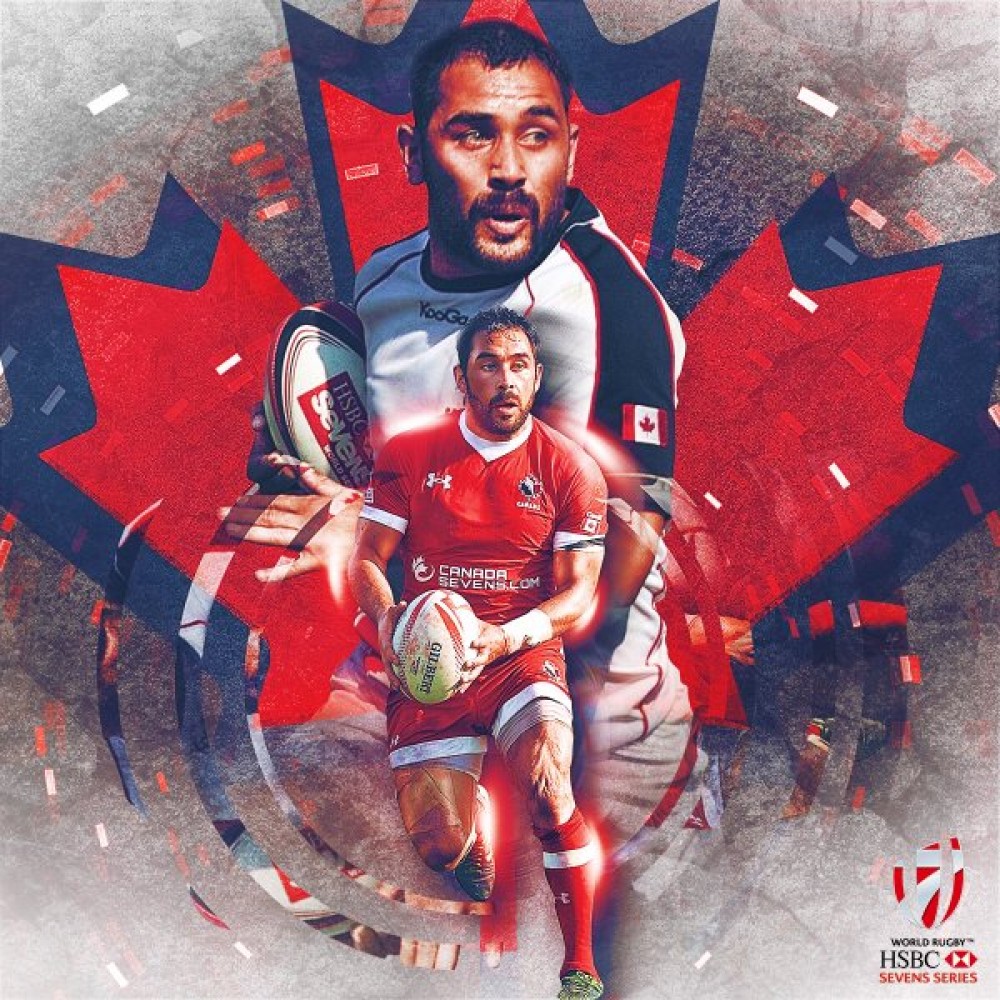 HUGE shout out to Phil Mack playing in his 50TH IRB Sevens event in two hours' time. Philly is also just 44 points shy of 1000, in all, quite the career. Thanks, Phil!
Today we bring you a brief synopsis of CW players in action out of town. In so doing, we hope we have not missed any of a large group! On Saturday, Canada's NSMT led by Hubert Buydens, take on Chile @ 2:00 p.m. (PST). The team includes CW boys, Barkwill and DJ Sears, packing down with Hubert as a FRF. There have been three changes made to the side which went down to Argentina last week. The boys have everything to play for in this first "sanctioned" test match between the two countries. A bonus point win would stand them in good stead to finish in second place in the ARC Competition. Go, Canada. Watch Sevens action HERE
Yesterday, CW had a host of players in action in Las Vegas sevens play. Caroline Crossley played for the Maple Leafs – the National Women's Development team. The ladies had 54 – 0 and 34 – 0 wins however the real work is ahead today against Development Teams from France, U.S. and England. CW's Laura Crowe-Hutchins, Kara Galbraith and Laura Sargent played in the Women's Open Division on the B.C. U23 team. The team had wins of 45 5, 43 – 0, 26 – 0 and 44 – 5. The B.C. Girls U18 team included Camille Irvine, Sofie Kennedy and Shaye Tudor. Their day's work netted wins of 29 – 12, 22 – 12 and 43 – 10. B.C. Girls U16 team included Kelsey White, Amelia Gordon and Payton Cochrane. We only have one game to report, a 26 – 10 win.
On the male side of things, CW had Brennig Prevost and Brandon Schellenberger playing for the B.C. U18's and we have no results to report and Lachlan Kratz and Hector Jardine are with the B.C. Boy's U16 team and no results from this group. CW in Vegas would be a great Club photo! Good luck to all of our players and their team mates as they pursue prizes today.
CW @ Home
CW Premier Women are "thin," at home against Bayside, with Head Coach Dovanne and seven senior players all in Vegas. Much will be placed on the shoulders of the remaining core and it will be a great opportunity for others to step up and show their game. We add a special congratulations to the following women who have been invited to the Western Canada Camp for National Team selection process; Julia Folk, Katie McNally, Marlene Nedved, Gabrielle Senft, Brittany waters and Julianne Zussman. Good luck, ladies.
The Senior Men travel to Burnaby to face the always tough, Lakers. The Ones did not come up with quite the hoped-for result last week and face an undefeated, league-leading Burnaby squad that will be a handful. Hopefully, they can produce another good effort on the road and make a game of it. The Prems have every chance against probably what most would consider a much more touted and superior opposition. We have watched this pack of forwards make some real week-by-week progress and if they can stay on the right side of the law avoiding any ire, they will give the Burnaby pack a very challenging match. Having said this about the "right side of the ref", this is a statement that does not pertain solely to CW. We have been reading many game reports from around the league about a propensity of yellow cards. If the referees have clearly made the point of law about the tackler getting away, then that is what must happen.
I take "time out" to make a reference here from the B.C.R.U.R.R.S. web page on "Referee Education".
Key area #1: THE TACKLE (Breakdown: including ruck/maul)

Globally, this is our games biggest issue as it happens 200+ times each game. Without getting into too much detail, one thing needs to be dealt with: if the tackler puts themselves in there, he / she must move. Watch the video for an example. The key emphasis should be on winning collisions, going past the ball on attack (clear out, not seal off) and attacking the ball (not the ground) on defence.

BEFORE ALL, THAT TACKLER MUST MOVE. (It is noted in the example that an immediate yellow card was issued)
This is a clear statement of the law and its interpretation.
Back to the outcome. Last week BLRC Premier Men 48 defeated Seattle Saracens 27, so no doubt will still have their tails up. The Lakers are a balanced team with backs equally as good as forwards. Burnaby's #10, Geoff Ryan is their lynchpin, not to mention his ability with the boot. Gotegote and Dolesau are probably the best pair of centers in the league and they have a good back three, not to mention, they are playing at home. Miracles do happen but Burnaby will be extremely tough to beat. I am convinced our boys will be off to a better start than against Ravens the other week and if they can be close at the half, who knows? Go, you good things.
---