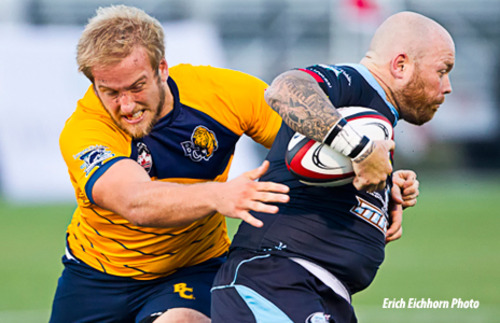 Clubmates from last season, Burger and Barkwill did battle on Friday.
The Canadian Regional Championships come back to Westhills Stadium tomorrow when the B.C. Bears play The (Atlantic) Rock at 4:30 p.m. A casual fan wonders just how Rugby Canada (or whomever), could sanction a three-day turnaround for players, playing at this level and in fact, B.C. has made eight changes from what was deemed best available on Friday last!
The casual fan pays a reasonable admission ($30 per couple) with the expectation to see a reasonable selection play at a reasonable standard. B.C. obviously incurred a number of injuries on Friday that have prevented players from "backing up". We saw another example of this earlier in the summer season when the NSMT was required to play games against Samoa and Japan (incuding travel), within five days, resulting in a narrow Canadian loss. Whether the scheduling appointments are affected by revenue, only The Shadow knows.
So, for tomorrow, CW's "handy man", Jon, Jon Morris starts at #9 and is paired with Pat Kay, the Cowichan youngster now at UVic, who has had some great recent success, as the halves; Kleeberger starts; Morrison, a workhorse, starts and presumably skippers the side; Jim De Goede and Flagg lock the pack with Meeres, Dolesau and Ferguson returning as starters. A couple of UVic-ers on the pines - Campbell and McCloskey. The squad has a decided Burnaby Lake flavour to it which may produce some cohesion. The Rock are always a tough selection and have had good success on the wet coast. We have not seen their squad so who knows? (The Shadow does!!). Gotta support The Grizz but will be keeping me dough in me pocket.
---