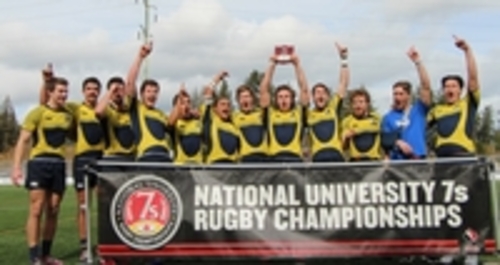 Hosts, UVic Vikes avenged their loss to UBC at the Vegas Sevens when they nipped The Birds 24 - 19 in last Sunday's Finale of the National University Championship held at Westhills. Team Captain, Pat Kay, was adjudged the Player of the Tournament and CW grad, Beau Parker played a big role in the tallies total for the tourney. On the Womens side, Mc Master overcame Lethbridge. CW congratulates both teams.
Further CONGRATULATIONS are due to CW connections; current player - D.J. Sears, grads playing with the Vikes, MacBryan Bos and Joey Erlich who have been selected to Canada's Mens U20 team that departs for three games aginst English Academy teams, Leicester, Sale and Leeds, later this week. These games are being undertaken as preparation for the upcoming U20 World Championship being held in Hong Kong in April. Give those boys a taste of Canuck best - good luck to this trio and Mike Shelley's full squad.
Ed. Apology....Graeme Dobbs from Mc Master Uni., who has had a couple of outings with The Ones is also on this squad....go, Dobbsie......as a matter of fact, I now recall someone asking on the ferry if CW had ressurected Scottish National Sevens player (Graeme Dodds), who had three seasons with The Tricolors some Yonks ago!
---