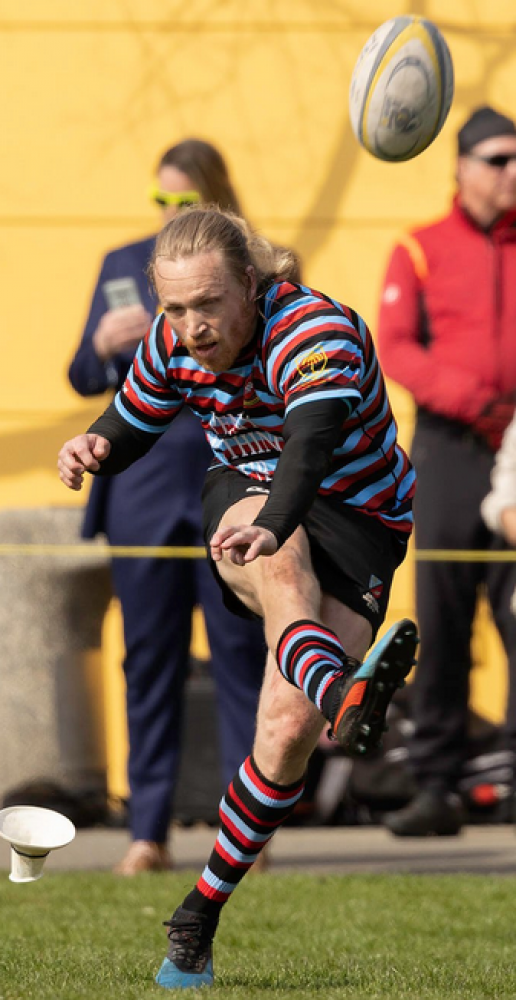 ……………….Cometh the Man
During the past decade, since the club's last BC Championship in 2011, CW has had a great trot with #10's. There has been 'Maestro' Monro, 'Ice Man' Povey, Graf, Buckley, Hall F. and Hall J., and Crossland. In 2014, Graf slotted a field goal to salvage retention rather than relegation at the Premiership level, a funeral from which CW may never have resurrected. Thanks, Skins! Monro would arguably be adjudged by some as Canada's last 'fair dinkum' #10 since Rees. 'Ice Man' deserved his handle, and all others played their part, the writer liking Buckley and Crossland, in particular.
Now there is Bowd! Grady is moving towards the peak of his career. His rugby skills are copious, and his read of the game is head and shoulders above any Canadian #10 I have observed this season. One of Bowd's strengths is defense – not just the tackle, but the physical competition at the breakdown. On Saturday he will face a young man, Max Abercrombie, who cut his teeth on the game from age nine on, at Windsor Park. He played Age Grade – BC Championships and National U18's from a Tricolour jersey. Max led his Oak Bay HS team to an Island Championship. The competition between Abercrombie and Bowd will greatly affect Saturday's outcome.
For those pundits who see CW's appearance in the Final as a surprise – keep an eye on Grady on Saturday!
A young version of Max
As promised, for your entertainment!


ONLY ONE MORE DAY

REGISTER HERE TO SEE BIDS ON MAJOR AUCTION ITEMS
Tidge of history. One item, Shep's great painting of our Temple – DSC, needs to have bids! What about some of you old timers? You worked so hard to buy it, then to maintain it, then to enjoy it... on so many occasions!



CW SUPPORTERS' ORG FOR BC FINALS
10:00 a.m. ferry over. Organise your own transport to Schwartz Bay. Present by 9:30 at latest. Walk on cost, $18, each way. Bus meets us at Ferry terminal - drops us at South Surrey for 12 noon. Seats by donation, suggested $10 return (some $ for driver, perhaps some bus libation).
Watch Division 1 finals (UBCOB Vs as warm-up then Prem's Men at 2:30, Prem's Women 4:15. We will plan to come back on 9:00 ferry after having watched both games. This is a co-ordinated men's and women's team org, so we need to be SURE of numbers. Deadline - Noon, Thursday.


Please contact [email protected] at your earliest convenience.
---