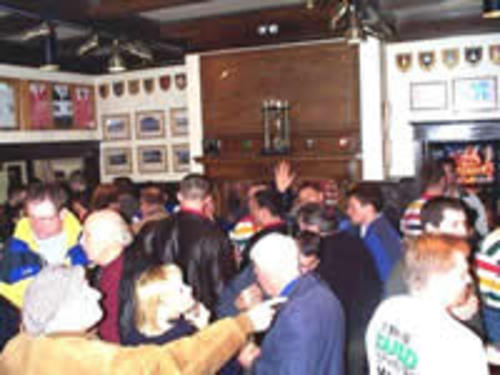 It was great to host Burnaby back at the true heart of CW Rugby, The Temple at Discovery Street. Burnaby is a spirited group that enjoys maintaining the camaraderie of the game and they were genuinely happy to be back at the club. Good to see some of the local diehards in attendance also as we seek to revive CW spirit. For reasons too lengthy to mention, we are giving the licensing of The Pavilion a rest, so after this week's game against Ravens, make an effort to "come down for one" to DSC.
It was a time for the Captains to recognize the MoM, for Burnaby, #9 – Cody Rockson and #8 - Gurvinder Kalar and for CW, Jonny Morris and Riley Ilnicki. This pundit notes that the Burnaby FRF locked by a two huge units provided the basis of their win. These big men took their toll hauling down and they retained possession well for attacks to be launched. Rockson sent Ryan, a clever #10, on his way and Reekie was masterful, with Dolesau having too much "stuff" for the opposition to keep in check. Burnaby was the deserved winner and some may have thought it could have been by more.
Jonny Morris - the final say.
Balcony Blog: For CW, Dingwall was more noticeable this week; Ilnicki and Kehoe were their "unsung selves"; Daume (a sensational try-saving cover tackle), van Buren and Middleton toiled hard; best of the bunch goes to Braddock in this writer's book. In the backs, Buckley was inspirational but not without error and Horton "filled" with greater effectiveness. Although Morris and Van der Westhuizen had "flashes" they were rather easily kept in check.
CW must clone a kicker. Points went begging. The kicking game, sometimes indiscriminately, on attack, wasted hard earned possession. Critical touch finders were missed. The backs looked like they had the right plays, only to be nixed by a poor pass, poor timing or loss of ball after yardage gained, precision which must be acquired on the practice pitch. A pleasing positive has been the clean lineout possession. Otherwise, this may read like a synthesis of negatives but it is not so, as there is plenty of talent in the group and introspection and hard work will return the confidence.
Captain Buckley - an inspiration.
The CDI Table sees CW with four points, in the "bottom three". Rowing Club and Ravens on 10 points are ahead and Capilanos have three points and Loma a single digit, not a configuration that would have been predicted. UBCOB Ravens, an ever improving side, visit Windsor this week for yet another Home contest. Knowing Hyde-lay and Lindwall, the week will be torrid for the players and hopefully, supporters will be in attendance to back a rousing victory on Saturday.
It was good to see former Trojan, Eastwood (Sydney), B.C. and Burnaby player and rugby stalwart, Dave Milne making the road trip, with support of mates and his wheel chair. 'onya, Milney!
The Man In The Middle - A Facilitator.
Finally, we also got to rerun the game video, a copy of which has been requested by Match Head Honcho, Kai Taylor, for personal professional development. We have watched Kai over the years and he is growing to be a respected official. In this game he deserves compliments for many facets – his respected dialogue with players, using humor to diffuse the many "lower deck" lawyers who do their best to seek any minor edge; requesting assistance from his touchies and reviewing decisions whilst play was underway; clear explanations to players; technical accuracy with decisions and even admitting on two occasions his own human error with a call, not one which had any effect on outcome. As a coach, this writer often told players that if they made as few errors as the ref, we would do all right and this would have definitely been the case on this day! 'onya, Kai.
---