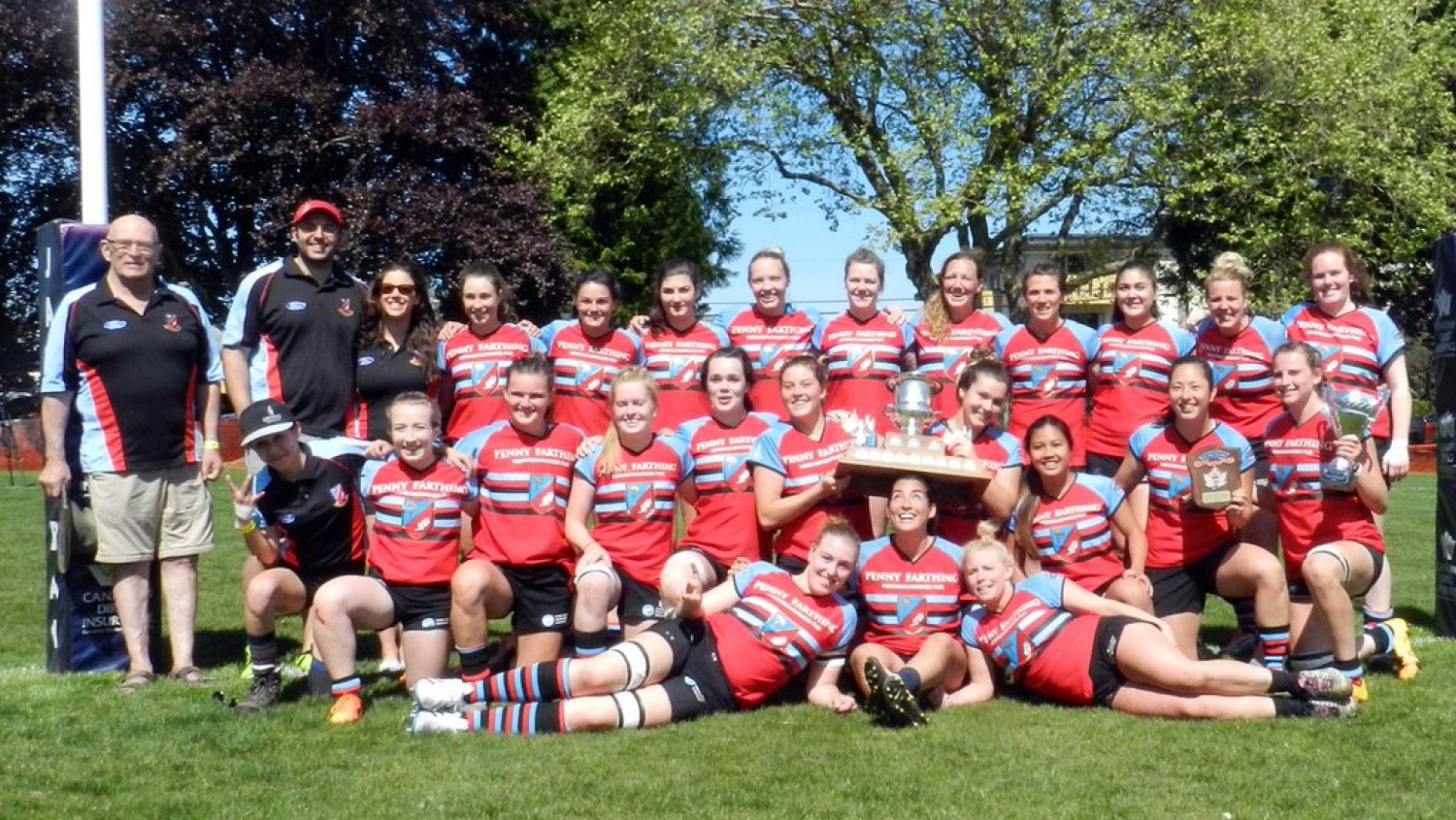 The table was set at The Mac when the ghosts of Bateau, Mole, GG, Swinson, E-balls, Duke, Al Cave and Bubba carried The Crows to an upset victory over the favoured Westshore Velox, in the Men's 3rd Div. B.C. Final. A toast to many a fine, Liftspan's past! Well done, Kelowna.
The women got underway at 1:15. This game report will attempt to bring some objective observations, rather than the total run of play. If the reader missed the game, the video is embedded and recommended, well worth the viewing time. The final result, a CW 31 – 15 victory concluded a Cinderella saga. This writer cannot find enough superlatives or bouquets to shower upon this team.
I suspect CW won the toss and chose to battle "uphill". Both Trafford and Zussman made an early CW statement with pacey breaks. There was phase after phase of retention from the Champs, only to be matched with a totally committed and courageous defence from the Challenger. It was VW who was to draw first blood when they backed their lineout, giving up a kickable penalty and although not successful with their first thrust, won a second chance when CW cleared poorly and Fitzpatrick punched over after about fifteen minutes, 5 – 0. Not daunted, CW's McNally made a huge break of some forty meters and although nothing came of it, persistence saw a CW response when a hard-running, Jenn Appleby deservedly crossed some five minutes later, CW 7 – 5, not to be bested again. Nedved (CW) and Mervin (VW), made hard yards and asked questions in a game that was 'on edge' but handled fairly. Howat (VW) and Keller (CW) led their sides with attack and defence and a little niggle to boot. The Tricolours had a noticeable field position advantage and arguably, left two or three tries on the table as they went to the interval with their edge.
Who could have predicted five second-half tries? Neilson who went 5/5 (11 points) opened the second half with a trey. The teams battled to and fro with physical confrontations that could be heard from the sideline. When CW took a quick tap penalty, Zussman "filled" and backed herself about ten minutes in, perhaps confusing the Velox, expecting a further shot at goal. This stretched a visibly slowing and flagging pack. This was the first time the VW defense had shown a crack and Zussman crossed to take the score to 17 – 5. From somewhere deep, the experience of "being there" got Velox back into it and when Mervin went from a #8 pickup, it was all hands on deck. With VW persistence, Rosie Lang proved unstoppable and it was game back on, 17 – 10. There followed a great stretch of play with both sides, especially CW, retaining long stretches of possession and players almost out on their feet – credit to all thirty. Finally, Galbraith, whose game was something special on this day, fed Zussman, who swerved by a grasping defender and it was 24 – 10. With the tide definitely turned, The Tricolours had their back up and, a perfectly timed "pop-up" from an otherwise quiet, Waters, went to Zussman for a thirty meter scamper to complete her hat-trick and exclamation, 31 – 10. Mervin and McNally delighted with a couple of SBW out-the-back-doors in the waning stages and it was VW who had the final say, when Rosie Lang crossed for her brace after an alert tap penalty, 31 – 15.
A 26 point differential turnaround from the last meeting between these two sides – WOW! In summary, the names mentioned are not to detract from any of the warriors not mentioned. These two squads gave of their all to provide the fans with a spectacle. I attribute CW's bravery in contact to be the deciding but not sole, factor. It built confidence and despite being pounded again, this time round, the skills survived and confidence grew.
It was far too difficult to select W-o-M. For Westshore, I thought Lang and Hunter brought their usual power game, Chelsey Minter is a force….. not sure of her National team status but she needs to be there! Barb Mervin is a hard, talented and classy player and she led her pack well. In the backs, Lynz Anderson at #9 had a very good game with great confrontations with Keller in this no-prisoners epic. I am a huge fan of Howat who again, was always a threat. Apart from Robb who is another good 'un, the rest of the backs did not present too much danger being limited by the fast-up defence.
For Ceedub – huge credits must go to the Front Row Fraternity. I loved the work rate and confrontation from Harvey and Keller. Crow-Hutchon packed eighty minutes into her forty. Like her counter-part, Nedved was also excellent. Neilson did have the better of Anderson and I thought Galbraith was outstanding, the halves combo working very well again. In the centers, Hanson, McNally and Trafford all looked for work throughout. Despite claiming not to name a W-o-M, as I write, I cannot but help to reflect on Zussman's sheer brilliance on this day. Kudos to Velox for a game well-played, hard and tough, as a final should be. The styles of the teams reflected their strengths, talented and well-coached. To the victors, go the spoils. I noted earlier CW's bravery in the confrontation, to this I add passion, pace, persistence and pride and therein the reader has the difference in the score.
To the officials, thanks. With skilled and knowledgeable players, testing the limits to gain the edge, orchestrating the game was not an easy task, perhaps very fair is the best assessment to offer. CW congratulates all other BCRU competition Champs from today's games, UBC, Caps, Abbey, Lomas, Kelowna, Seattle and Surrey (hope there are no omissions! Oops, a belated Meraloma). Thanks to James Bay AA for cordial hosting and excellent organisation of today's three-pack.
So, the inaugural season comes to a wondrous end. Hats off to players and all others involved, you have set the bar high for CW rugby, a statement that has been missing for far too long.
---