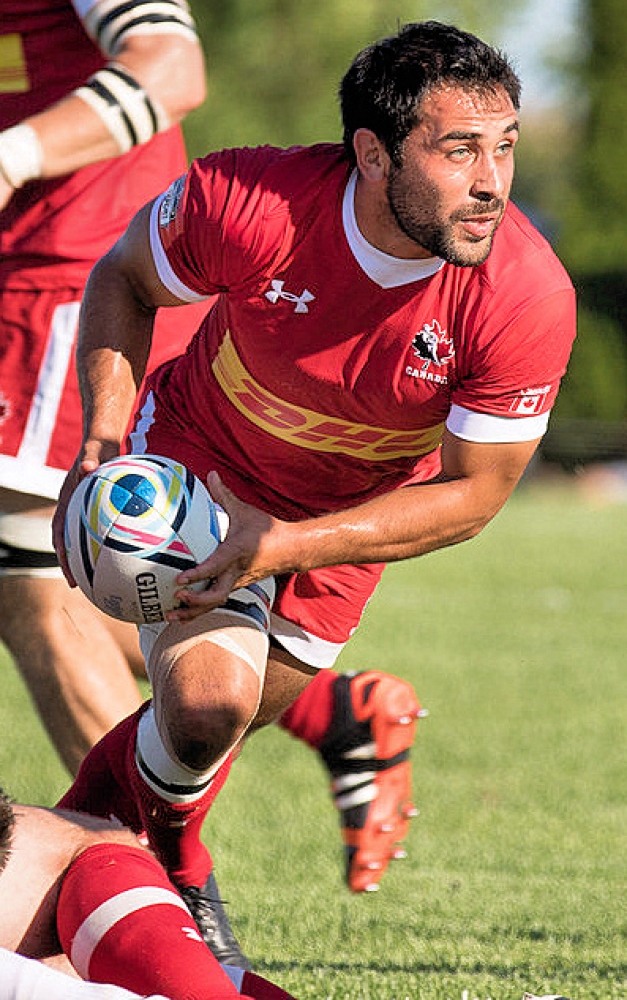 CAPTAIN CANADA: We at CW Rugby join the many rugby fans across Canada who have lauded the selection of Phil Mack, announced this week to captain Canada in its November series of tests. From Philly's new coach, Kingsley Jones; "Phil Mack will lead the side (Canada) for the November series. This doesn't mean he will play every game but certainly this coming Friday against the New Zealand Maori at BC Place, Phil will be inaction. What a great honour for him, he thoroughly deserves it. This guy has given a lot to Canadian rugby, both Sevens and Fifteens. He leads by example and I know that he has the respect of all the players and coaches, whether they are playing overseas, whether they are local, whether they are from the east or the west. For me he is a natural leader and I look forward to working with him."
Action commences this coming Friday night with some 30,000 predicted to be present at B.C. Place. The Kiwis will be more than a stern test as it is a side that contains a number of Super XVI players and a number of fully capped players at the All Black level. The match kicks off at 7:00 p.m. and will be televised via TSN. The Temple will stay open, post-Happy Hour and many fans are planning to watch the game on the big screen there, particularly players, as all four teams will be playing in Victoria on Saturday. So, if you're looking to share the match with like-minded fans, The Temple's the place to be. Go, Phil and go, Canada!
FURTHER HONOURS
We also throw HUGE bouquets to Ghislaine Landry who is one of three nominated as Women's Sevens Player of the Year for 2017. Ghislaine joins Michaela Blyd and Ruby Tui, both from N.Z. We quote from Rugby Canada; "Handed the captaincy at the start of the season, Ghislaine Landry led Canada by example and finished as top point scorer for the third series in a row, accumulating 269 points. The 29-year-old scored her 100th series try and became the all-time leading point scorer in series history in a campaign which saw Canada win in Sydney and finish third overall. A calming presence on the field, she is blessed with both vision and pace and featured in four tournament dream teams in 2016-17." Wouldn't this be a coup? Regardless, we think she's a beaut and sooooo deserving. Go, you good thing, Ghislaine.
SPEAKING OF;
Sevens. A men's "Canada A' team will be playing at this weekend's Silicon Valley Sevens in California. The team includes CW players – Pat Kay, Josiah Mora and Luke McCloskey. A number of regulars will get a rest as Coach McGrath seeks to develop talent for another rigorous go round on the IRB circuit. John Moonlight will lead the side and there is plenty of pace with the likes of Jared Douglas, Isaac Kay and Matt Mullins. Good luck to the team in this tournament and all the best to the players as they seek to achieve their goals and keep Canada in the top ten or better in the Men's Sevens World.

UTUBE FILLS the VOID
For those of the faithful who have the time to view video of last week's game at UBC, we bring it to you today – free of editorial opinion!
A WEEKEND of HOME GAMES

VIRU First Div: CW Islanders Vs UVic Saxons @ Wallace Field (UVic), 11:15 a.m.

BC Premier Women: CW Vs Capilanos @ Windsor Park, 12:45 p.m.

BC Men's Reserves: CW Vs UVic Norsemen @ Wallace Field, 12:45 p.m.

BC Men's Premier: CW Vs UVic Vikes @ Wallace Field, 2:30 p.m.


---