Canadian Women All The Rage !!
---
---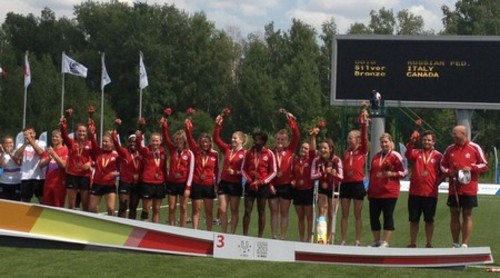 Canadian Womens Rugby has hit the headlines again in the rugby world! WoooWeee! The Women finished in third place at the recently completed World Student Games in Kazan. They overcame Great Britain, 36 - 0 for the bronze medal.
Meanwhile, the Womens U20 team has posted an undefeated 3 - 0 record at the Nations Cup in Colorado, with wins over the U.S., South Africa ( 37 - 0) and poor old England (43 - 15) who must be having nightmares whenever they have to face the Maple Leaf in Womens competition at any level! The Women move in to the Final against opposition tbd.
We add a short postscript here, noting the B.C. Boys U19 team defeated Ontario, 22 - 20 at the CRC's in yesterday's opening match. CW's Joey Erlic is on the squad - go, B.C.!
Day#2 - B.C. d. Nova Scotia Voyagers, 43 - 0, led by a brace from former CW-er and current Vike, Macbryon Bos.......CW, man...they're everywhere!
---