Canada Women Crush Wallaroos
---
---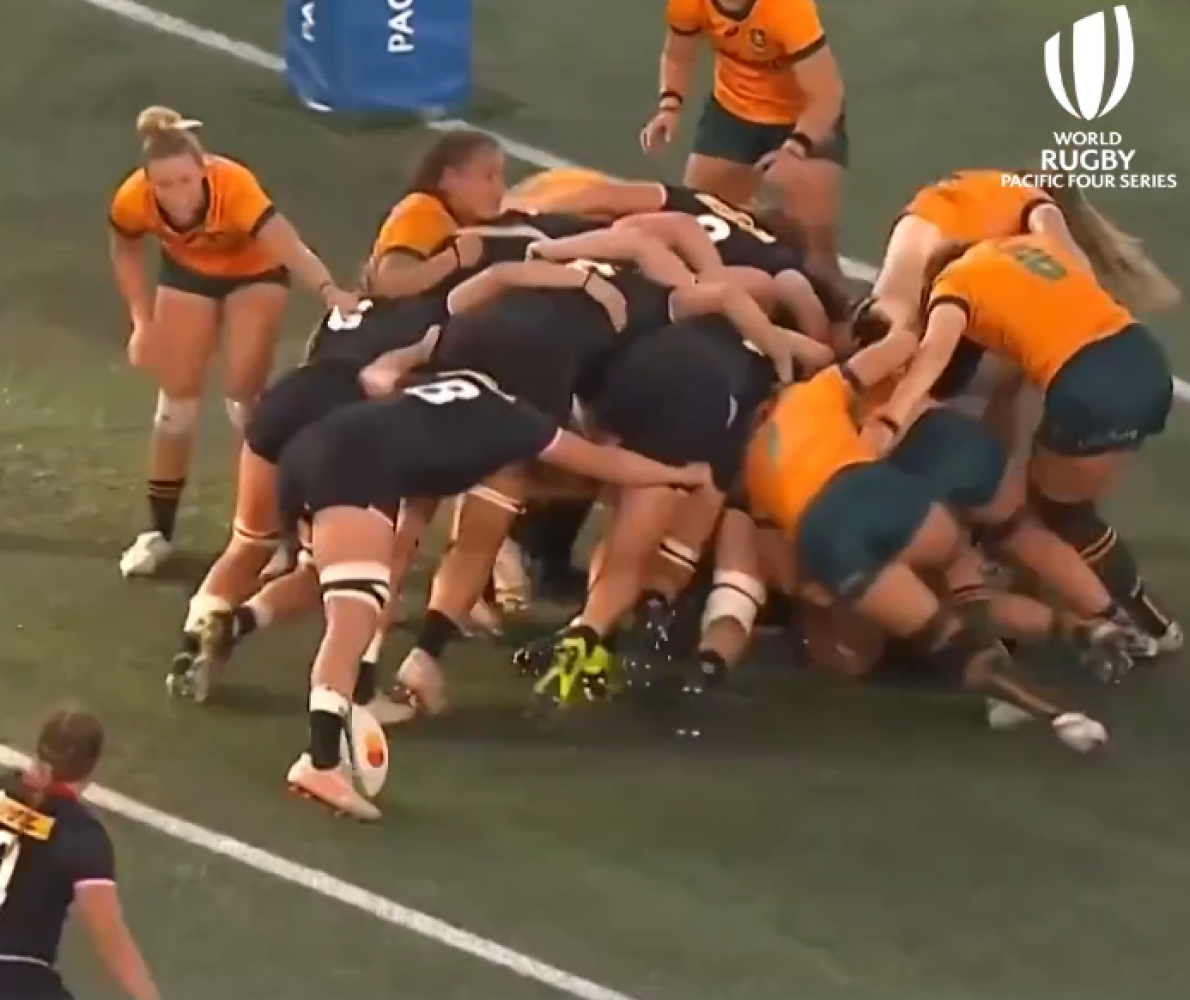 (Credit WORLD RUGBY twitter feed.)
The screenshot depicts Canadian scrum dominance on their way to a try late in the first half by winger, Sarah Lachance.
There has been plenty of rugby news pertaining to Canadian teams during this past week, although, there is none that compares with the crushing blow delivered by the NSWT XV's Friday evening to the Australian Wallaroos. This pundit had made a couple of observations after last week's game against NZ, and on reflection, only the coaching staff and the players knew what the tactics were for that match, however, this week it was good to see attention to retention and recycle and then the setting up of renewed pods of attack and it paid off in spades. Tyson Beukeboom with her sixtieth cap was rewarded with a hat trick of tries and Captain de Goede scored a brace and added five conversions for a twenty-point night. With the win, Canada has certainly solidified their third-place world ranking and indeed, if the rankings are to be considered a fair reflection, there is quite a gap to the next ranked country, although France, Ireland, and Spain would all refute this statement! So, well done ladies and staff, on achieving qualification for the newly conceived WXV Tier One Annual Tournament. A proud achievement.
The Women's U20 side has been active with two matches and their results have not met the same successes. Earlier in the week, the ladies lost to the U.S. by a score of 40 – 24 then followed this up with a further loss to Wales, 39 – 12. Obviously, as the predecessors for the Senior team, there is work to be done at this level, despite many opinions as to the quality of the women's game, across the board. CW-raised, Jesse Knaggs, is a member of this team.
NSMT U18's had some success this week after an opening loss to the Netherlands at a small tri-Nations tournament in Europe, having drawn the U.S., 32 – 32, in mid-week action. CW lads featured prominently in the six try parade with Ty Driscoll, Josh McIndoe, Noah Kynaston and Spencer Cotie crossing the line. The lads played Belgium early morning today and came out 22 -17 victors. Again, CW's Josh Mc Indoe was in the scoring parade. Despite a third-place finish of 1 – 1 – 1, this was encouraging, particularly after coming from 17 – 0 at the half in the last game against Belgium.



V.I.R.U. members of boy's NSMT U18's in Belgium.
Our final posting today serves congratulatory comments for many young Islanders who played for the VIRU, Junior Tide teams at the recent, Annual PRC contests at UBC. Of the six divisions, the Crimson Red of the VIRU stood atop the podium, winning first place in the Girls & Boys U16 and U18 age groups. The Fraser Valley took both U14 titles, with Vancouver drawing a blank.
---