Canada (and CW) Commonwealth Games History
---
---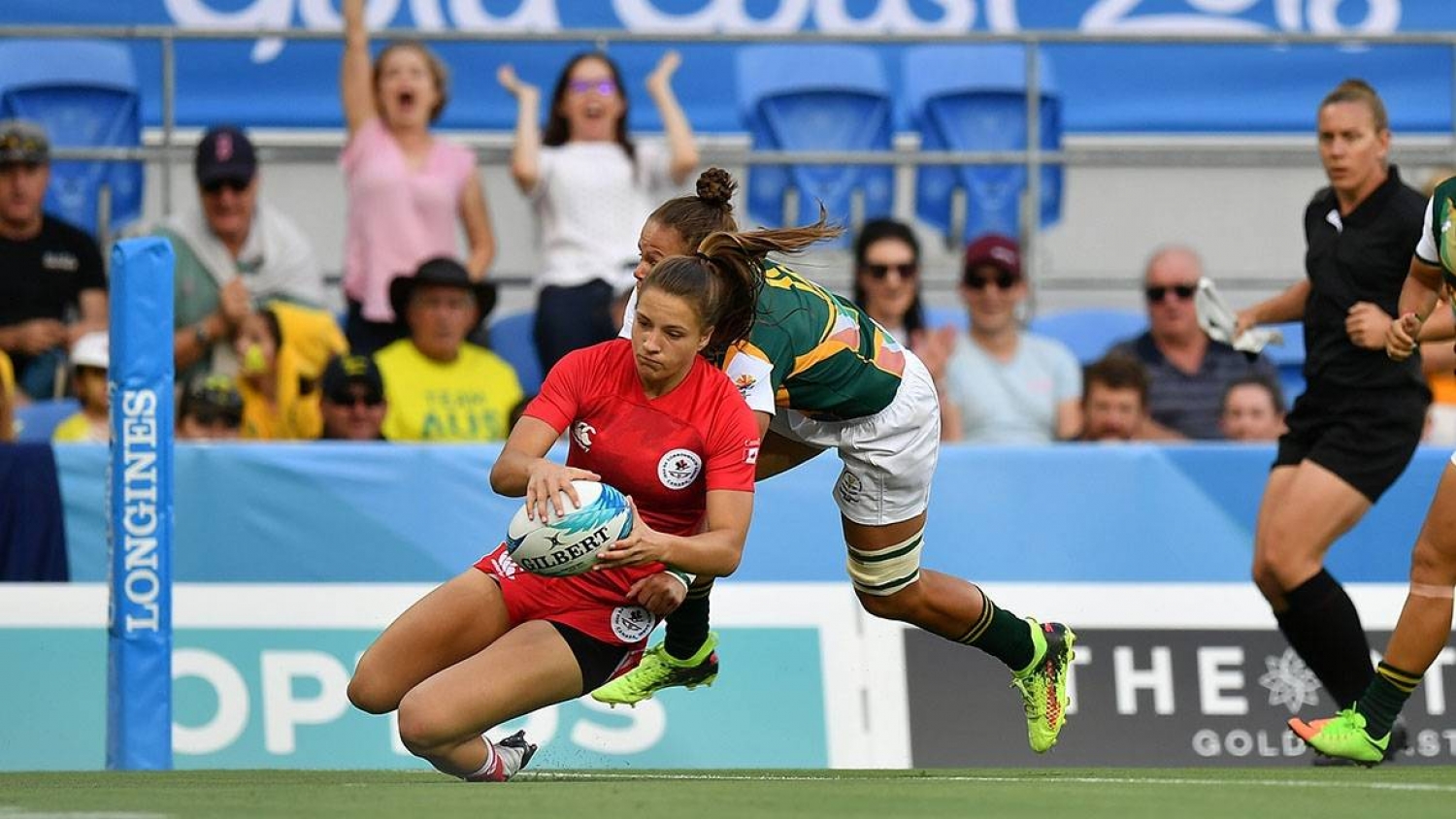 The show was very young when Canada opened the scoring against South Africa, Caroline Crossley crossing for the first ever try in the inaugural Women's Sevens. They went on to "bagel" RSA, 29 – 0. Their second match, saw a somewhat unheralded, Kenya give them stiffer opposition with the final score being 24 -12. We turn it over to our man on the ground in Surfers Paradise;
"Incredible atmosphere with a near capacity crowd (stadium holds 27,000). Canada was first on the docket and it turns out to be an historic game as the first ever women's 7s game in the Commonwealth but one that will have CW and Victoria product Caroline Crossley associated with it. It was a well worked series of phases off a blundered kickoff by SA that resulted in a relatively easy finish for Caroline to become the first try scorer in the Women's 7s at the Commonwealth games! ! It is a wonderful venue which is perfectly suited to 7s with great acoustics for the music and entertainment that is associated with 7s and great vantage points from the various sections. It was great fun and very interesting to see the cross-Tasman rivalries present themselves amongst the fans! We sat amongst the Kiwi fans (many of them parents of the Black Ferns players) and loved to hear the banter as the cries of Aussie, Aussie, Aussie, Oi, Oi, Oi tried to drown out the Go Kiwi chants.
Teams at the top are expected although Fiji showed brilliance vs Wales and England gave Aussie women a good challenge that could have been closer if they had not kicked short just prior to half-time (giving the Aussies a free ball to work wide to their powerhouse winger - Elia Green - to score to tie up just in time for half-time). Canada has big match vs NZ tomorrow and one feels that if they can shut down a couple of their strike runners – e.g., Portia Woodman, that they will be in it. Aussie women will be handful, but England showed that with aggressive breakdown approach and strong/direct running at them, that they can be vulnerable. They don't like being on the back foot and it does disrupt their more rapid flowing attacking style.
Should be interesting set of matches tomorrow!"
Ed. "Shutting down" Woodman is perhaps easier said than done but the ladies have shown us plenty of desire and energy in the past, so it is, go, you good things!
---