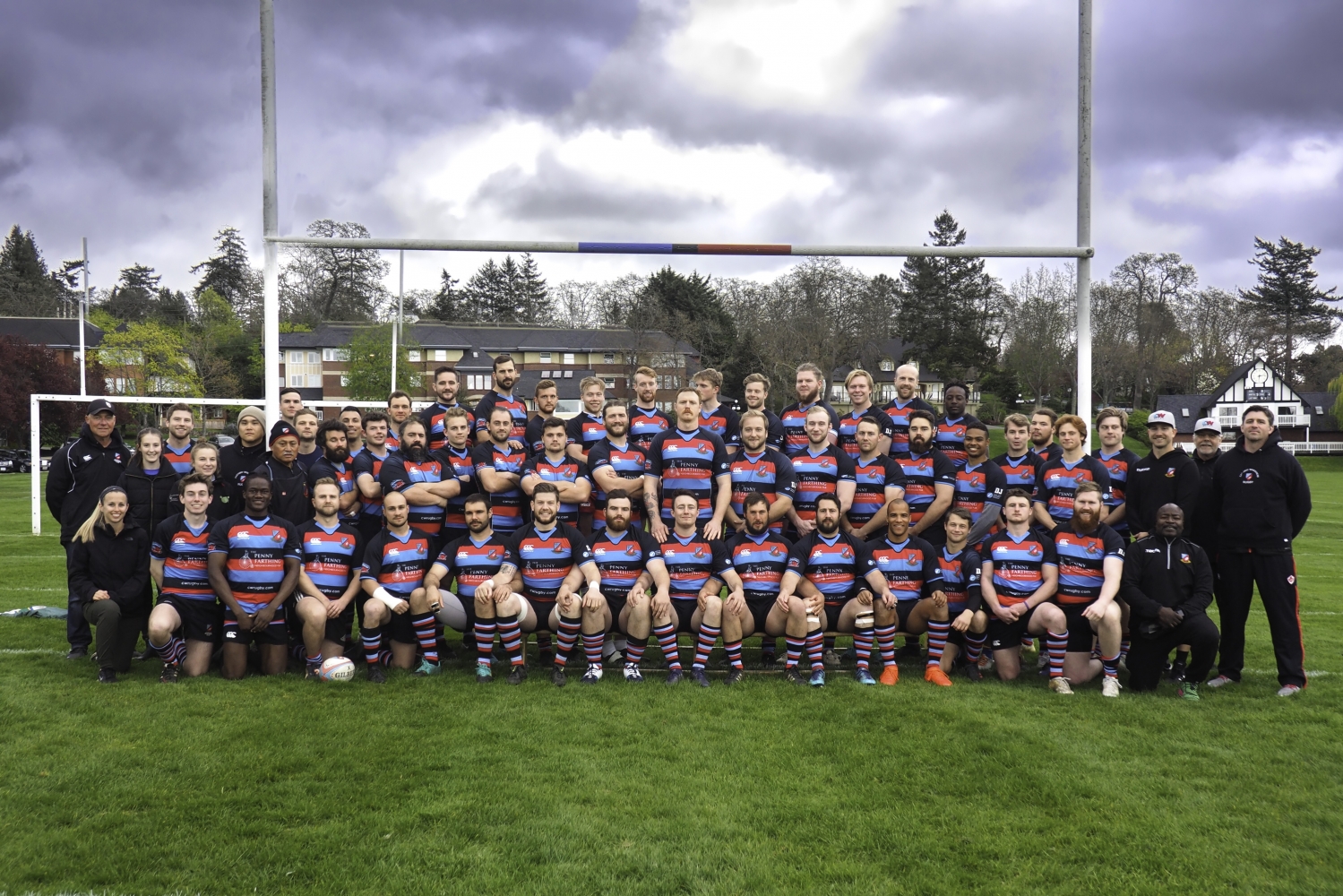 Between all 48 of us we should be able to throw a net over the students – at least for some of the match! The CW/UVic "mutual interdependence" has been no fluke. Years ago, Doug Tate was part of a triumvirate, another of whom had coached the Vikes, of instigators of CW Mini Rugby – a place for his boys and their peers to learn the game he loved. As Morgan and Braydon and their peers aged, so too did their skill level progress and that of their peers, playing running rugby. It was somewhat learned of necessity to escape the clutches of some rather large lads wearing green and black!
The Brain Drain originated with Clayton Daume, Riley Ilnicki, followed by Andrew Tiedeman, Jake Ilnicki and Doug Woolridge. Fuli and Burger came back after short stays on the hill, to be followed by McCloskey (later). It was really four years ago when Stewart, Fraser, Polson and Dobravsky saw a way they could continue to play together following graduation by donning the Tricolour jersey. Unfortunately, only the Captain, Stewart, will be on the field on Saturday. Then came Coach Manning, also a UVic grad. Next it was Morgan Tate, Pitblado, Chisholm and now Fergus Hall. There have been a host of others (Ed. apologies to any missed), including Kanty and Logan and some who may be taking a break from the game such as Bos and Nishima-Miller.
There was a time when it was one-way traffic from CW to UVic and early on, long term outcomes looked to have failed miserably. The CW Board did not let up, basing their energies on somewhat of a paradigm shift from "outside" to "home-grown". It did not hurt, sending many athletes who had been members of one of the three B.C. U18 Boys Champs teams to UVic, in aiding the return flow. The fact that these teams had been coached by UVic grad and National team player and coach, Spencer Robinson has not hurt either! At the moment it is a very happy family at CW. Old-timers recall, it was just a few years ago when a bloodied and mummified John Graf dropped over a "wobbler", late in the game to avoid relegation! Other names who have gone to and fro include; Lucas Hammond, Ethan Hagar and currently UVic dress a host of age grade "grads"; Nick Carson, Kratz brothers, Brennig Prevost, Cater White, Jonas Robinson, Callum Masterton, Aiden Cole, Jason Dashkewytz and Jonah Hall (Ed. apologies to any names missed).
This "interchange" goes back to years even before amalgamation of the Wanderers and Castaways with Palmer, Thompson, Hindson, Manning, Spicer, Gordon and Chambers to Castaways and Paine, Johnston (Brent), Whitter, Carsons – Don and Lennie and Crossley to Oak Bay Wanderers. Incestuous? Not really. UVic has been an abundant provider of rugby talent to the Victoria area for many moons with graduates the likes of Gary Johnston, Eckardt, Doney, O'Connor, Hutchinson, Wilke, Foster, Grant, Sinclair, Blades, Noulette, Poulson and Archibald, providing James Bay with the basis of a Provincial winning record in the mid seventies to early eighties of eight titles - a record no one has come close to since. Back to the build-up for Saturday and thus endeth the history lesson, (just know I will be castigated severely for omissions). Stay tuned.
FOOTNOTE: Speaking of "family", the club offers our deepest condolences to Kenny and the Goodland family on the recent passing of his dad.
CALL OUT - To Alum - Saturday; Pre-game Touch. 12:15 lunch and a brew before the 2:30 kickoff.
CW PREMIER WOMEN to UBC, Good Friday.
---