Buckley Pots Points In Cup Loss
---
---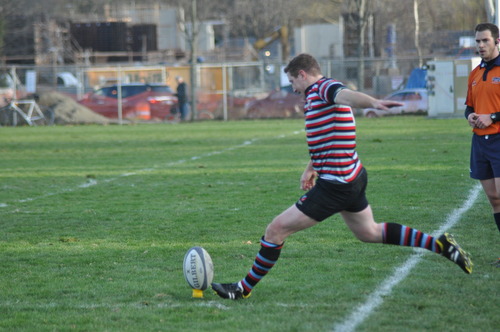 Yesterday at Cowichan RFC's, Herd Rd Field, the table was set quite nicely in early matches between the Fraser Valley R.U. & the V.I.R.U. The Spring Tide (U20) Men, coached by Winston Stanley opened with a lop-sided victory by a score of 78 to 12. UVic's Fergus Hall led the way in the points parade.
This match was followed up with a very good 24 - 12 win by the Island Women in Hellerud-Brown Cup action. This was a small measure of pay back after Burnaby RFC had won the Womens Premier League. Both teams featured a large number of players from Burnaby and Velox (the other Finalist) but it was good to see players from Nanaimo and Cowichan and UVic in the line up. CW's congrats to both teams.
The main game saw matters reversed. Fraser Valley stocked with Lakers and coached by Burnaby's, De Scossa were full on in pursuit of a victory over the Islanders. The Tide trailed 24 - 3 at the half and it was virtually "all over". Credit to the boys, they did put in a more workman-like second stanza, outscoring the Valley 13 - 5 but the defensive effort of the Visitors shut the door. Tries came from Aaron Frisby (Velox) and Andrew Wright (Cowichan). Next step will be against Vancouver R.U.
Other weekend scores included a solid victory by Oak Bay H.S. Barbs in B.C.H.S. playdowns, when they defeated Cowichan H.S., 33 - 5. The Barbs will now travel to the mainland for Thursday action.
CW congratulates the pictured three lads - Brayden Tate, Jonah Hall and Brandon Schellenberger, who along with Caroline Crossley, have been selected for B.C. Boys and Girls U16 teams to travel to Germany in June for the Heidelberg Sevens. What a thrill for these players! We wish you the best of luck.
---