Bubbles Burst With A Bang!
---
---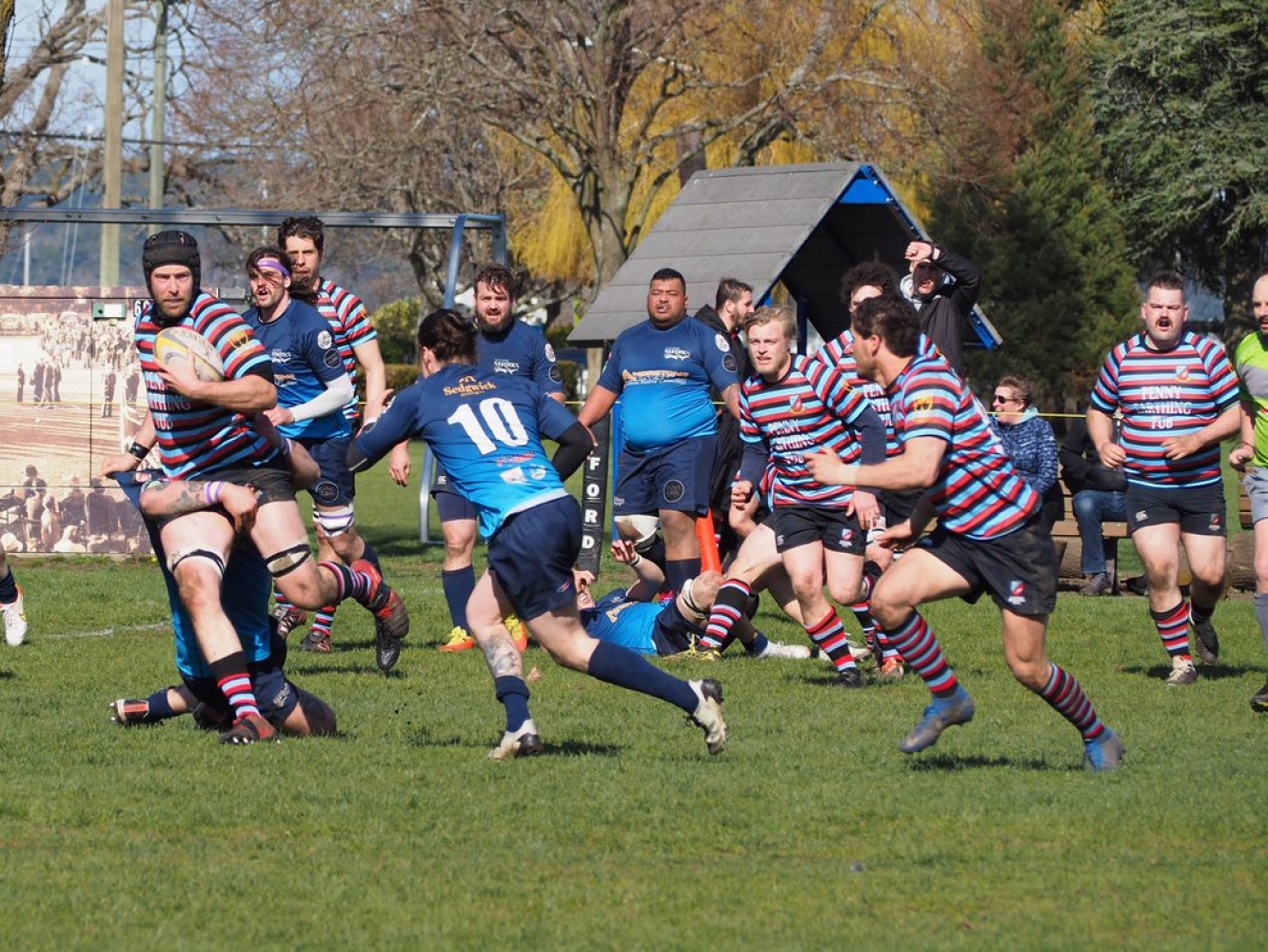 It was a day when the realities of rugby reared their head! Italy d. Wales, Caps won a pair at Klahanie and the Divvies got a clinic at Windsor Castle. We will briefly cover the last of these debacles and a note or two about the remainder.
Our Premier Women escaped with not much pride intact but a pair of bonus points, in their 40 – 41 loss to a rejuvenated Caps group – a fifty point turnaround both offensively and defensively in a week! The bonus points enable our ladies to stay on top with a matchup at Home against second place UBC next Saturday. Well done, Caps. Our Div.3 Men received forfeit points from Abbotsford, finding numbers a challenge with a road game in Kamloops. In the same breath, CW was fortunate to have mustered a squad in the late going for this one.
Our Premier Men, down 7 -18 at the half, capitulated a bunch in the second half, for a sound beating, 12 – 47 by a motivated Caps team that is always a handful at Klahanie. Well done, Caps. As comprehensive as the victory was for CW the last time these two teams met at this venue, yesterday, the tables were turned, serving note to all that this Capilano team is one which could cause havoc as the playoffs near.
And from the Coach; "Made worse by early mistakes, an intercept for a try, another intercept (two I think) for possession, a knock on after a clear break, and other miscues are all things that lesser teams may forgive you for. Not Capilano. We had a chance to turn the tide in second half but a knock on at the goal line thwarted the momentum and we remained our own worst enemy. Full credit to Caps, they were on the same page all day and forced many of those mistakes and then took full advantage. They are a good team." We might add another, that a third in a row, "slow start" did not help matters. Yet another viewer, "Cap's #10, Simon, orchestrated a lot of their stuff and it would have been good to see a battle between him and Bowd". Maybe that will come to pass down the road. In the meantime, the men regroup, have a rest and prepare for another pivotal game, this time at Home when the titleholders, UBC Old Boys Ravens visit The House with both their Rippers and Ravens teams at the top of the heap.
The only joy at Windsor was when CW opened the scoring with a nice 'inside delay' pass. Bayside responded immediately, moving the ball wide through many hands and outflanking the defence. CW had plenty of ball but was not very creative with offensive pressure and full credit to a solid wall of challenging Bayside defenders. Bayside, with support and cohesion n the windy conditions added their second try at the midway point. CW had penalties and earned lineouts close in, only to be thwarted by unforced lineout errors and it was not sufficient to blame the wind! Then came a sixty metre Bayside effort, pace and ball movement outstripping the defence for a 15 – 5 lead at the break.
The second half was a plethora of whistles and stoppages, two yellow cards and a penalty try against the Visitors, no doubt, causing much vexation. Despite the territorial advantage afforded CW, nothing came to fruition. Credit torrid and determined defence which eventually led to a breakout and a creative 'chip' from Bayside #10 (M-o-M for my money), and a 22 – 5 lead with about fifteen minutes remaining. With five left Bayside was over in the corner and added an amazing sideline conversion and embarrassing punctuation mark, 29 – 5. This writer's notes included "far too many passengers" at this point – a disappointing commentary. CW was awarded a penalty try in the dying minute, no doubt a sign of frustration from referee, Neish.
In summary, not too many positives, if any, to take away. Hohert, Gerhardt and Cullen were their usual reliable selves. Newcomers at #10, Mitchell and Casey at #12 tried hard but others, perhaps more vaunted shall remain nameless for their lack of contribution. It was nice to see Mike Fuailefau back with a few minutes in a CW jersey. To the winners, now 5 – 0, they were good value. They brought both an edge and energy, with many raising their hand on the day. Well done, Bayside. A footnote is a shoutout to a great club stalwart, Mikey Crawford, after an Achilles accident befell him. Here's to a successful surgery and a speedy recovery. 'onya, Mikey.
The curtain-raiser to this game involved the CW Women's Divvies, also opposed to Bayside. The Visitors scored many to twelve for the Home crew. Despite this setback the Divvies labour on, undaunted in their first season and remaining positive, learning from each outing. Well done, Coaches Knaggs and Cook.
Photos, credit, Wendy Norman.
---