Boys Break Bagel at Boatmen's Expense
---
---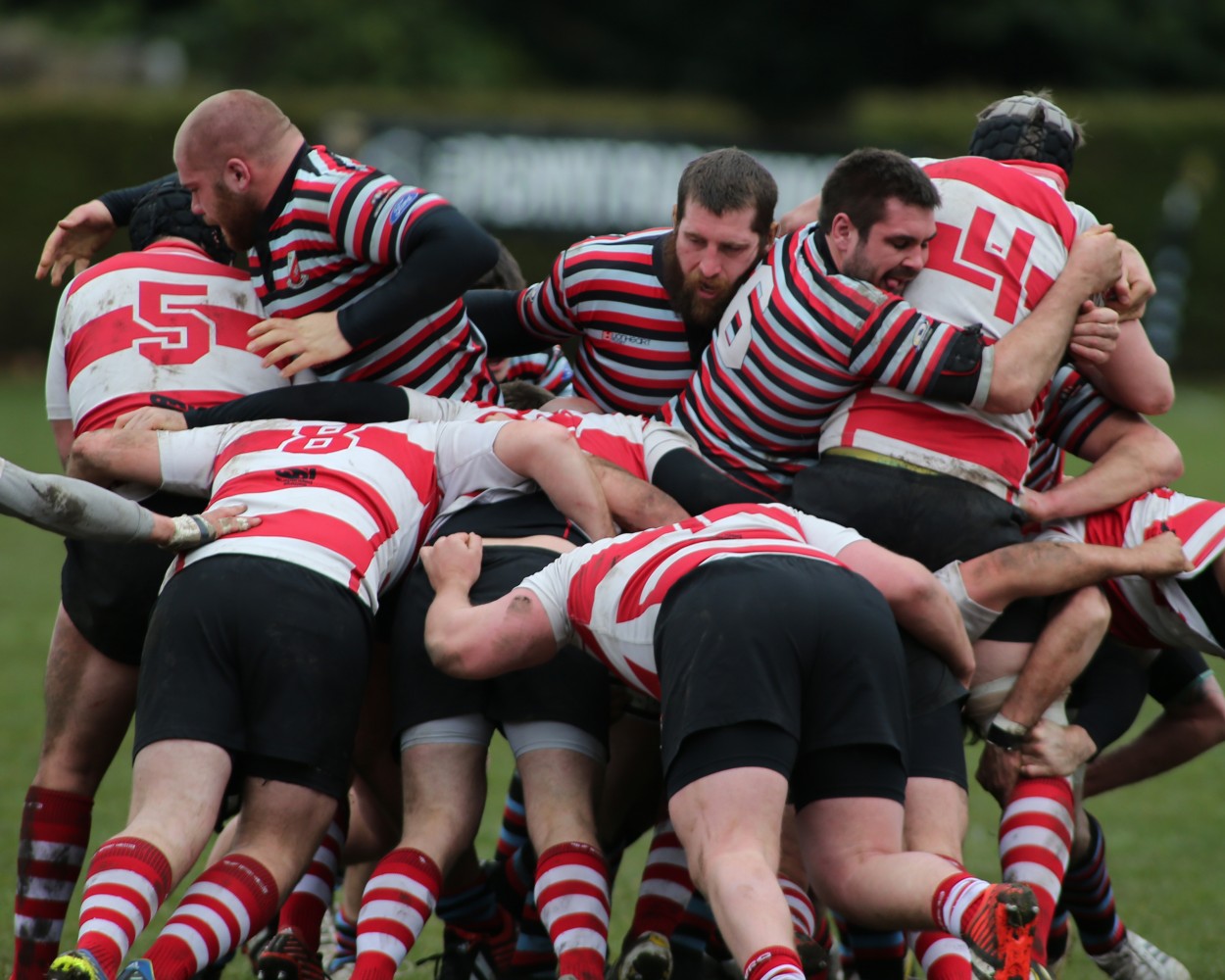 Under sunny skies and a good crowd in attendance, team captains opposing each other in the battle of the FRF, the stage was set at Brockton for an interesting Premier contest. At the end of the day, The Tricolors chalked a nine-try, 53 – 18 spree over Rowers. This table had been set with a solid 31 – 17 win by the visitors in The Ones match. In all, a rousing day for CW.
The game opened with a spate of whistle-blowing, Rowers seemingly harshly penalised on a couple of instances and CW having to defend two early yellow cards. An early set of "handbags" seemed to serve cause to require firm control, a purely personal perspective. Rowers scored first for their only lead of the day. CW shunted a few sets with Kleeberger, Panga and Frisby being prominent. Next up, an enthusiastic Rowers defense was punished with a penalty try from a set scrum, an arguable outcome from some points of view however this 7 – 3 lead set the tone for the first stanza.
CW's, Daume was next to suffer a debatable decision, being deemed to be off his feet at the midpoint of the half. Despite being a man down, the scrum held and Kleeberger initiated a break. The ball came to Panga's hands and he executed a skilled grubber for Kleeberger to be the recipient to dot down, 12 – 3, CW. MacPherson broke blind but incurred a penalty, then it was a Frisby "fill", to Horton only to be called on a forward pass but the hole in the dam was getting bigger as Rowers had no ball and the relentless pressure of the CW pack was taking its toll. With ten minutes left, a tight head scrum saw Kleeberger, then Bydens thrust and at an ensuing tight head scrum, Kleeberger picked and crossed for his brace, 19 – 3.
The remaining time saw lots of action; a second penalty for Plantey, 6 – 19; a second yellow to CW's Morris (L); Rowers erred with a knock-on and from the resultant scrum, a second penalty try to the visitors (it was good to see a scrum advantage being rewarded but the crime seemed to be harshly punished), 26 – 6; with mere ticks remaining, Panga to Horton to Turner to end the half at, 31 – 6, Ceedub.
The second stanza opened with CW still on the front foot and a Frisby gallop saw a desperate in-goal scramble to save five. Next it was Panga again, inside to Kleeberger, offload to Buydens from a quick ruck for an eight meter canter and a 38 – 6 lead. Around ten minutes, MacPherson probed blindside, after the breakdown, CW had two superior scrums, the second of which gave Kleeberger his hat-trick from the pushover and Rowers looked a dejected group at 43 – 6. Following liberal substitutions and led by the 'Eveready' dude, Sayler, they mustered a good effort and big Lachie Campbell rambled fifteen meters for a well-earned tally, Plantey retaining a perfect day and the score read, 13 – 43. CW came back with a long fifteen meter maul, scorer unknown and a 48 – 13, line. The game degenerated with sloppy and "lazy" play from the visitors and errors from the hosts, the spectacle had gone out of it. Rowers mustered more energy for a very good try by Lucas following a number of pairs of hands, 18 – 48. At the death knell, Albornoz made a mark with a good break and rather nifty "out-the-back" pass for Jake Ilnicki to notch the half century.
This match was pretty much "one-way territory" for the visitors and due reward for what has been a character-building season. In the forwards, the return of Rayzer Barkwill was noticed and Daumer and Kleebs stood out as pick of the pack but it was the FRF first stringers and subs that cohesively did the damage. MoM's for me – Kleeberger and Rowers, Seyler – again! He is a tyrant. I continue to like MacPherson in the backs but it was good to see Armstrong return for competition. Panga did a nice job at #10, setting his backs on the go with depth and pace. Newcomer, Turner has complimentary pace to Horton and the Morris duo in the centers had quiet games but transferred the puck rapidly enough to produce outside threats. Frisby "filled" in a timely fashion from #15 and rounded out an attacking back three.
Thanks to Rowers, it's always great to be back at Brockton and thanks to officials of both games. CW moves crosstown to James Bay next Saturday. The Bays will be cock-o-the-hoop after a sound victory over comp leaders, UBC yesterday. The Bays U20 young guns and Harriman and Pearson-led pack will provide an intriguing test for yesterday's CW combo.
---