Bouquets & Brickbats - Saturday's Travesty
---
---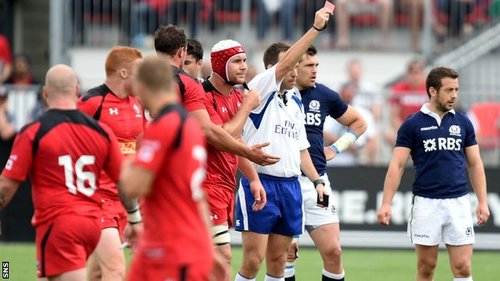 Almost 19,000 fans flocked to BMO Field to see if Canada's NSMT could front up and dispel the doubts that crept in during the second stanza against Japan last week. During the week, the IRB had adjusted the global standings and Canada found itself sliding one place to Georgia. Short version, bouquets to the NSMT for a fantastic effort and an entertaining match. Brickbats to a very poor display of officiating by N.Z.'s, Mike Fraser.
Readers of this blog would have viewed this contest and no doubt, have formed their own opinions about the game. Today's Ruck & Maul will add this viewer's opinions to the mix.
The Scrum;
At kick off, my wife remarked; "If the rugby is as good as the anthems, we are in for a good afternoon". Indeed, it was to be a good afternoon but the early sets did not lead into it so well. These early set scrums showed up some of the same issues that were a problem last week however, the experience of this pack managed to stabilise matters and by the second half and even with fresh horses from the bench, the Scots were matched and mastered. Bouquets – Marshall, what a tyrant; Hotson was very good and matched by Cudmore; Moonlight was tightly marked but got through a ton of work. Ardron missed a couple of important tackles but led from the front (particularly noticeable was an attacking tackle form a kick off that almost resulted in a Canadian try), his decision-making was correct; Jebb was solid and produced a high work rate – I liked his runs when he received the ball in the middle; finally, Tieds off the bench left an impression. Well done forwards.
The Defence;
All round improvement from last week and somewhat stifled the Scots in the second half, frustrating their progress and in fact had players "hearing footsteps"! Well done all. As for the opposition's defence, no doubt a dram was raised to the ref last evening. The Scottish D got away with diabolical stuff in the first half and the ref seemed to be reluctant to threaten a yellow after three opening infringements in the second half (the warning finally came at the thirty minute mark!) Even Crowley, politically correct, commented; "I thought the Scottish experience in the first half manipulated a few decisions their way, but we hung in there, tough."
The Substitutions;
I thought the Mack substitution was a travesty. My game notes scribbled, "Mack, a shining light". Unfortunately for Mc Rorie, he immediately erred, a mistake which succumbed the lead. Enough said. Other substitutions seemed less "haphazard", Tiedemann for an injured Bydens; a timely insertion of Braid and of course, the injury insertion of DTH (which added some mustard to the attack, not to degrade Paris, also looking for work). I cannot fathom this aspect of the game plan but there are better heads at it than mine.
The Players;
I liked Marshall, Hotson, Cudmore, Moonlight, Mack, Jones, Hearn and a slick "finish" from Hassler as being the most outstanding. Bouquets to Marshall on his new Kiwi contract, maybe he'll come back with a better understanding of the refereeing down there! Everyone toiled for the team and what a positive head space that was contrived and very visible. I must admit, I liked the seven's influence I saw from Mack, Jones and Hearn in particular. I would be remiss not to say that I believe points were left on the Park with missed kicks. Bouquets to all as no one was afraid to "have a go". 'onyas!
The Referee - Brickbats Galore;
For me, there were some glaring errors. In the first half a call went "upstairs" and Marshall was denied a try for a "double movement". I had just completed a viewing of Yarde, scoring a try for England against the All Blacks that was glaringly a "bounce over" and not even questioned. Marshall had actually muscled the ball to the touch of the line via a "roll over" in the tackle. Also, in the first half (around 38 minutes), a 50/50 call (at best) went against Canada and three points were converted. The next was a very poor call against Phil Mack at 26 minutes in the second half when he clearly posted the ball but was penalised for "hanging on", at a stage when Canada was on the attack. My final castigation of Fraser comes when play was around eleven minutes in the second stanza and Canada was awarded a penalty (subsequently converted for a 14 – 13 lead) and there was a little ensuing "argie-bargie" involving Sinclair. Fraser commented to Sinclair; "You are always getting involved with stuff like that!" Now, what is this comment all about? Subsequently, Mr. Fraser must have been very happy to have red-carded Jebb for "aggressive running" or "flagrant elbow" or whatever he entitled the "crime". It is not the first time this pundit has commented on the art of refereeing catering to the level of the higher ranked team in the contest and quite frankly, it is "bush" and nigh time that the IRB reviews such issues. Heaven forbid that this ref gets his hat trick of North American games next weekend! Finis.
FURTHER BOUQUETS - CANADA WOMEN.

Bianca Farell in action vs Kiwis. The ladies lost their second against the defending RWC Champs, The Silver Ferns from N.Z. when they dropped a 21 – 33 decision on the weekend. Down 7 – 26 at the half, the Canadian women came back to "win" the second half, 14 – 7. This is the second game where Canada has pushed the Kiwis to the max and stands our girls in good stead for the upcoming RWC. Go, you good things!
FINAL BOUQUETS - CW U14 BOYS
Led by team captain, Lachie Kratz, CW has had Ciaran Breen, Devin Fennerty, Ethan Hersant, Conor Hills and Michael Lindross named to B.C.'s "long list" of U14 boys for upcoming summer matches. Vs Hockerill College (England), July 4th @ UBC; Vs National Championships @ Calgary, August 6 - 10; Vs Alberta, August, 16/17 in Kelowna as curtain-raiser to B.C. Vs Wolfpack. Best of luck, boys and special CW congratulations.....'onyas!
---