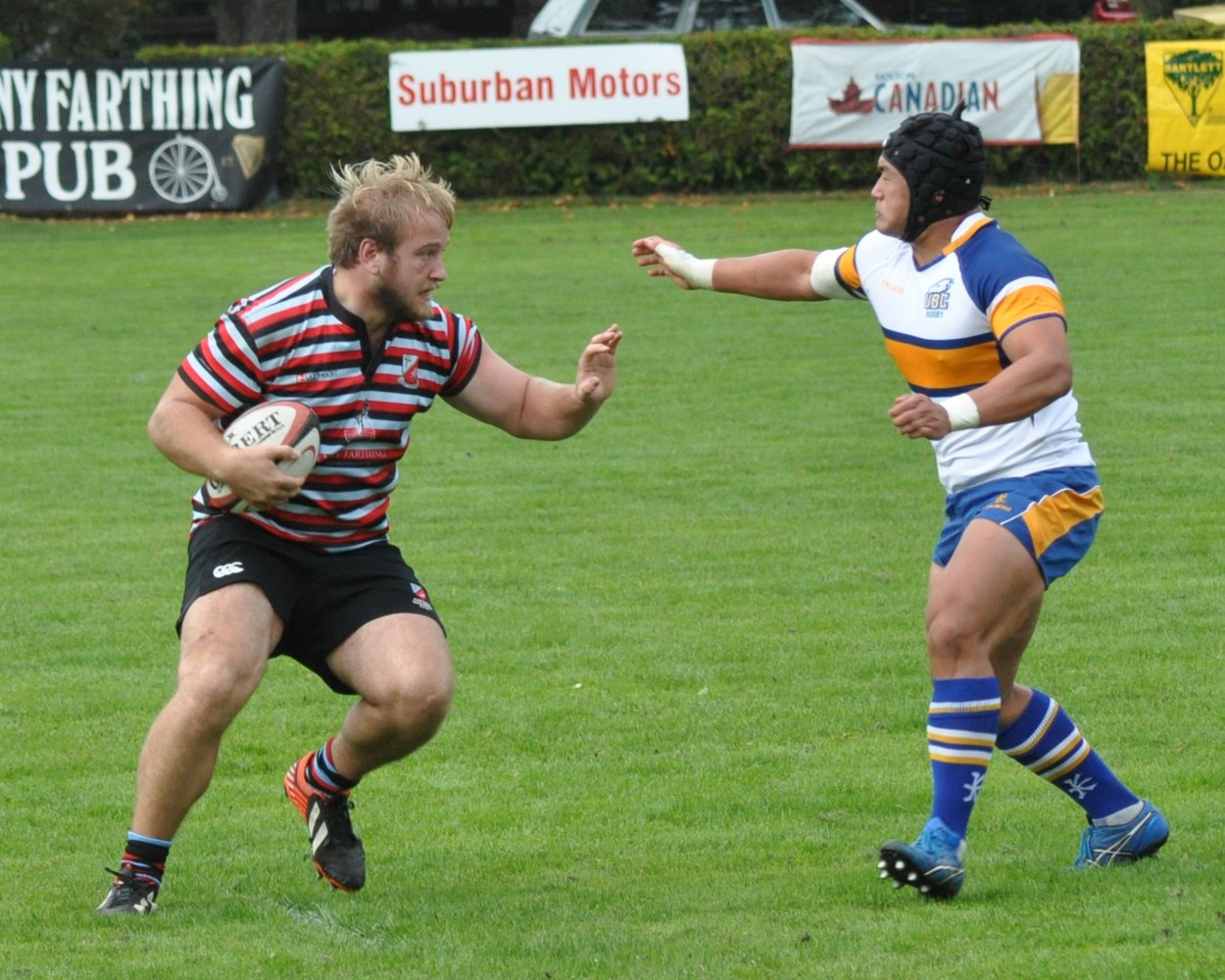 Eighty minute story, short. Fifteen blue collar guys fronted for the full eighty against the (new) league leaders, UBC, on Saturday. Hats off to The Ones, who, despite a lop-sided score produced a gutsy effort in the curtain-raiser. Our man at the park reports; "…despite many tries chalked up, the encouragement and support was very visible." 'Onya, Ones – a tough season but true grit going forward.
A rarity these days to see 15 go 80, so we start with a bow to – Braddock, Barkwill, Thornber, Hohert, Kelliher, Ilnicki, Oliver and Albornoz – eight bound and strong. The backs – Macpherson, Panga, Turner, Bontus, Mitchell, Morris and Horton – forging forward with effort. Tbird stadium is a storied site for CW – going to the weekend, never having lost a match there, winning two Provincial Championships and coming out of it with this record intact.
Johno reports; "It started with the club's first-ever game on a turf field. By day's end the "magic" of a "renewed" UBC rugby program was on full display." He notes; "…a wonderful reception building; magnificent fields under construction; abundance of staff, under a Director of Rugby – coaches, trainers and managers; scholarships to bring players to the myriad of campus residences. This is a force to be reckoned with as clubs work ever so hard to match this benchmark, based on a solid financial footing."
To the game. The students went up 20 – 8 at the half on the basis of three tries. There were indications that when CW was able to establish some field position and control, their attack was disruptive for the hosts. The second half produced some real Tricolor character with 17 points, including two good tries. Add this actual scoring to what might have beens – two disallowed crossings, Mighty Mite Oliver, bundled into the corner in the late-going and two (difficult) penalties missed, the last one sailing inches wide at the knell and one gets the picture.
After this match description, it was interesting to read elsewhere, a sweeping statement about "difference-makers"! We at CW, love what we've seen from our forwards in their last two outings and pray it will be the basis for next season. The playoff race has "sphinctered down" to crunch-time! The two Uni teams share top spot with a ten point break from the rest of the possible semi-finalists. Next week sees Burnaby at CW and Rowers at JBAA.
Firstly, this writer must comment that it is poor form to have the conflict of the Women's (critical) IRB Sevens Series and BCRU League games in town on the same day. This being said, it appears that the show will go on. If CW can continue its current solid play, there is every possibility of an upset and nothing would give the boys greater pleasure than to oblige with same. Burnaby is an old foe whose guile and ability is always respected at Windsor, so suspect a barn-burner and if you cannot get to the Sevens – be at Windsor and watch streamed Sevens! Should James Bay come up with something special at MacDonald, coupled with a CW upset, it would see our boys OUT OF THE BASEMENT! So plenty to play for everyone. Final comment – just what is going on with B.C. clubs' reaction to Seattle? A Capilano cry-off this weekend is yet another of no responses to the Saries. Count 'em – UBC, Rowers – token showing, Caps, JBAA annihilation and rumoured UVic no-show. It appears that B.C. clubs are not too keen on a Seattle inclusion. If this is the case – get to the Board table and put your walk where your talk is or let's clear this up and get on with it. On that note, (opinions expressed are those of the writer) – go, CW!
---