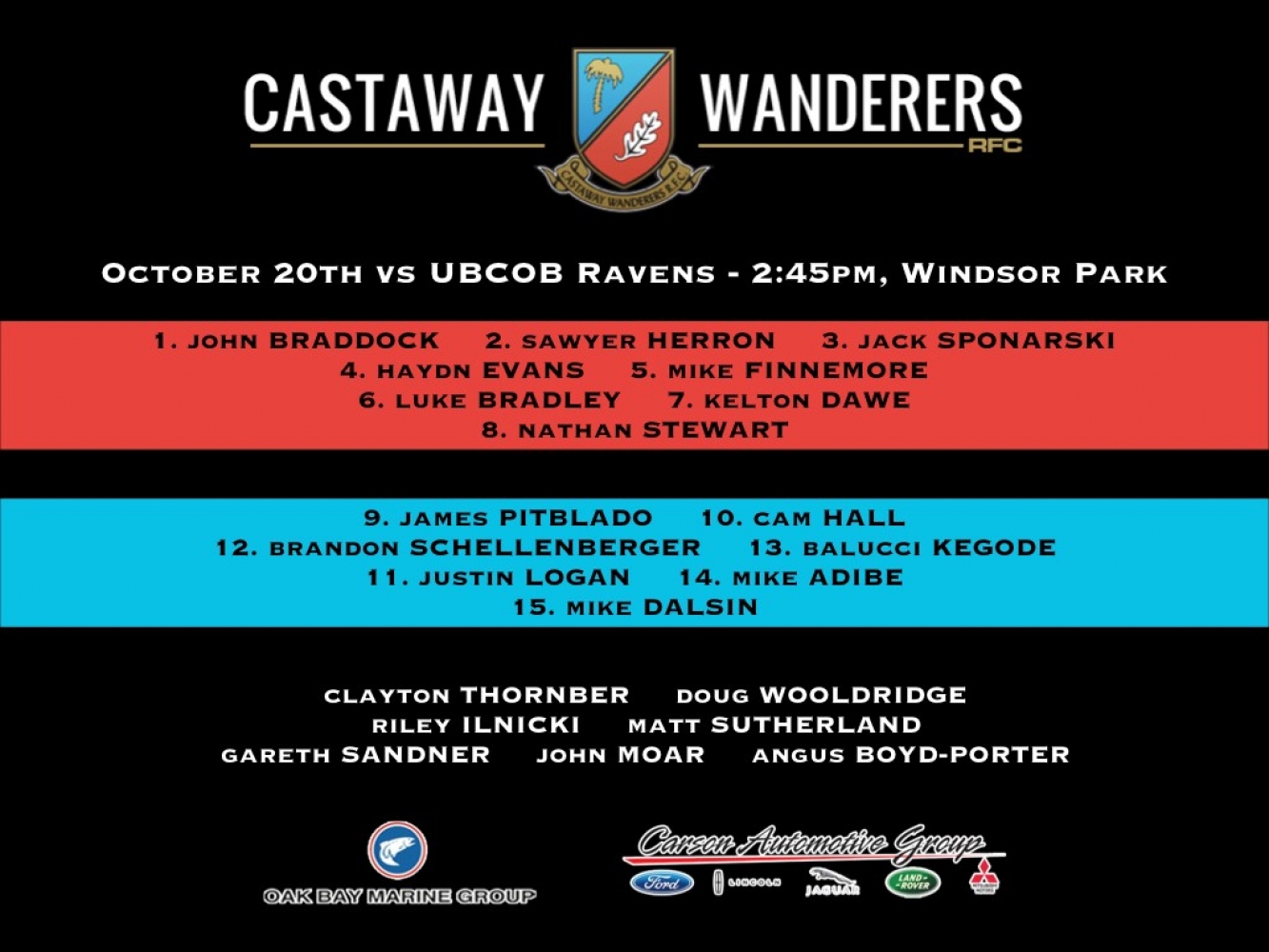 UBCOB Ravens will arrive at Windsor tomorrow with a complete, allowable contingent of "international" rugby troubadours. Despite their unexpected setback last week it is still more than fair to label them as "The Best" – defending B.C. Champs as well as National Club Champs, ergo, favorites in this encounter. Their forward pack is based on a very strong Front Row Fraternity – Delmonico, Gotsopoulos and Taylor; a solid engine room, despite the absence of Phelan, rounded out with two "international" loosies, one of whom, O'Donaghue will captain the side at #8. The Ravens #9/10 combination is amongst the best in the league with halfback, Sandover-Best being in threatening form. Evergreen, Kol Henrickson also providing good form, is joined in the centers by Graham Turner who scored a hat-trick vs CW the last time these sides met. Finally, in the custodial spot is Aaron McLelland whose game is also at its peak.
CW will rely on a strong UVic "core" to combat the visitors. Led by captain, Nate Stewart at #8 and joined by Sawyer Herron, Luke Bradley and Kelton Dawe in the forwards and James Pitblado in the backs, much will be on the shoulders of these lads who have learned patience and the ability to strike at the slightest sign of error by the opposition. Despite no Thornber, the pack looks solid and reliable and much may well rest on the shoulders of Sponarski. The backs are an untried combination, not lacking fire-power but their defensive patterns will have to be sure to contain a speedy opposition. Justin Logan and Balucci Kegode have earned the call up to replace Kay "squared", for both a well-deserved reward for their recent solid performances with the Reserves. Newcomer at #10, Cam Hall will be tested no doubt, however round this out with the ever reliable, Schellie, Adibe and Dalsin and you have the ingredients of a "cracker"! I'd never bet against my boys but they will have their work cut out in what should be a close result.
Women's Varsity News
Sophie Kennedy, Camille Irvine and Sophie DeGoede will be starting for Queens University as an "ALL – CW" back row combination tomorrow. Queens plays Guelph in the Ontario Women's University Final. Go, you Good Golden Gaels!
Windsor Extended to the Max! Weekend matches. Saturday……..
10:15 a.m. Men's Islanders Vs UVic Saxons
11:45 a.m. Women's Premiers Vs Nanaimo
1:15 p.m. Men's Reserve Divvies Vs UBCOB Rippers
2:45 p.m. Men's Premiers Vs UBCOB Ravens
Sunday…………
2:30 p.m. CW U19 Boys Vs Westshore
Also this weekend, CW will have girl's teams at U14, U16 and U19 rocking in Kamloops in their third Annual Sevens Age Grade Tournament.
---