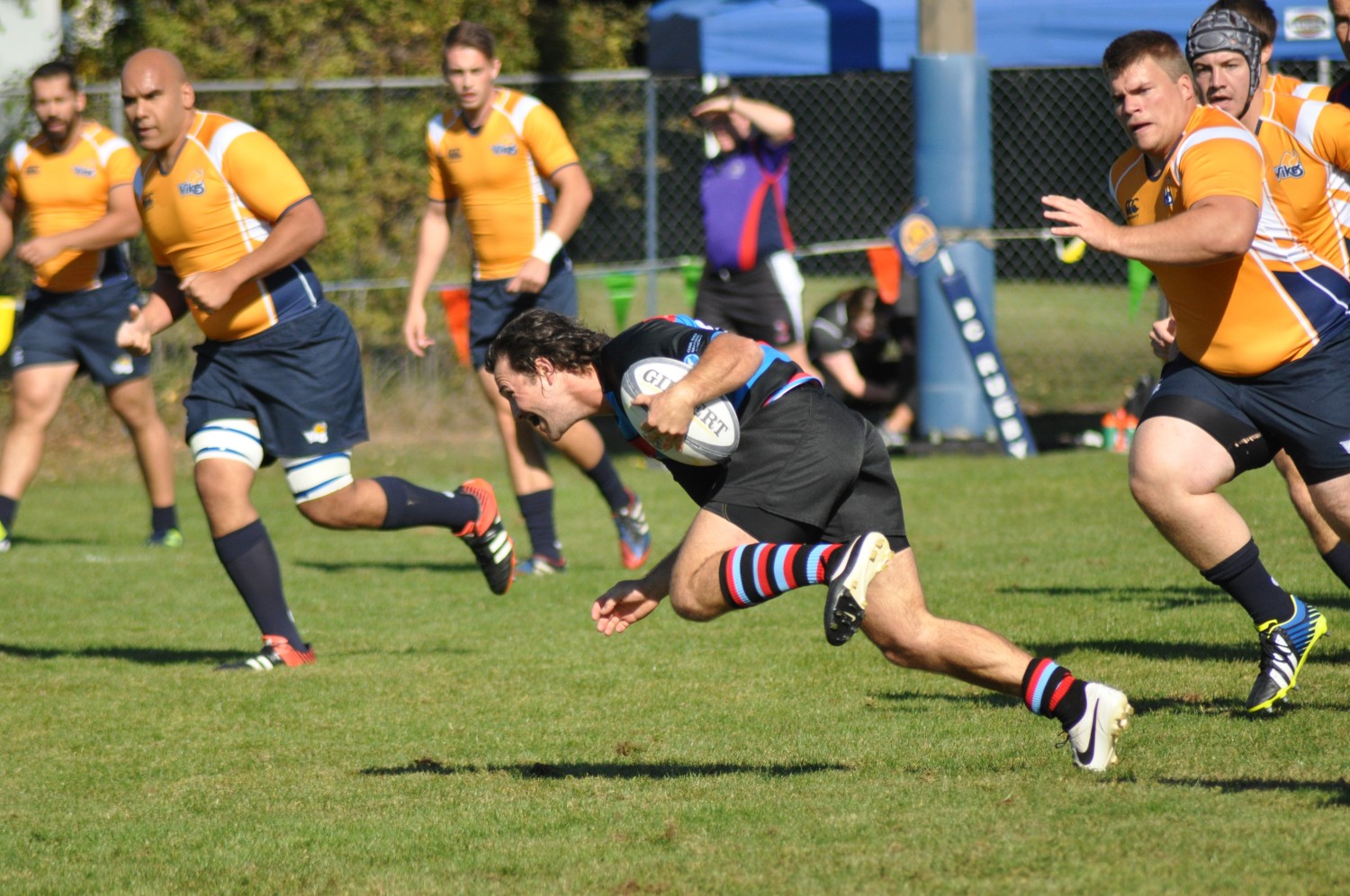 Still surrounded by Vikes - Crossland's magic thwarted!
This game report is brought to readers by one of the club's two Premier Elite sponsors, the Penny Farthing Pub, the other being the Carson Automotive Group. Mine host, Matt Mc Neill, has been a major sponsor for the past decade minus a two year spell. Matt, an astute Victoria business man, is also the licensee of the Bard & Banker and the Irish Times pubs located in downtown Victoria. Matt once quoted he enjoyed CW rugby for; "its alchemy in turning boys to men". Matt's support has been extremely appreciated by the club. Matt is a person for whom community and friends are very important, both components of our club's vision statements. Matt has rejoined us this season, coordinating his sponsorship with the commencement of our Women's Premier program. Thanks, Matt – 'onya!
Supporter's hopes were buoyed prior to kick off with the inclement weather possibly leading to a slight edge should prognostications about forward strength bear fruit. The wind howled from the s.e., giving the team running 'with the wind' perhaps as much as 10 – 15 point advantage. These hopes became anticlimactic as UVic won both halves, a sole, late try avoiding a CW bagel and final score, 24 – 5.
CW got into penalty trouble early and had conceded five within ten minutes and trailed 0 – 9. A few decisions at the breakdown may have been deemed 'hasty' by some but CW's late arrival to support the ball was also a causal factor. CW did manage to keep the ball from UVic and finally get to the red zone only to make handling errors and give up yet another penalty. When UVic did get some good ball to use, Nishima made a clever thrust, Bowd got ball to du Toit and on to Stewart for the try and the break, 14 – 0 Vikes.
Despite CW advantage in the sets, UVic forwards worked hard in the loose, led by Williamson who was also a threat the last time these teams met. When CW should have had UVic under the cosh, poor decision-making and handling errors, coupled with sound defensive work from the students, never allowed CW to amount to much. About fifteen minutes it looked like UVic were on the board again when Pitbaldo switched the attack, Reed made a good gain and big unit, Kaay, coughed it up – the wind playing havoc with the hands for both sides. CW worked their way back and Kelliher almost weaved his way across, only to be penalised. From yet another CW error, du Toit took quick ball and Kaay made a long gain which was finished when an alert Fraser crossed for his brace, 19 – 0.
This reporter's notes read; "23 minutes in CW attacked again but today UVic are a good side, they believe in themselves, biding their time and countering with good support after CW errors". This summarises it for Ceedub when, after another poor decision in haste to score points, the ball was moved to Stewart who zigged and zagged defenders over forty meters for his hat trick, 24 – 0. CW tried hard but it was also hard to watch as the commitment to the tackle and subsequent errors saw the plot go horribly awry. CW did deserve a tally and it came with only four minutes left when quick ball saw Horton fill, create an overlap and Ngongo touch down, 24 – 5.
In summary, plenty of players tried hard and gave much for CW. The FRF in the sets were superior but did not gain much for their advantage. Braddock ran some strong lines in the loose. Grdic and Evans were a good pair and in fact, I share MoM between Grdic and Crossland. Kelliher was more visible today and although Ilnicki, R. and Oliver worked hard, they were nullified. Hickman did all he could and Crossland was darn near a hero on a number of occasions and although Bowd played well, I give the nod to the Kiwi. Outside of this, the UVic backs were superior. Welshy Morris as an early sub gave of his customary best.
For the winners, I liked Jeff Nishima (who has considerable Tricolour blood!) as MoM. Fergus Hall's nine points and play (also tri-coloured claret), was a difference-maker. Kaay and Stewart, fed by du Toit and Joey Erlic, were more than a handful. Doff to the Vikes – worthy winners and an accurate score line. Thanks to the officials – must 'fess, in some games AR's could be more involved.
Looking at results across the pond, we note a twenty point UBC win over Burnaby. At this stage the two University sides are heaps ahead. It is not so much a huge ability difference with raw talent, although both clubs are loaded with very good talent, it is more a huge difference in "situation". More than 'adequate' training fields, well lit; readily available weight rooms; coaches and training aids and money, set these programs apart. Thus if there was not such a disparity from the clubs, questions would be asked. This is not a gripe, for club sides will pursue these benchmarks of excellence but this season so far, more than recent ones, there seems to be quite a 'gap' between programs.
FOOTNOTE: CW congratulates Port Alberni on their Times Cup victory over Cowichan RFC.
CW Women Prems were also brought back to reality today, losing 5 – 17 to Capilanos at Klahanie. Questions must be raised about forfeit by Westshore to Seattle and one also notes a 20 – 0 "win" by SFU, so not sure on this one. Teams do have to forfeit on occasion, particularly if the issue of available front row players is the case, safety is paramount in our sport, it is to be hoped that such decisions don't become easy ways out. It would seem that the new BCRU CEO, Annabel Kehoe has much on her plate, from juniors to Premier level.
With the "first half" done and dusted, The Ruggernut wishes everyone a Merry Christmas, good times with family and friends and good memories. Please plan for a D.D. when celebrating over Christmas.
---