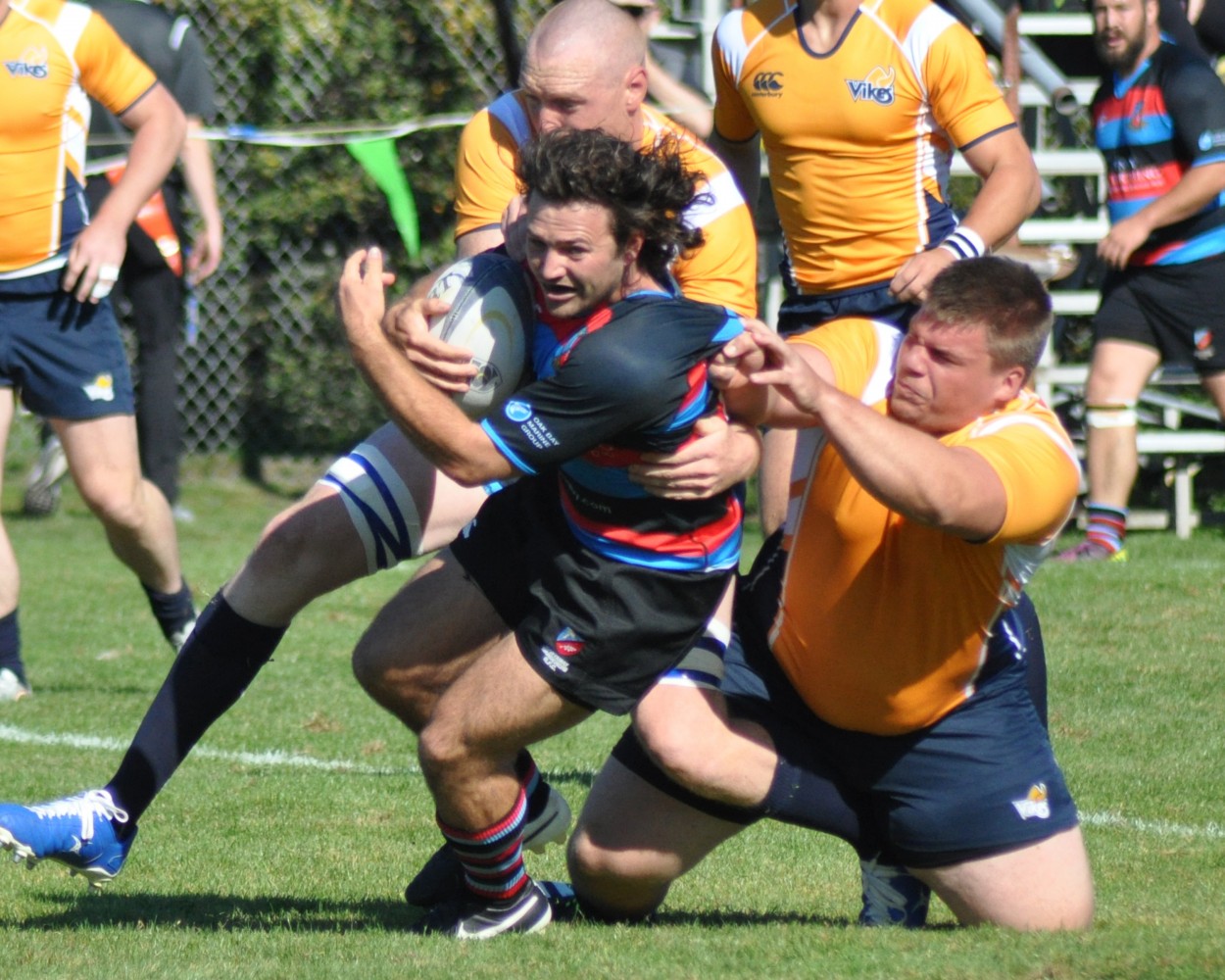 A familiar scene from past games - surrounded by Vikes!
CW heads to UVic for the second time this season and the third encounter with the undefeated Vikes, on Saturday. The Cup takes place at Wallace Field at 1:00 p.m. The Tricolours have announced their probable best available selection for the contest. The forwards, led by Captain, Riley Ilnicki, look solid. Pundits thought this was an area of advantage last game but UVic matched CW. Vikes, Luke Bradley, will be missing this time round and we don`t know their selection at time of post.
CW`s FRF of Ilnicki, Thornber and Braddock has become a very good scrummaging unit. Locks Grdic and Evans, both in the sets and loose have contributed and the loosies with Oliver and Kelliher round out a group that will test the mettle of the Vikes. As for the backs, it looks like van der Wal`s injury from last week is keeping him on the bench and Hickman starts at #9 with Horton moving over to fullback. Much will again be on Kiwi Crossland's shoulders at #10 and Jo Mo and Albornoz in their second start as centers will be a better proposition. The wings, Ngongo and Morgan will be called upon to do plenty and have the chance of being difference-makers.
In all of CW`s fairly close losses to the Vikes, it has been their speed and alertness on counter-attack from errors that has been the difference. They have had a tendency to `coast' when in front and this is the stage of the match when the screws really need to be applied. To this end, this pundit really likes the CW bench, it`s experience and toughness. Jay Allen, newcomer, Jack Sponarski, Nate Thomas, Morris and Alexander being standouts amongst the eight. Hard to back anyone to beat an undefeated side but sooner or later, it will happen. For the faithful – one not to miss!
DUBAI OPENS WITH FIJIAN FIASCO FOR MEN
Canada's NSMT was torched by Fiji in their opener at Dubai, 63 – 14. They went on to lose to Argentina, a team they have had troubles with at the end of last "season" and finally, 7 – 21 to Japan in their pool play. Japan has maintained improvement shown in RWC, with their 7's play, pushing Fiji to the brink as well. The NSMT now play Wales in a quarter final of the Bowl.
WOMEN'S TOURNEY EXHIBITS PARITY
The NSWT finished out of the top four after losing to N.Z.'s Silver Ferns, 17 – 24 in overtime of the Plate Final. Action started on day #1 with a loss to Fiji and on day #2 to England and Spain. Arguably, not at full strength, it seems that the other sides have worked out how to stop Canada's 'gunners'. Hats off to Harvey – a scoring machine who finished with eight tries. So, it's on to Sao Paulo. The women have experienced lapses before but seem to have always found a way to work them out and eradicate them, something seemingly missing from the Men's program. CW wishes both teams well as they soldier on.
---