BARNARD CUP CHAMPS REPEAT!
---
---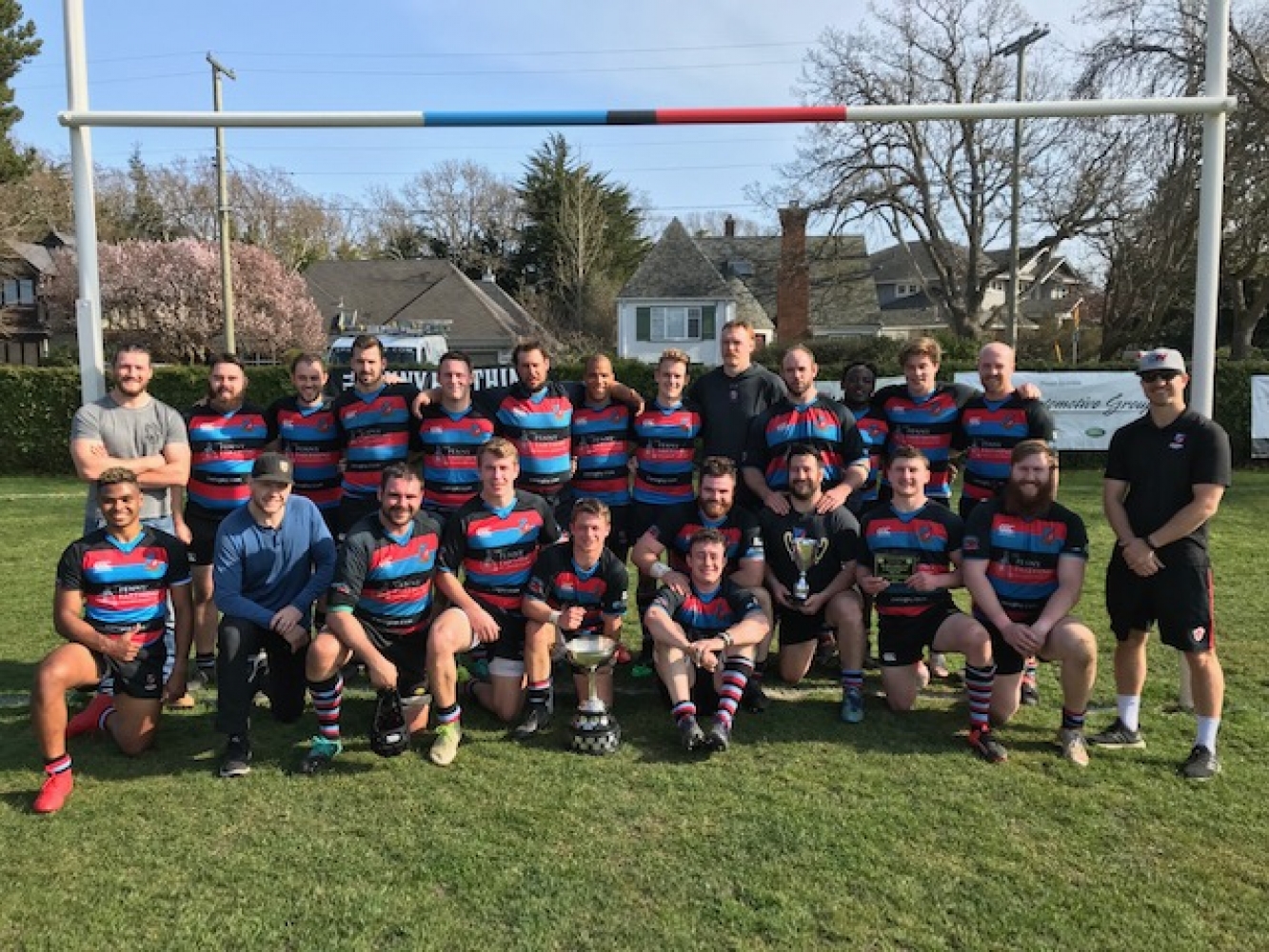 Rain?? What rain? This fan arrived late for the altered start-time for the Divvies and for the first quarter it was close. CW edged to a 12 – 5 margin. Suddenly the switch was turned on and with sure hands assuring width of attack and superior pace the lads opened a 26 – 5 differential at the interval.
The second half started when Hard Hat winner, Justin Logan turned on the after burners, recipient of a number of passes and 50m later it was 33 – 5. This breakout was followed by a series of others; Sandner, 50m from an intercept; Makaroff via a dummy and gap for 40 and 54 – 5; Dalsin, testing himself from 50m. At the 25th minute the 16TH MAN went wild, applauding the insert of the veteran, Daumer. With ten minutes remaining, Nanaimo was duly rewarded. The affair ended at 66 – 10.
I cannot really comment about the Hornets, apart from seeing the return of Kevin Carr at prop, no less! Other notes indicate a burst or two from Ulielelate at #12. For CW, Mailloux and Horton in the tight, had good outings. Makaroff and Samayoa were noticeable throughout. In the backs, the lightening service from Howes enabled Kanty to show his talent as a distributor and a runner. Sandner was very good, Logan earned the H.H. and Dalsin looked sharp on his return. Rogie subbed liberally and there was plenty of vitality from the bench. Next up, Norsemen in the times Cup Final.
Schelly starts the offence again! You've gotta love Latoya's response to a cynical question from Tulia!


In the main game, Nanaimo opened, mere minutes in with an alert tap penalty and McKerrow dotting down, untouched. The favour was quickly returned when Chiz went hard for ten and Shep (winner of the Player Auction) and today's 16TH MAN, went wild!


From the restart it was Hall (F) breaking out with good speed, to Pitsy for further big yards and Balucci eventually finishing. The mid-point saw pace and finger-tip handling from Braddock, Dobravsky and Pitblado with Suddsy crossing for a 19 – 5 lead. Next up was an exciting breakout from the end zone when Hall (F) backed himself and the play went some 80m with dynamic handling and support. The play was desperately halted but the Hosts camped in the Nanaimo 22. A series of penalties ensued to Nanaimo, eventually receiving a card for repeated infractions. After five penalties, three scrums and two lineouts, scragged ball was shuffled from Pitsy to Morris, 26 -5. Nanaimo mustered effort in the late going only to lose possession and be thwarted by the locals continuity and Pitblado was the recipient of a Chisholm pass and 33 – 5 half-time lead.


From a scrum after a Hornet's knock-on from the kickoff, Schelly fed Bradley with some work to do and a stretch to 40 – 5. At this point we give kudos to Nanaimo, displaying some of the good work they have become synonymous with in their response. Gillies, de Souza and Kenda the triumvirate for the score. This buoyed the Black & Gold and they had some minutes of good possession, concluding with a hefty fend from Tulia and the softest of tallies, 19 – 40.


With tails up, the Hornets took the game on but CW was not to be lulled any longer and the pace was ramped up, noticeably from Schelly, Hall (C), Owens and Bradley, forcing a 'cynical' card to the Visitors. Burger Thornber was the recipient of a two-man "miss" from Schelly, backing himself, reminiscent of his days as a winger! Morra took the kickoff and bedazzled the opposition, ducking and diving and forcing Nanaimo to knock down his would-be, try-scoring pass for a second 'cynical' card. With pace, pressure and numbers, the ball found the day's Captain, Riley Ilnicki's hands and it was wonderful to see this man score a deserving tally, 59 – 19. Nanaimo showed some late life and it took marvellous pace from Morra to cross-cover and pinch the ball and eighty meters later it was Owen who took the pass from Bradley for the exclamation mark, 66 – 19.


In conclusion, thanks to the players for two enjoyable matches and a special thanks to the day's refs, Latoya Blackwood and Saro Turner, both turning in masterful displays of management, keeping players on the pitch when we have more often than not, see colleagues too readily reach for a card. As a player it is clear where you stand with these two – well done. For the Visitors, I thought #10, Gillies was their M-o-M, although his center partner Tulia was also a threat whenever he touched the ball and no doubt if paired with Jared Stephens it would have been a much more difficult defensive task. Other backs, Hume and Fowler tried hard all day. For the forwards, I liked the work from #8 Ekualiti and Weir and Tauaika also chipped in.


For CW, it was refreshing for them after such a hard match last week and there were many good performances, Luke Bradley winning then players' Hard Hat. Fergus Hall was almost at his former best and provided much excitement with long, rangy runs. Both 9's provided their backs with good ball to set up some exciting tries. In the pack, Braddock, Thornber, Dobravsky and Chisholm were gold but none of them surpassed today's efforts from Ilnicki in my book.


Across the pond, Ravens pounded a tired and less-than-full-strength Burnaby. The playoff picture is becoming much clearer, with Burnaby having the rails run to top of the heap with UBC in a close second, both earning the "rest week". It looks very much, bar a miracle that CW and Ravens will be tied for fourth, both having home game quarter-finals with opposition being subjecture at this stage. Stay tuned here!


Premier Women on the Road to Seattle
(No scoreline at time of post)
Late-breaking, SEA 33 - CW 31.
---