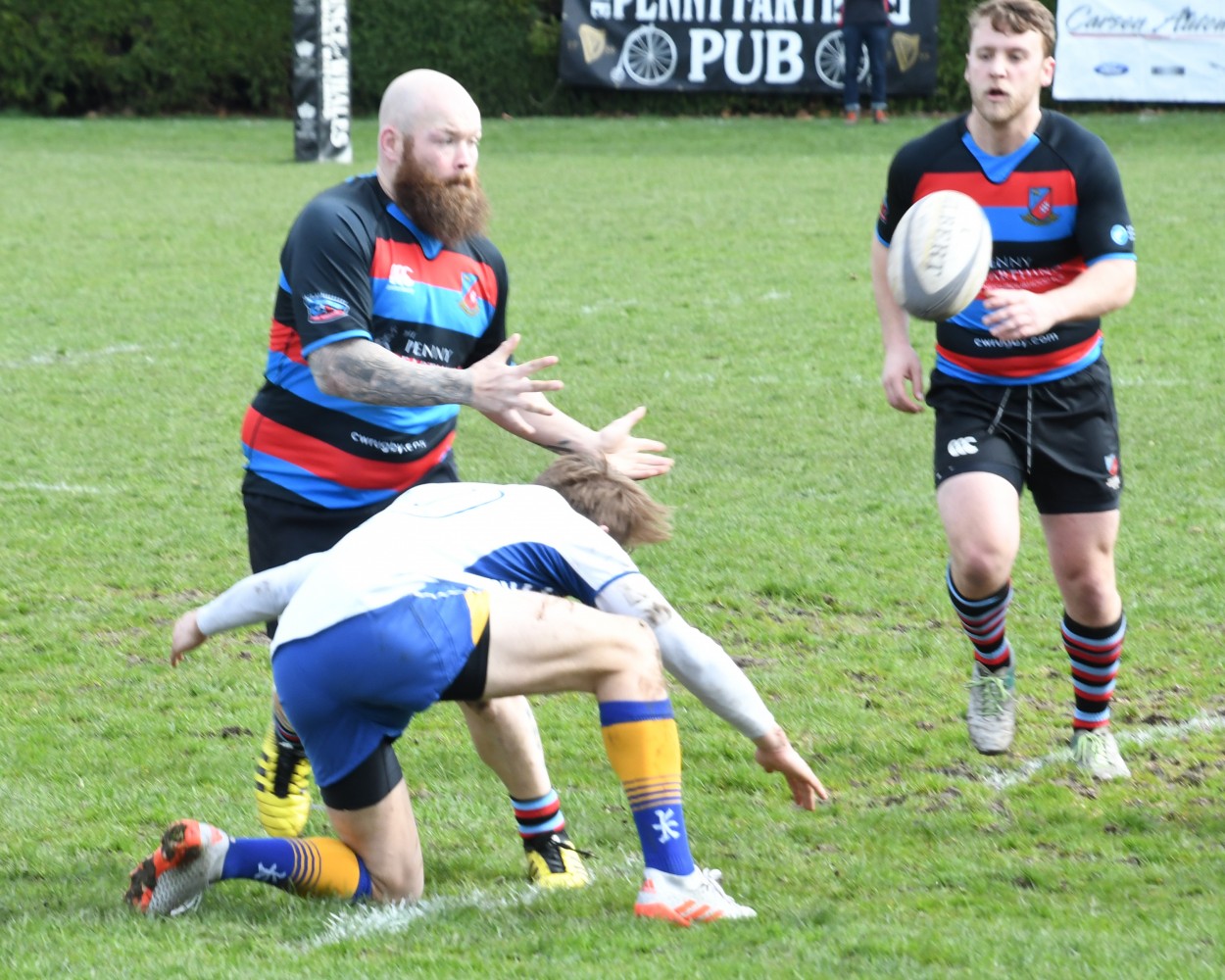 Schellie at work!
Watching the Braves makes the writer wax nostalgic, harking back to coaching an undefeated Braves team in 1976, containing names such as Gary Hirayama, Hank Edmunds, Graham Taylor, Don Carson, Kane Straith, Jim Burnham, Ian Bousfield, Billy Collins, Peter Bull, Billy Treloar, Al Kave – a few caps amongst this crew and what a treat. Thanks for the memories, boys!

To the game. The Braves opened with strong runs which were met by a much stiffer defence this week. First scoring came when UBC's #10, Wong slotted a penalty. CW responded well only to put themselves under pressure with unforced errors. UBC took advantage of this by moving the ball quickly and with width for Anderson to cross, 10 – 0. Around thirty minutes, Gerhardt stroked a nice 35m penalty, 10 – 3. It was Gerhardt again, recognizing UBC up too quick, a swift dummy and yards gained. CW started asking questions with possession and position. A quick tap penalty from Schellie, further penalties from slow retreat and finally, a yellow card to the Braves. From the tap, Gerhardt threw a wide "miss" to Hutton on the fly and a pacy finish from Hager, filling from #15, 10 – 10 and the whistle for a half that was pretty even. The level of rugby was very entertaining – oh, for the errors to be eradicated.

CW opened the half with a rousing start. After early thrusts from both squads, a deep UBC ball saw Hager scamper free, boot downfield and the subsequent "return kick" was errant, taken by Hohert who went hard for fifteen. From the ruck, Schellie hoisted it high and with concentration, Logan sped to take the catch on the fly and cross the line, 17 - 10 – heady stuff! It was about thirty minutes before the next score when UBC's Wong took a quick tap, lock, Doll was away only to be ankle-tapped by Schellie. With desperate, all hands on deck stuff, CW received a yellow for deliberate obstruction. UBC asserted some real pressure however, with things not coming easily, they too lost discipline and CW temporarily was off the hook. The Braves did settle and after sustained pressure, Smith broke, fed Frost (who had a good day) and broke two tackles and re-fed the hooker for the score under the sticks, 17 – 17. The tie was broken about thirty minutes in with UBC's bench proving to be very effective. Centre, Lan made a break and fed (last seen, JBAA's), Wes Block (f/b) for a 24 – 17 score line. Despite some last minute heroics from the home boys – a lineout ball was pinched, only for knock on; "away" from a chip, only to be deemed offside; finally, with the line wide open, a knock on! In desperation, that was all she wrote. A UBC win perhaps predicated by a majority of second half possession, deservedly, but only by a slim margin.

It was a good outing for The Tricolor, visibly disappointed with the result. It does not put the club out of the picture by any means and only better things can continue going forward. Thanks to Mike Moss and touchies for a good job.
To the Main Game. UBC opened with twelve or so retentions and earned the penalty when the affair was only three minutes old, 3 -0. The sides tested each other, The Birds looking pretty smart but it was CW to score next when Povey slotted a 40m penalty, 3 – 3. Play ebbed but CW earned a lineout in the red zone from a penalty and it was Barkwill who grovelled over after a few recycles, 8 – 3. (the money, going to Johno!) Following the re-start, play tended to stay midfield, as a series of penalties were given by both combatants, as they tested each other, physically and psychologically. CW was the more frequent of the miscreants and as the Birds forged to the thirty with finger-tip handling and pressure, the locals were put under the cosh. A lineout was won, two good drives and recycles and big Jim Carson celebrated his return to Windsor, 8 – 8. Another of a long line - Frank, Dennis, Donald, Jim; the familly still being a strong supporter of The Tricolors, thanks! Even Stevens after thirty minutes. It was Sauder who next made a shifty break but CW came back and Povey probed with a deep kick, a Dobravsky tackle caused a knock on and eventually the pressure forced a penalty earned and Povey put the home team ahead, 11 – 8. A deep kickoff saw Dalsin nabbed and ball turned over on a rare occasion, despite the pressure, UBC was penalised. There were bush lawyers aplenty helping the ref and finally, he curbed his frustration with some marginal stuff that had been happening with a severe warning to miscreants from both sides – good officiating. The half ended.


CW made changes of necessity – Morris on the side, Stewart to #8 and Wooly on for Sponarski. Polson cleverly disguised a bothering ankle or such and soldiered on. UBC opened with questions, aided by a scrum penalty and missed tackle, after the thrust and parry that had been going on, the resultant try by Courtney gave the appearance of being soft, 11 – 15, Birds. Sauder made another dangerous break from the re-start and his subsequent chip saw CW obstruct and a penalty try was correctly ruled, 11 – 22. CW suddenly looked a little disorderly, runners flat rather than depth, errant passes vs a stiffened defense and good counter-rucking. . It was around sixteen minutes in when the systems started working again and a fifteen meter maul saw Barkwill unstoppable over final three meters – tough yards, 16 – 22. Then it was Povey to Fraser to Dalsin which looked very promising only for a penalty from not being able to win the tackle. Then we saw the first of two magic tricks from the "X" Factor – Anton. He caught ball well into his own half and shifted gears, finding a gap and evading tacklers, spinerama for forty amazing meters. As it went, the ball came to Sauder who responded with some sixty meters of his own, only to be caught from behind by Ngongo, Stewart and Fraser also prominent in the chase.


All of this action saw no blood. Then came the try of the match when from a scrum at the half, Povey broke, fed Fraser to Morris, quick ball to Styles in the line, perfectly timed to Moor who crossed out wide, 21 – 22. Both teams appeared pretty gassed but it was UBC who managed an attack which was repelled. CW won a scrum only to be penalised at the next breakdown, slotted by Froese, 21 – 25 with about six minutes on the clock. A tight head win by CW was the catalyst for the final heroics although, after some sloppy lineout play, UBC returned the favour but failed to clear. A clean Ngongo catch, hit up, lucky "knock back", Moor barely stopped and then the ruck. Povey signalled the hoist, Anton leapt to the sky and drove. Barkwill was wide with him and others raced to the breakdown. Two rucks and Barkwill was over. Povey converted from the sideline and bonus point victory. Rugby is an eighty minute match and it took all of them to secure the result. As predicted, a close match favouring the home side with patience being the difference. Accurate script!!


It is difficult to single out individuals. UBC is a good side and may not have expected the stiffness of their opposition today however, BL, UBC and CW look to be the current pick of the pack. I liked the Keefer-Sauder combo however give Dalsin the nod of the halves. Povey made a good start with his mates and will only get better. His final diagonal was lucky but magical. Rees was kept under wraps by the CW centres. Fraser, as always, was a threat. Moor and Ngongo's pace make them very threatening. Styles at the back was safety personified. The two packs had a good old go. I have to honour Barkwill's work today as being outstanding. Stewart was the most visible he has been and the benchers, JoMo and Wooly provided all that they had to and the sets on the main were very steady and gave the home team a superior edge. So it's off to Klahanie, head of the table, a position that every opponent will seek to knock off. The systems worked, the patience was there and the defence was very good. A most entertaining win, well officiated by Brett Hay and good to see CW's Crossley running touch. Congratulations, all.


---